Director General of Jammu and Kashmir Police Dilbag Singh on Friday directed cops to intensify operation to track down terrorists involved in twin-terror attacks in Dangri village of Rajouri district.
The DGP asked cops to remain extra vigilant to foil the nefarious designs of Pakistan to target innocent civilians in the twin border districts of Poonch and Rajouri to disturb the communal harmony of this mountainous belt.
The DGP Dilbag Singh accompanied by Special DG CID R.R.Swain, and Additional Director General of Police (ADGP) Jammu zone Mukesh Singh visited Rajouri. The DGP congratulated Rajouri Police for busting the module of the Lashkar-e-Toiba (LeT) terrorist outfit.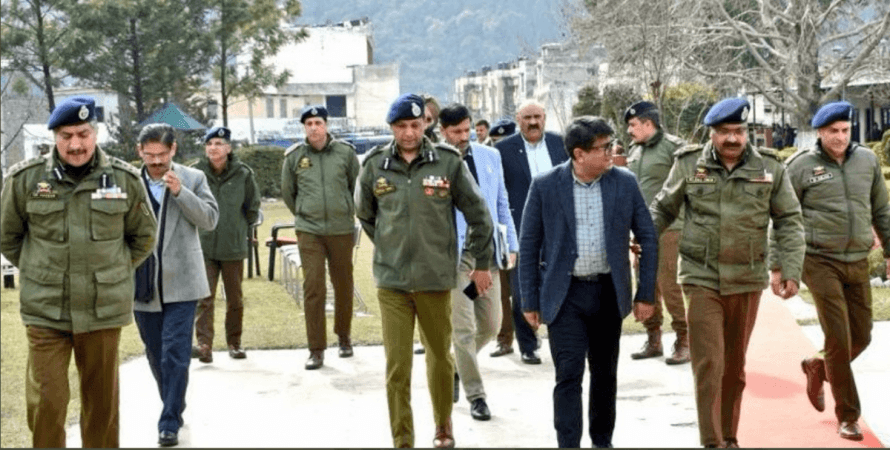 Cautioning against the dangerous gameplan of Pakistan to shatter communal harmony in this belt, the DGP said that directions have been to terrorists from across the border to target innocent people to create unrest among the masses. He issued directions for taking stringent actions against terrorists and the terror ecosystem.
"We have to be more cautious and alert to frustrate evil designs of the enemy," he said.
He asked the officers to put in sincere efforts for tracking down the elements involved in the Dhangri case and ensure justice for the victims.


DGP asks cops to identify OGWs of terror groups
Realizing that terrorists are operating in this belt with the help of the sleeper cells, he stressed on identifying the over-ground workers (OGWs) and accomplices providing any sort of support for terror activities.
He directed the cops to take stringent action against every individual involved in anti-national activities and supporting terrorism through any means.
He also directed for strengthening the security grids by activating checking points on different routes to track the movements of terrorists and their supporters
He issued directions for alertness on borders as also in the hinterland to foil the evil intentions of Pakistan and its agencies.
The DGP directed increasing anti-terror operations to track down hiding terrorists and their modules.
Seven killed in twin-terror attacks
Seven civilians including two children were killed and many more injured in two attacks in Dangri village in Jammu and Kashmir's Rajouri district on January 1 and 2. While four people were gunned down on January 1 evening, two children were killed and several others injured after a suspected Improvised Explosive Device (IED) blast occurred in the same vicinity in Rajouri's Dangri village on January 2 morning. One injured later succumbed to his injuries in GMC Jammu.