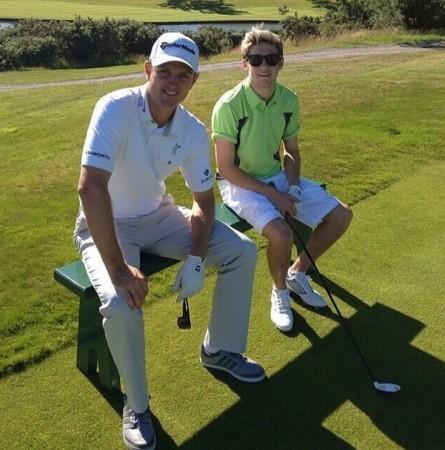 After the controversial exit of Zyan Malik, "One Direction" has taken a break from their "On The Road Again" tour for two months and Niall Horan has decided to take this opportunity to show off his golf skills.
The 21-year-old will be assisting Irish professional golfer Rory McIlroy during the par-three tournament in Georgia, US. Fans of the "Night Changes" singer can tune in to Sky Sports 4 HD on Wednesday, 8 April, at 7pm to watch their favourite musical icon caddie the popular player.
"I've got Niall from One Direction caddying for me, which should be good fun. He's been excited to come here. He's never been to the Masters. [I'm] looking forward to spending a bit of time with him out there," the golfer told Sky Sports.
Last year, McIlroy had asked the "One Direction" heartthrob to support him in the event. "I caught up with him in Australia at the end of last year and he was really excited, and I said, if you're available Wednesday afternoon and you want to carry the bag for nine holes, you're more than welcome," said the 25-year-old.
However, Horan is not the first one to caddie in par-three Masters. Professional tennis player Chris Evert and Andy Roddick have also been bag carriers for Greg Norman and Andy Roddick in 2009 and 2011 respectively.
Meanwhile, American professional golfer Tiger Woods, will reportedly make his comeback through the light-hearted par-three tournament to be held in Augusta, Georgia this Wednesday.