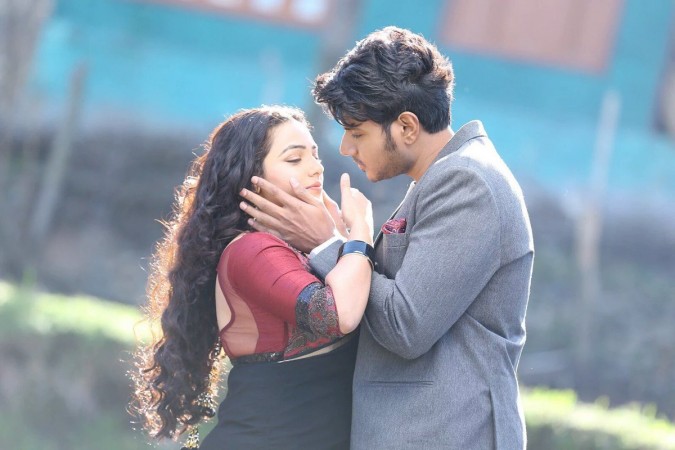 Director Rajasimha Tadinada's Telugu movie "Okka Ammayi Thappa," starring Sundeep Kishan, Nithya Menen and Ravi Kishan, has garnered mixed reviews from the audience.
Check: Okka Ammayi Thappa Stills | Audio Launch Photos
"Okka Ammayi Thappa" is a romantic action film, which is inspired from the real-life experience of director Rajasimha Tadinada. The movie revolves around the story of a boy (Sundeep Kishan) and girl (Nithya Menen) who fall in love after meeting each other on flyover. They get stuck in traffic jam on the flyover for eight hours. What happens during that interim forms the crux of the story.
The audience say "Okka Ammayi Thappa" has got a fresh love story, which has not been explored in Tollywood in recent years. The director has done a good job in scripting and has got amazing grip over its narration. The first half has nothing much to offer and it is slow in parts, but the interval sets the momentum for its story. The second half is thrilling and entertaining and is the highlight of the film.
The viewers say Sundeep Kishan and Nithya Menen have delivered superb performances and the sparkling chemistry between the two is the highlight of "Okka Ammayi Thappa." Ravi Kishan has played the antagonist and has done justice to his role. Other artistes have also done a good job.
"Okka Ammayi Thappa" has been produced by Anji Reddy under his banner Anji Reddy productions and the movie has decent technical elements. Mickey J Meyer's music, Chota K Naidu's cinematography, exotic locales and action scenes are the big attractions in the technical front, add the viewers.
We bring you some viewers' verdict shared on Twitter. Here is the live update of "Okka Ammayi Thappa" movie review by audience:
Venkyreviews ‏@venkyreviews
#OkkaAmmayiThappa 1st half so far average. Slow but entertaining in parts with an interesting interval. Need a big second half now. #OkkaAmmayiThappa 2nd half is good and better then 1st. Overall an avg-abv avg movie
Rahul Reddy N ‏@itsmerahulreddy
#OkaAmmayiThappa ..sensible movie with interesting second half......salute
Varun Kilaru ‏@varunkilaru
#OkkaAmmayiThappa - bad direction spoils d movie but d second half works on d script level.. Mickey's RR Nithya's expressions
RK ‏@Tight_Slapz
#OkkaAmmayiThappa @sundeepkishan movie is great in pieces. Worth watching once. pls @sundeepkishan next time pls underplay a hero role. #OkkaAmmayiThappa final Verdict : STRICTLY AVERAGE. Keep calm and digest the fact and move on. @sundeepkishan
V. Mallikarjun ‏@InsideMalli
Done with #Tiger.. @sundeepkishan yet again proves that he is a versatile actor.. :) @23_rahulr at his best.. :)
Telugu360 ‏@Telugu360 4h4 hours ago
.@sundeepkishan 's Interval report. Just 65 minutes runtime, short first half tests patience of the audience .@sundeepkishan 's #OkkaAmmayiThappa has nothing new to offer. Simply Avoidable
Thyview ‏@Thyview
#OkkaAmmayiThappa #SundeepKishan @sundeepkishan ...Its a good Movie..with a good screenplay & decent Direction...!!!
NARESH ‏@nareshmuthyala5
#OkaAmmayiThappa #Movie just watching .nd enjoying ..#no boreing scenes ...good ..movie @sundeepkishan anna ..meru .cheppasaru .bro action
Actor ‏@Asta_SaraN
#OkkaAmmayiThappa has got a fresh love story..
IdleGreat ‏@IdleGreat
#OkkaAmmayiThappa A definite must watch film. Brilliant screenplay! Kudos @sundeepkishan and @ItsNithyaMenen
Sasidhar ‏@SriSasidhar
High tensed love story with ultimate BBM @sundeepkishan rocks #OkkaAmmayiThappa commercial hit for Sundeep
Siva Surya Teja ‏@12345678surya
#OkkaAmmayiThappa first half done, Awesome Gripping and Thrilling
AnjaN ‏@AnjaniAries
#OkkaAmmayiThappa twist Second half
Sainath Sangam ‏@sainath_sangam
Superb movie bhayya @sundeepkishan!!Such a thrilling 2nd half!!Loved ur performance!! #OkkaAmmayiThappa
Sriram Varma ‏@sriramForU
Interval :- Pretty ordinary stuff so far.... #OkaAmmayiThappa 2nd half :- except couple of engaging scenes nothing is there.... Below average , avoidable for normal viewers #OkaAmmayiThappa Visuals & few songs Screenplay, Comedy and lead pair's chemistry asalu cinema ki aa title ki sambandame ledu #OkaAmmayiThappa
Siva Surya Teja ‏@12345678surya
#OkkaAmmayiThappa first half done, Awesome Gripping and Thrilling @Fukkard #OkaAmmayiThappa Excellent movie. Thrilling , very Gripping and straight to the point .Saw shades of Sherlock in @sundeepkishan
Panda ‏@honey_panda99
@sundeepkishan @MenenNithya #OkaAmmayiThappa a beautifully woven story with a top-notch cast! Perfect gift for the summer for us here in US!
Bittuuu !! ‏@tharungstars
1st half - No comments 2nd half bagundi Career best performance of @sundeepkishan #OkaAmmayiThappa
Jashwanth ‏@jashwanth19
#OkaAmmayiThappa @sundeepkishan fantastic movie anna..this will become one of the biggest hit movie in your movies
MegaPrince ‏@MegaPrinceVarun
Just watched #OkkaAmmayiThappa , Bold and Brave attempt by @sundeepkishan , BGM is top notch :-) @MenenNithya excellent
Placid ✌️ ‏@pratyush_reddy 9m9 minutes ago
Just saw #OkaAmmayiThappa second half is a visual treat @sundeepkishan you were too good! One of your best performance Hatsoff bro
Ravi Teja ‏@ravitejanaidu12
@sundeepkishan bhayya 1st koncham slow 2nd half Rock chasav . Enjoyed movie #OkaAmmayiThappa .
Sneha Ritu ‏@AlluRitu
Just watched #OkaAmmayiThappa amazing movie! @sundeepkishan Grt work ... Just loved the movie!
Pavan kumar ‏@pannu_p
@sundeepkishan #OkaAmmayiThappa bhayya movie was awesome nd ur performance is outstanding sure u will get a good credits