World No. 13 Novak Djokovic revealed he was playing without pain in his injury-prone elbow for the first time in two years during his first-round win at Monte Carlo Masters on Monday, April 16.
The 12-time Grand Slam champion also conceded that he had rushed his comeback from injury and that he was not ready for the hard-court action in Indian Wells and Miami.
Djokovic was forced to undergo a "small medical intervention" in February to treat his elbow and returned to action earlier than expected at the Indian Wells Masters in the first week of March.
However, the 30-year-old was dumped out of the Master's 1000 tournament as early as in the first round by world no. 109 Taro Daniel of Japan. In Miami, there was more disappointment as he was stunned in straight games by lower-ranked Benoit Paire in the second round.
Djokovic had cut a dejected figure and was coming up with despondent replies during a press conference after his defeat in Miami.
"After two years finally I can play without pain," Djokovic said, as quoted by ATP's official website.
He added: "The intervention was done right, and I came back already after five weeks on the court from the moment I had the surgery. That's amazing.
"I still obviously wasn't ready game-wise, physically. So Indian Wells and Miami were really kind of a struggle on the court for me mentally. I know that I can play much better than that, but I couldn't. I just wasn't ready."
Djokovic: I missed Marian Vajda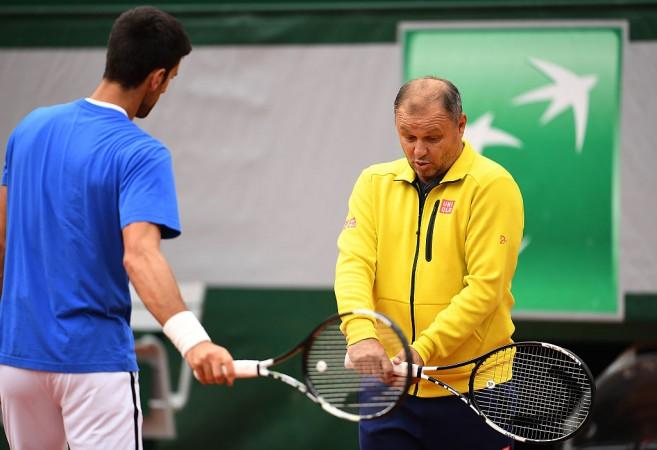 If his commanding performance against fellow Serb Dusan Lajovic on Monday is anything to go by, Djokovic is certainly back on track. He won 82% of his first serve points and 67% of return points as he clinched a comfortable 6-0, 6-1 win.
Maintaining that Monday's win is a "great start" to the ongoing clay-court tournament, the two-time champion also expressed delight at joining hands with Marian Vajda, nearly an year after parting ways with his long-time coach.
Notably, Djokovic was without a coach as he snapped ties with eight-time Grand Slam champion Andre Agassi, who had started working with him before last year's French Open. Radek Stepanek also followed the American on the way of the Serb's coaching team.
"It's a fresh start I think for both of us. I missed him. I have a feeling that he missed me or tennis or both," Djokovic said.
"We both enjoyed a lot the past 10 days of practice we had. He knows me better than any tennis coach I've worked with. He's a friend. He's someone I can share a lot of things with, whether it's professional or private life. He's always there for me," he added.
"He knows me inside-out. He knows what I need in order to get to the highest possible level of play. We could not ask for a better start."