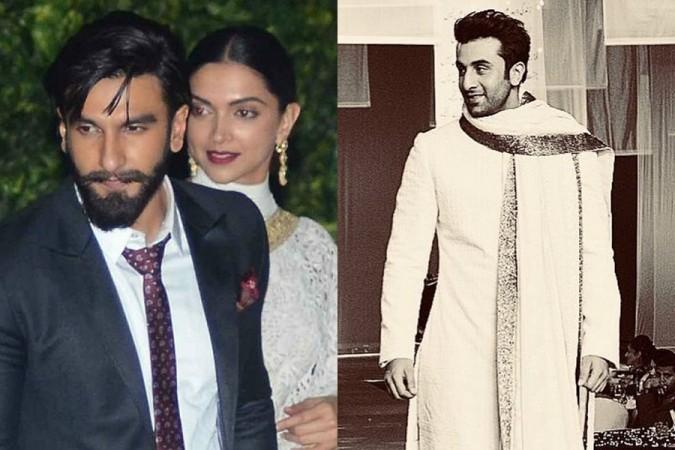 Ex-lovers Deepika Padukone and Ranbir Kapoor, who were last seen in Imtiaz Ali's directorial Tamasha in 2015, will reunite once again but on the ramp for ace designer Manish Malhotra at The Walk Of Mijwan Fashion Show, which will be held, April 9.
But a certain section of Instagram users are not happy about the idea of bringing Ranbir and Deepika together. Instead, they want to see Deepika walk the ramp with her rumored boyfriend Ranveer Singh as their impending wedding is currently on the hot burner.
"We Want Deepika And Ranveer," an Instagram user commented on Manish Malhotra's post where the designer made the announcement by sharing a black and white collage of Deepika and Ranbir posing on the ramp.
"No we don't want Ranbir," another user commented while the other wanted to see Ranbir Kapoor's ex-girlfriend Katrina Kaif and Deepika's rumored lover Ranveer Singh walk on the ramp.
A user while expressing his disappointment commented that Ranveer would have been a better choice than Ranbir owing to their wedding rumors that have been doing the rounds of the tinsel town for quite a while now.
While another user wrote, "Ranveer Singh along with Deepika Padukone would have been the perfect pair for the ramp walk, a little disappointing. Deepika with Ranbir Kapoor is not magical."
And then there was another disappointed DeepVeer fan said, "Why Ranbir and not Ranveer yaar, they're the ultimate Jodi right now!!!! Ranbir Deepika have weird awkward past, DeepVeer wedding is the hottest news now."
However, there were many who loved the idea of bringing Deepika and Ranbir on the ramp and were happy that they will soon be able to see their chemistry after 3 years.
On a related note, Deepika and Ranbir are cordial with each other even years after calling off their relationship.
Meanwhile, rumors has it that Deepika and Ranveer will finally tie the knot at a private ceremony at the end of 2018. It is being said that their parents are trying to lock the wedding date and have short-listed four dates between September and December 2018.