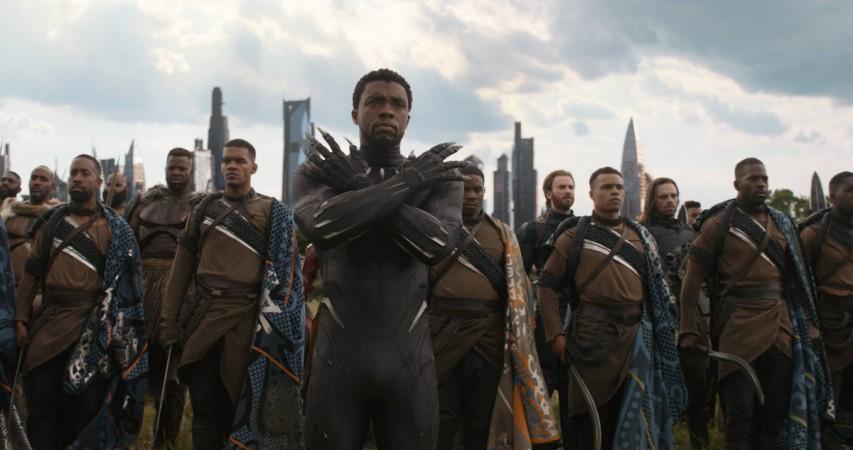 King T'Challa made his way to Saudi Arabia as Black Panther became the first movie to be screen in the country after 35 years. However, the Marvel superhero did not have the exact welcome as other countries. Although the screening of the movie was advocated as a step towards Saudi's modernization efforts, country's conservative laws came into play and a particular scene was cut by the censor board.
According to The Hollywood Reporter, Black Panther opened in the country on April 18 with a 40-second removed from the movie. The Associate Press reports that the scissor was used on a particular kiss scene but the adverse violent scenes were left untouched. THR added that the censoring has been made on Black Panther across the region.
"We want to ensure the movies are in line with our culture and respect for values. Meanwhile, we want to provide people with a beautiful show and really enjoy watching their own movies," Awwad Alawwad, Saudi's minister of culture and information, told Associated Press films during the Riyadh premiere.
The cut shouldn't come as a surprise given the strict Sharia Laws in the Kingdom. In the past, several international movies screened in Middle East such as Watchmen, The Girl With The Dragon Tattoo and more were heavily censored.
Thankfully in this case, it was just a kiss that hardly mattered to the storyline of Black Panther.
The Wednesday screening was a strict schedule with socializing and networking followed by prayer, followed by ribbon cutting and inauguration taking place, THR reports. Efe reports that the first screening hosted a mixed crowd featuring residence of Saudi and foreign audience.
According to CNN, the screening was limited to 500 invited guests, executives and officials. The public screenings of the movie might start from May 1.
Internationally, Black Panther has performed remarkably well at the box office. The Ryan Coogler directorial currently records an international earnings of $640 million whereas the US domestic box office collection stands at $675 million, Box Office Mojo shares.
With Avengers: Infinity War releasing next weekend, Black Panther's box office run could reduce to a walk.