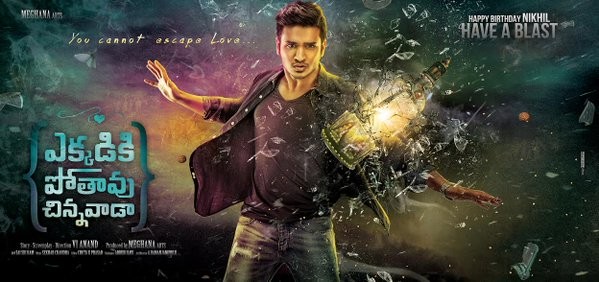 Actor Nikhil Siddhartha has revealed the first-look poster of his next movie titled "Ekkadiki Pothavu Chinnavada." which has been titled today. The film is made with the tagline: "You cannot escape love."
Nikhil Siddhartha hinted about the release of its first look on Twitter handle on May 28. He tweeted, "Hello hope ur all having a lovely Sunday.. We Will be revealing a few details abt my Latest Movie 2 da afternoon via the Media nd SocialNtwk." Later, he added, "The First look nd Title of the Film will b Released June 1st. Starring @IamHebahPatel @Nanditasweta @vennelakishore."
The actor revealed that the first look and title would be revealed at 6:30 p.m today. He posted the link of the music video of the song Ekkadiki Potavu from ANR and B Saroja Devi's movie Aatma Balam as a hint to guess its title. Nikhil Siddhartha tweeted, "Releasing the 1st Look nd TITLE of Our New Film via the Media at 6.30pm Today.. Here is a small Hint at the TITLE ;)."
Many of his followers responded to his post with guessing the title and most of them thought that it must be "Ekkadiki Pothavu Chinnavaada." Their guesing was right. Suresh Kondi tweeted, "Hero @actor_Nikhil's Next titled #EkkadikiPothavuChinnavada.!! Impressive First Look bro.."
VI Anand has written the story and screenplay and directed "Ekkadiki Pothavu Chinnavada," which is produced by PV Rao. The makers have kept its story under the wraps. Nikhil Siddharth is playing the lead role, while Hebah Patel and Nandita Swetha appear as his love interest in the movie, which has Sai Sri Ram's camera work and Shekhar Chandra's music.