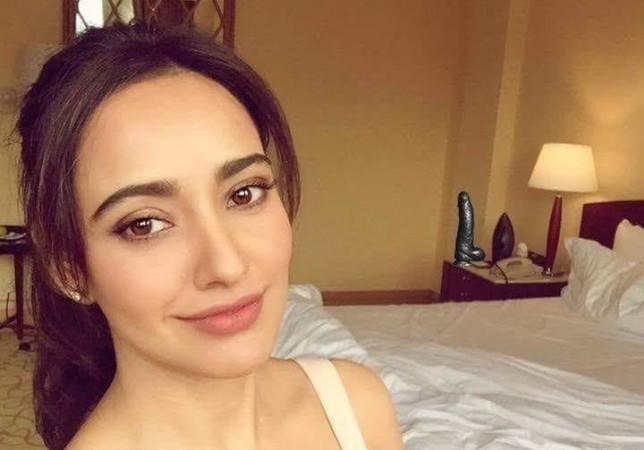 Neha Sharma, who stole hearts with her Bollywood debut in Crook, has become the centre of attention on social media but for all the wrong reasons.
A morning selfie of the actress showing a sex toy placed on top of a desk shelf in the backdrop has been making the rounds of the internet for the past couple of days.
As soon as Neha Sharma's selfie with a sex toy surfaced online, social media users started circulating the picture on Twitter, Instagram and WhatsApp letting their imagination fly high in the sky.
"Neha Sharma showing off his collection of #Dildo" a Twitter user wrote while sharing the picture while another user wrote, "Actress Neha Sharma - In her eagerness to upload morning selfie, left her *good night* friend on the table."
As most of the people on social media don't even bother to find out the real source of the image, Neha Sharma decided to take the matter in her own hands and clear the confusion around her viral selfie. She uploaded her original selfie having no sex toy in the backdrop contrary to the morphed one and wrote, "It's sad how misogynistic people can be..stop morphing pics and get cheap thrills out of it..this is the original pic."
Social media is blooming very quickly but it also a dangerous place which provides you with several unverified reports and information that you consume every day. It may be one of the easiest sources of information for millions of people but one needs to verify and check facts before promoting or sharing things that are meant to spread negativity and hatred.
So, don't believe everything that you read or see on social media. It may be a hoax and not entirely always true. Take a look at these tweets and find out the difference yourself.
Neha Sharma showing off his collection of #Dildo pic.twitter.com/rgltynepKC

— DAVID मिश्रा (@TeriKahkeloonga) June 22, 2018
Actress Neha Sharma - In her eagerness to upload morning selfie, left her *good night* friend on the table pic.twitter.com/uuKuv99uXa — Shrewd© (@shrewdshrewd) June 27, 2018
It's sad how misogynistic people can be..stop morphing pics and get cheap thrills out of it..this is the original pic.. pic.twitter.com/fmTqxtllYg

— Neha Sharma (@Officialneha) June 22, 2018