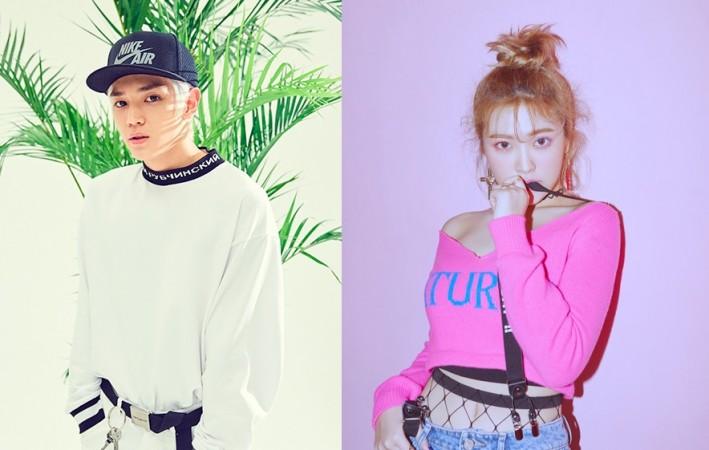 NCT member Taeyong and Red Velvet member Yeri seem to have become the new target of netizens. A group of social media users have claimed that the two of them are secretly dating.
The netizens have gathered photo evidence to prove their claims and they shared it online.
In one of the photos that have been shared online, the NCT member can be seen holding a cupcake while taking a selfie. The image was apparently taken during SMTown's Halloween party last year.
A similar snap of Yeri holding the same cupcake has also been shared online. However, the fans claimed that they could not find the stills of other celebrities with that dessert.
Also read Chinese New Year 2018: Which animal will replace Year Of The Rooster, date and other details
Another image shows the rumored couple posing for a photo together. The social media users claimed that they spent a lot of time together at the Halloween party and they also went together for swimming at the SMTOWN workshop in Hawaii, reported Koreaboo.
The netizens have also uploaded photos of Yeri and Taeyong holding their passports to prove that they are using matching passport covers.
The fans have even claimed that the rumored couple is using nicknames to communicate with each other. To prove it, they shared a screenshot of Yeri's Instagram post that shows her looking at the camera.
The post is accompanied by the captions: "Yoh-oh-ong~~~ to be honest, I'm looking [at you] like this." According to the social media users, Yooong could be the nickname of Taeyong.
Some of the fans have also claimed that the NCT member's photo is being featured in the Red Velvet singer's phone. They have shared a gif image to prove it.
A social media user even claimed that Taeyong once indirectly admitted that he likes Yeri. When one of his admirers asked him if he like Pokemon Squirtle more than the fans, he revealed that there is a kind of Pokemon is likes the most. It is called Wartortle, the evolution of Squirtle.
"One of Yeri's nicknames is "Yeribugi" as she looks a lot like Squirtle, who is called "Kobugi" in Korean," stated Koreaboo.
Another evidence that has been brought forward by the netizens to prove the relationship between Yeri and Taeyong is that both of them shared the same dreams before becoming K-Pop idols. The rumored couple apparently wanted to be firefighters.