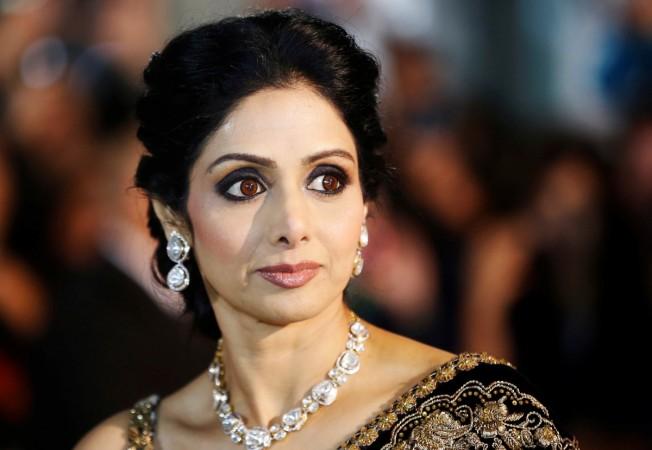 Sridevi has won her first ever National Award for her performance in Mom. However, many seem to believe that her death prompted the jury panel to confer her with the national award as the celebrated actress never won one when she was alive even after several remarkable performances.
The complete list of National Film Awards 2018 is announced, and Sridevi won the Best Actress award for her performance in the critically acclaimed film Mom. Although her performance in Mom was good, it is inarguably not her best.
In a career spanning over four decades, Sridevi had featured in films like Sadma, Gumrah, and English Vinglish among the many other films that saw her versatility as an actor. Many believe her performance in Sadma or for that matter in English Vinglish was much better than in Mom.
Though Sridevi had won hearts with her performances in Hindi and south movies, she was not conferred a National Award when she was alive.
However, the jury decided to honor her with a national award after her demise.
Many people on social media including Twitter said that there are many films in which her performance was better than Mom. The jury's decision to honor her for Mom leaving aside her much glorious years only further cements the doubts if it was just a mark of respect.
However, Sridevi's fans are happy about it and called the honor well deserved.
A few made allegations that since Shekhar Kapur, the chairperson of the central jury panel of the 65th National Film Awards, is close to the Kapoors, Sridevi received the award.
Oh come on, #Sridevi deserved a #NationalAward for many other movies. Be it Sadma, English Vinglish or any other performance. You give her for #Mom out of sympathy?

— Wo Madrasi Kudi (@dishya_sharma) April 13, 2018
#NationalFilmAwards Shekhar Kapur shud hv awarded his family friend in some other category which is meant for dead people. Vinod Khanna is good example. Best actress to Sridevi is joke. Then why not @TandonRaveena for Matre? Anyways their films were same and so were performance!!

— Human Being (@HumanityAbvAll) April 13, 2018
Sridevi national best actress and Vinod Khanna dada Saab Phalke award. "Yeh Kaisa desh hai Yaad karte hain log Marne ke baad " They were outstanding icons of film industry but too late too little

— Manik Agnihotri (@agninews) April 13, 2018
#NationalFilmAwards next year if Shekhar Kapur remains head of jury then we can expect Arjun Kapoor to win Best actor award. After all he is playing homage to Kapoor family being their family friend. Awarding Sridevi for homage instead of her performance!!

— Human Being (@HumanityAbvAll) April 13, 2018
If not in life, Sridevi got what she deserved after death!
Best Actress National Award for her brilliant performance in #Mom.
Congratulations Sriji ?️

— Hricha Shukla ऋचा (@mrichashukla) April 13, 2018
#NationalAwards isn't Shekhar Kapur who made Mr. India with Sridevi and close friend of Boney Kapoor heading jury of National Film awards? It's then same situation like last year where Priyadarshan awarded @akshaykumar and previously when Prakash Jha awarded Ajay Devgan!!

— Human Being (@HumanityAbvAll) April 13, 2018
This year is farrrrrrrrrr better than last few year's cause of the chairperson is changed also the team is better than the past.

Most of sinners are deserving but not Sridevi for MOM for sure.

— M A N I S H A (@DiscoverManisha) April 13, 2018
I think she absolutely deserved it for MOM. Can you name any other actress who deserved it this year? Sridevi was beyond perfect in MOM.

— Priyesh Sadanand (@priyeshsd) April 13, 2018
NATIONAL AWARD for SRIDEVI for MOM is nothing but extremely sympathetic☹

She was thousand times better in ENGLISH VINGLISH & I would be happier if she received for it?#Sridevi #NationalFilmAwards

— M A N I S H A (@DiscoverManisha) April 13, 2018
GORI TU LATH MAAR made me shocked cause he choreographed thousand times better dances for Bollywood☹

SRIDEVI one is very sympathetic and I would love to see her receiving for ENGLISH VINGLISH.

— M A N I S H A (@DiscoverManisha) April 13, 2018
Nonetheless, makers of the move are delighted to know that Sridevi got her first and only national award for the film Mom. "She deserves it. I am really happy, it's a great news for me because it was our film. She had done a fabulous job. We all are missing her now," Hindustan Times quoted director Ravi Udayawar as saying.
Apart from Sridevi, another legendary actor got a posthumous honor at the 65th national award. Vinod Khanna has been given the Dadasaheb Phalke Award. He had died last year.
There are some other Bollywood films and stars also, who got recognition at the 65th National Film Awards. Rajkummar Rao starrer Newton won the Best Hindi Film, Divya Dutt won the Best Supporting actress for Irada and Pankaj Tripathi bagged Special Mention Award for his performance in Newton. Apart from Sridevi winning the best actress award for Mom, the film also received the award for best background score.
National awards are the most prestigious awards for the Indian entertainment industry, and every year, some difference of opinion happens among the fans in regard to the winners list. Like any other award ceremony, this also includes a fair beat of controversies.
Related