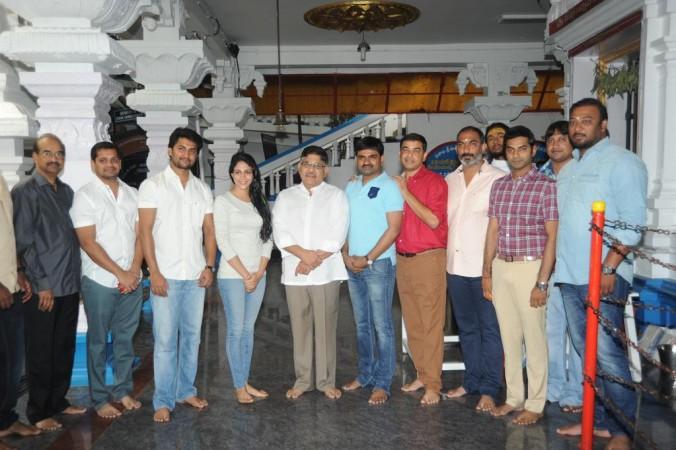 "Eega" actor Nani has teamed up with "Ee Rojullo" fame director Maruthi for his next movie "Bhale Bhale Magadivoy" (BBM), which was launched at a grand function held in Hyderabad on 1 March.
"Bhale Bhale Magadivoy" is jointly produced by GA2 and UV creations. Nani and Lavanya Tripathi are playing the lead role in the film. Dil Raju kick-started its shooting at the opening ceremony of the movie, which was attended by Nani, Lavanya, Maruthi, Allu Aravind, PRO-turned-producer SKN and others
After the muhurtam, SKN posted photos of the event on his Twitter page and wrote, "GA2(A division of GeethaArts) UV creations Maruti @NameisNani @LAVANYA__T 's BaleBaleMagadivoi భలె భలె మగాడివొయ్ shoot started 2day wth Puja." He added, "Vry Happy 2 be part of భలె భలె మగాడివొయ్ Maruti BunnyVas Vamsi & Me frens frm long tym now all r together 4 dis film."
"Bhale Bhale Magadivoy" is a full-length comedy entertainer. SKN further tweeted, "GA2 (A Divison of GeethaArts) UV Cretaions Maruti @NameisNani @LAVANYA__T GopiSundar's భ‌లే భ‌లే మగాడివోయ్ shoot started release in AUGUST. భ‌లే భ‌లే మగాడివోయ్ ll be Best out put of Maruti till date.Hilrious laugh riot. @NameisNani @LAVANYA__T r perfect apt for the roles. Exicited."
Nani has already completed the shooting of his next outing "Yevade Subramanyam" and is now waiting for the release of the film, which is expected to hit the screens as Ugadi treat on 20 March. The actor will join the production team of "Bhale Bhale Magadivoy" and begin shooting from 5 March.
The title of the movie - "Bhale Bhale Magadivoy" - is inspired by a hit-rack from Kamal Hassan and K Balachander 1990's movie "Maro Charitha". "Bangalore Days" fame Gopi Sunder has been roped into compose music for the movie. The film unit has planned to wrap it up fast and release it in theatres by August 2015.