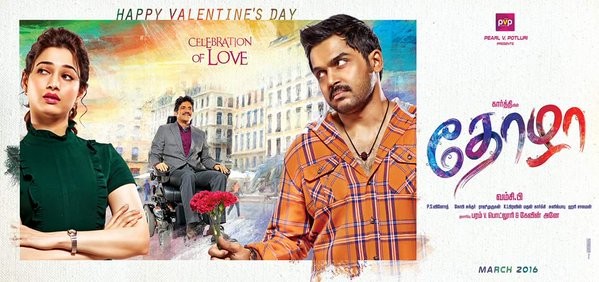 Nagarjuna and Karthi's "Oopiri" has collected Rs 29 crore gross at the worldwide box office in the first weekend. The movie has shattered the records of Nag's "Manam" and "Soggade Chinni Nayana."
The promos of "Oopiri" had generated a lot of attention and hype before its release. Adding to this, huge success of Nagarjuna's last release "Soggade Chinni Nayana" had raised the expectations of film-goers. The movie had a decent amount of advance booking for the weekend. In a bid to cash in on the hype, the makers of the film released it in 1000+ screens across the globe March 25.
"Oopiri" opened to decent response in the morning shows and received positive talk from the audience. The word of mouth boosted its business in the later shows on its opening day. The movie went on strength to strength Saturday and Sunday and grossed Rs 20.78 crore gross at the worldwide box office in the first weekend. Its distributors' share stands at Rs 13.4 crore.
Nagarjuna's "Manam" grossed Rs 16.75 crore at the global box office in its first weekend and its distributors' share stood at Rs 10.92 crore. His last film "Soggade Chinni Nayana" collected Rs 19.77 crore gross at the worldwide box office in its opening weekend and it had fetched Rs 13.82 crore for its distributors. The movie had smashed its record. Now, "Oopiri" has smashed the records of both the movies.
However, "Oopiri" has simultaneously been made in Tamil as "Thozha." PVP Cinema, which has produced both the versions of the film, is estimated to have shelled out over Rs 50 crore on their production. Their distribution rights have fetched Rs 43.3 crore for the producer. They have earned 40 percent of the investment of the distributors.
Here are the details of area-wise distributors, and rights price and the share of the distributors of "Oopiri." These facts are collected from various reports and they may vary from the actual details.
Area
Distributor
Rights
Share
Nizam
Dil Raju
Rs 8 crore
Rs 2.84 crore
Ceeded
P Murali
Rs 4.50 crore
Rs 1.39 crore
Vizag
SV Cinemas
Rs 2.7 crore
Rs 80 lakh
G East
OS Manikanta
Rs 1.9 crore
Rs 64 lakh
G West
Usha Pictures
Rs 1.6 crore
Rs 47 lakh
Krishna
S Creations
Rs 4.3 crore
Rs 67 lakh
Guntur
Rs 75 lakh
Nellore
Vimala Pics
Rs 1.3 crore
Rs 27 lakh
Karnataka
PVP/Goldie
Rs 2 crore
Rs 1.80 crore
Tamil Nadu
PVP/others
Rs 12 crore
Rs 4.80 crore
Kerala
PVP/E4E
Rs 50 lakh
Rest of India
PVP/Fox Star
Rs 50 lakh
Overseas
PVP/Others
Rs 4 crore
Rs 3.77 crore
Worldwide Total
Rs 43.3 crore
Rs 18.2 crore