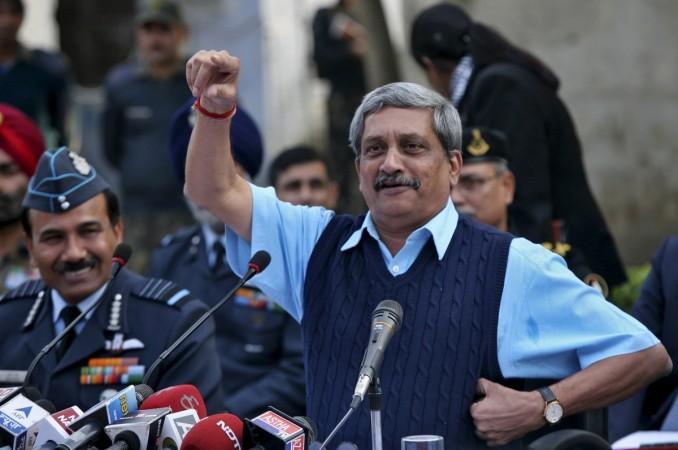 Former defence minister and current Chief Minister of Goa Manohar Parrikar has said the planning for the surgical strikes that were carried out by the Indian soldiers in Pakistan-occupied Kashmir (PoK) in September 2016 began in June 2015 after the National Socialist Council of Nagaland – Khaplang (NSCN-K) ambushed an army convoy in the Chandel district of Manipur.
Parrikar said that he felt insulted when he heard about the ambush that claimed lives of 18 soldiers on June 4, 2015. "I felt insulted....A small terrorist organisation of 200 people killing 18 Dogra soldiers was an insult to the Indian Army and we sat in the afternoon and sat in the evening and worked out the (plan of) first surgical strike which was conducted on 8th June morning in which about 70-80 terrorists were killed (along the India-Myanmar border)," the former defence minister said.
It had been erroneously reported earlier that an "insulting" question by a TV news anchor to Union minister Rajyavardhan Singh Rathore, who is a former armyman, had prompted Parrikar to plan the surgical strikes of September 2016. Parrikar revealed that the planning for the same began 15 months in advance following the attack on the army convoy in Manipur.
Adding that the first surgical strike along the India-Myanmar border was a successful one, Parrikar clarified that he had "placed helicopters (on standby) only in case of emergency evacuation" contrary to reports that stated otherwise. He also said that the only injury on the Indian side was a leech attaching itself to a soldier's leg.
At a gathering of industrialists in Goa on Saturday, Parrikar said: "The starting of 29 September (2016) surgical strike on the western border was 9th of June, 2015... We planned 15 months in advance. Additional troops were trained. Equipment was procured on priority basis."
The Goa CM also revealed that the DRDO developed Swathi Weapon Locating Radar was first used in September 2016 to "firing units" of the Pakistan Army even though the system was officially inducted only three months later. He added that 40 firing units of the Pakistan Army were destroyed, thanks to the Swathi Weapon Locating Radar.
Question to colleague Rajyavardhan Rathore also hurt Parrikar
He also said that a discussion on a TV news channel with Rathore "hurt" him.
"One question hurt me. Rajyavardhan Singh Rathore, an ex-Armyman, was on TV and he was explaining about all kinds of search operations. An anchor asked him 'would you have the courage and capability of doing the same on the western front'," Parrikar recalled.
"I listened very intensely but decided to answer when the time came," he added.
Omar Abdullah lashes out
Former Jammu and Kashmir chief minister Omar Abdullah also fell victim to the erroneous report and lashed out at the Centre questioning their strategic security policy in the wake of the statement made by Parrikar.
Abdullah wrote on Twitter: "The #SurgicalStrike had nothing to do with #Uri. It was planned because a minister was asked 'an insulting question'. What does one say!"
He added: "A news anchor's question could have provoked a wider conflict with Pakistan &we are supposed to feel safer with this sort of decision making."