Mubarakan starring Arjun Kapoor, Anil Kapoor, Ileana D'Cruz and Athiya Shetty, which opened in theatres on Friday, July 28, has received mixed reviews from Bollywood critics and celebrities.
While celebs are raving about the movie and Arjun's impeccable double role, critics have a different take on it. A large section of the critics said that the film was loaded with clichéd scenes, forced humour and lacked a strong storyline. Arjun's performance also didn't impress many. The only saving grace in the movie was Anil, claimed a few critics.
Box office prediction: Mubarakan, Indu Sarkar may open with low numbers
Mubarakan is a romantic comedy drama and revolves around a crazy Punjabi wedding set in London. Arjun plays a double role as identical twins – Karan and Charan – who due to a twist in the story end up becoming cousins and being raised in different places. Anil essays the role of their uncle Kartar while Ileana and Athiya play the female leads in the movie.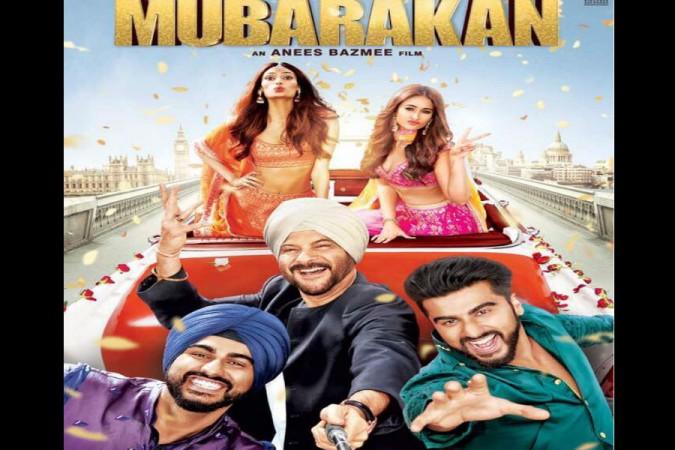 This is the first time that Arjun and his real-life uncle Anil have shared the screen space in a movie. The trailers and songs of Mubarakan have garnered a positive response from the audience, who are eager to watch the comedy drama.
Below is the trailer of Mubarakan:
Check out Mubarakan reviews by Bollywood critics and celebs:
Manju Ramanan of Masala.com said: "He (Arjun) succeeds in making both characters, Charan and Karan, look different. Though that is established in the title song, he carries it further with nuanced body language. The role of the turbaned Charan is more convincing, while the portrayal of his twin Karan appears forced. His scenes with real-life uncle Anil Kapoor is played with great ease. Loud characters, bright sets, songs and dances and slapstick humour dominate this Anees Bazmee film. But the instances do make you smile. The second half of the film drags a bit, though it has some lighter moments."
Ahana Bhattacharya of Koimoi said: "Anil Kapoor as Kartar Singh steals the show in this film. Watch the film for Anil Kapoor if not for anything else. The story is funny and the film has some really hilarious dialogues. However, sardar jokes are a bit clichéd and Bollywood needs to get over it. This is a perfect family entertainer and good for watching with your family on a get together or festive occasions. The film leaves you feeling good and happy. An enjoyable weekend watch with kids."
Saibal Chatterjee of NDTV said: "The rigmarole is enjoyable up to a point but once the idiocy quotient peaks, the overlong Mubarakan goes somewhat haywire. Yet, if it isn't as insufferable as other average Bollywood romantic comedies, a part of the credit goes to the actors. Anil Kapoor, who is as irrepressible as ever, lends some lustre to the proceedings with his impressive energy levels and funny one-liners.
Arjun Kapoor is far less consistent in his double role, but he does strike a few purple patches along the way, demonstrating a comic flair that cries out for a better film than this one."
Meena Iyer of the Times of India said: "You are most definitely not in original territory here nor is there anything terrible smart going on in Mubarakan. Anil is the scene-stealer with his half Brit-half Punjabi act lifting the film throughout. Arjun's double-act allows for some smiles and the girls, Ileana, Athiya and Neha are easy on the eye, though they're just decorative set-pieces. The songs—Tu Goggle Paa Ke Nache and a remix of the Hawa Hawa number lift the spirits. If comedies are your thing, then mubarakan..."
Below are some of the celebs review of Mubarakan:
Armaan Malik: "The REAL STAR of #Mubarakan is none other than @BazmeeAnees! thank you sir for making us smile, laugh & cry in every single movie of yours!!"
Varun Dhawan: "@AnilKapoor had me in splits and @arjunk26 Is super @Ileana_Official you looked amazing and @theathiyashetty you were very good #mubarakan"
Stay tuned for more updates.