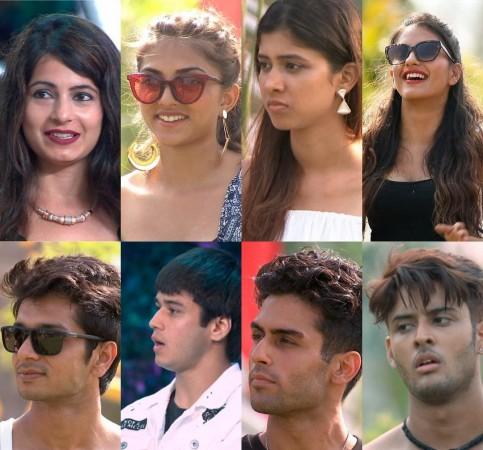 7:48 pm - She asks if Shagun is her ideal match. And the Oracle nods its head with a YES.
7:46 pm - Now Arushi Handa faces the Oracle.
15 Funny mistakes in Bollywood movies you never noticed
It means that Arushi Handa and Shagun are the first ideal match of the show with while Arushi Dutta and Fahad too are an ideal match but without power.
7:45 pm - Both Monal and Aarushi asked whether Shagun is their ideal match after all that Shagun has done.
7:44 pm - Splitsvillans get a message the next morning. The message says that two of the four girls - Monal and Arushi Handa - will be facing the Oracle in the secret session. The villa has chosen Monal and Aarushi Handa to go to the secret session.
Monal asks Oracle if she and Shagun are an ideal match. Oracle replied with a big no and said that now they both have to pay the price.
7:43 pm - Arushi blasts Shagun inside the house. She tells him he could've just pulled Fahad like Simba did and ended the task once and for all but instead he chose to humiliate Fahad.
The entire villa was against Shagun but Sheetal still didn't give up on him! But Shagun failed to notice that too. He clearly didn't want her to speak and asked her to shut up when she tried.
Sheetal and Maera are this close to getting into a major fight! Sheetal lost her calm on Maera because she spoke despite of having nothing to do with whatever was going on.
7:38 pm - After all his efforts, Kabir lost to Gaurav in the last round. Do you think Anusha should go ahead with Gaurav in the game?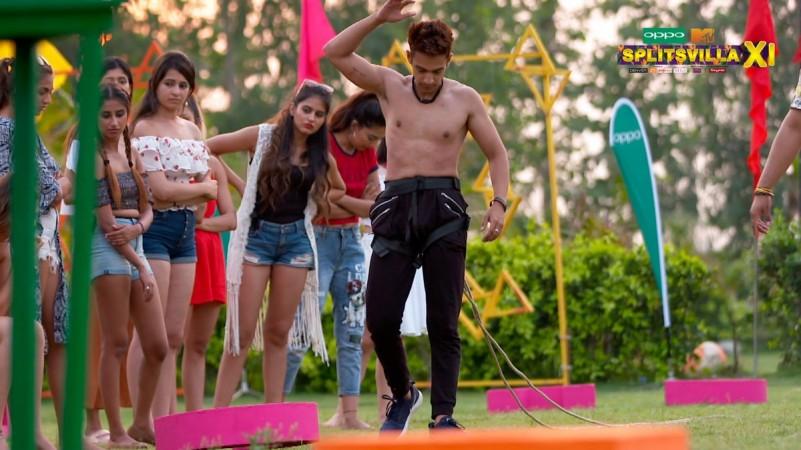 7:37 pm - Gourav wins the tug of war against Kabir just to prove how much he likes Anushka who likes Kabir and not him.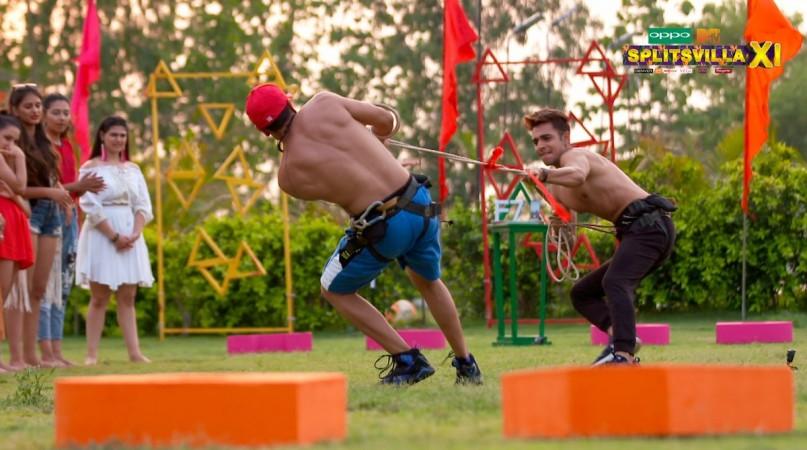 7:30 pm - In the third round, Shagun again stops Fahad from winning. Anshuman felt Shagun was totally humiliating Fahad in front of everyone and so did Sunny Leone. For Shagun, it was more than just about winning the task. He's treated Fahad terribly and insulted him in front of the entire villa.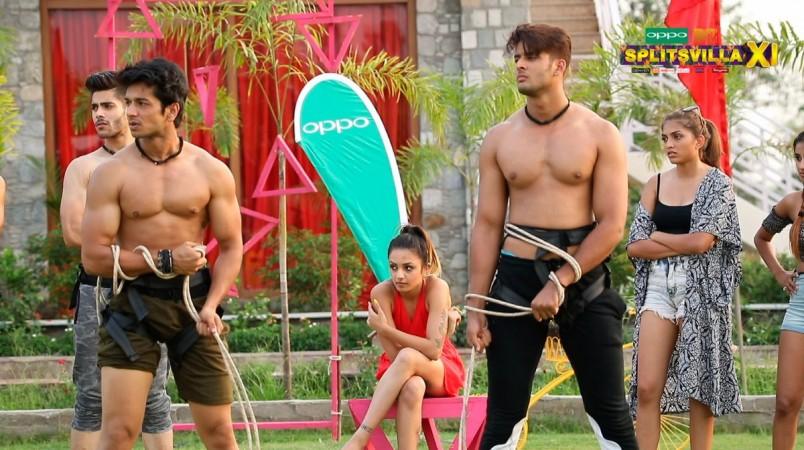 7:28 pm - In the second round, Shagun surprisingly allowed Fahad to win. And that came as a shock to everyone.
7:25 pm - Shagun betrays Arushi and Fahad in the rope round. He was supposed to lose but he stopped Fahad from winning. Arushi was literally like ' WTF'.
7:22 pm - Anshuman is performing really well. Roshni just went and hugged Anshuman after he fell on the ground. And coincidentally, his answer was right too.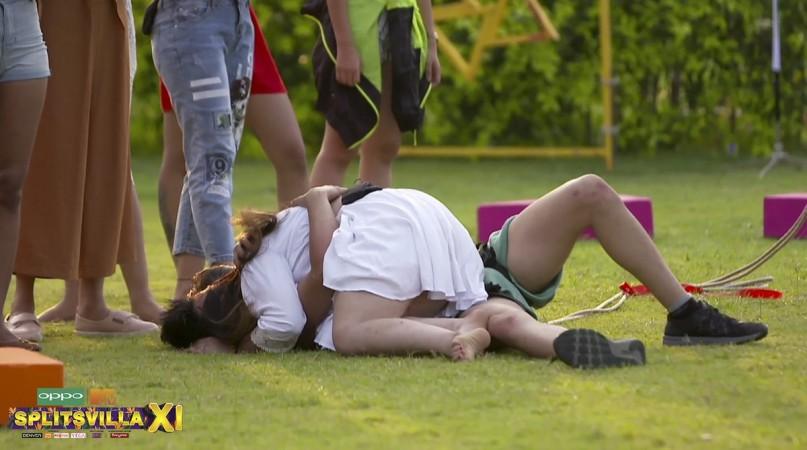 7:16 pm - Anshuman and Rohan are battling each other in the tug of war challenge. And it's really getting intense.
7:13 pm - In today's Bae Watch Session, the girls have to finish an entire corn cob placed in the boys' mouth.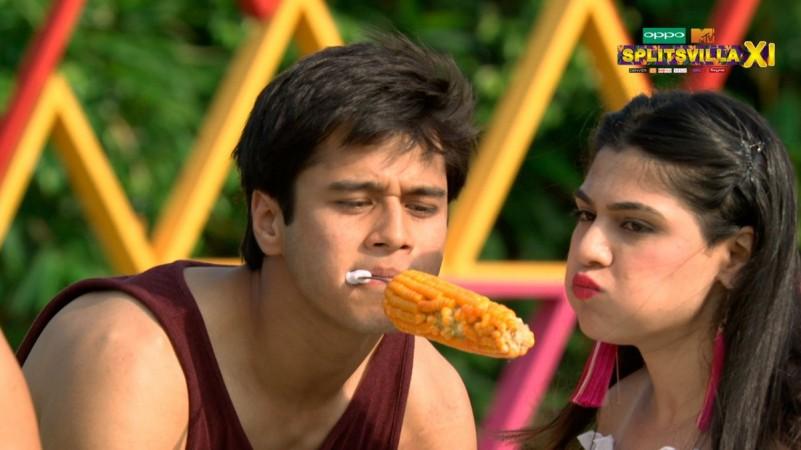 7:12 pm - Simba starts arguing with Monal asking her why did she say like that when they never discussed anything like that.
7:11 pm - Sunny tells Monal that's what break-up feels like. She consoled her and said that maybe one day she will get a person who will also like her in return.
7:09 pm - Monal is having a emotional breakdown. She says she felt very bad and hurt when her connection Simba started making connections with another girl. Simba says that he had told since the beginning that they might not be an ideal match.
7:07 pm - Oracle starts buzzing. Tells that since there are two ideal matches, Arushi will decide who will go out of the Splitsvilla tonight.
7:05 pm - According to the calculations of the Oracle, Arushi and Kabir are not an ideal match. That means Arushi and Fahad are an ideal match of MTV Splitsvilla 11. They will now have to stick together and ask Oracle when they get on opportunity.
7:04 pm - Sunny Leone and Rannvijay ask Arushi and Kabir to step forward in front of the Oracle and ask if they are an ideal match or not.
7:03 pm - Splitsvillans vote for Arushi and Kabir to go in front of the Oracle. One contestant will definitely get eliminated and say goodbye to the show once and for all.
7:02 pm - Sunny Leone asks Arushi why does she thinks like that. Arushi replies that Kabir has started liking Anushka and that's why they are not together.
7:01 pm - Arushi Dutta is jumping with joy as she knows that she will be the first one to get a ideal match on the show. She says she connects with Fahad but she thinks that Kabir is her ideal match.
In tonight's episode of MTV Splitsvilla 11, not the Oracle but a deadly twist will reveal not just one but two ideal matches of the show.
Last Sunday, Arushi Dutta and Shruti Sinha were given the opportunity to choose any one boy to go in front of the Oracle. While Arushi said she will go with Fahad, Shruti didn't choose anyone because she doesn't want to lose her connection with Rohan.
Shruti's mischance helped Arushi earned a chance and gave her an opportunity to face the Oracle with two guys. She chose Kabir as well Fahad and when the Oracle told her Arushi that one of the two guys is her ideal match.
And it looks like a new twist will be introduced which will reveal two ideal matches. Any guesses who will be the two couples?
Keep watching this space for the latest updates from MTV Splitsvilla 11.