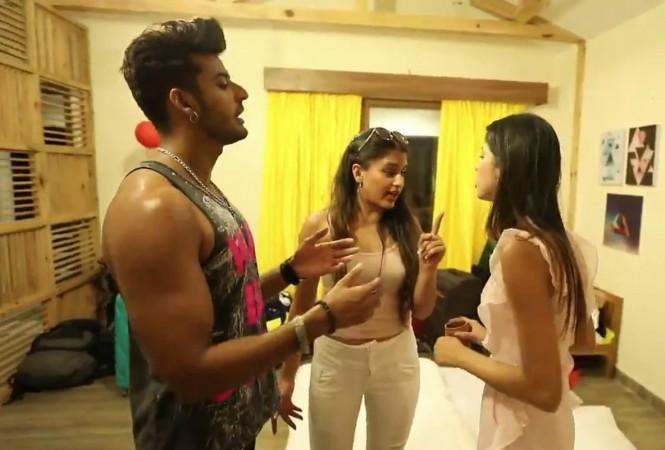 7:47 pm - In the upcoming episode, it looks like Anshuman and Shruti will get a chance to face the Oracle to check whether they are an ideal match or not. If they become an ideal match, then they may lose their connections as they will be in danger. Roshni gets teary-eyed but hopes Anshuman gets his ideal match.
7:45 pm - Amid Handa and Sheetal's fight, Splitsvillans get a message that there will be a surprise dome session. Splitsvillans are in shock as after every Bae Watch Session, there is always a Test Your Bond Challenge.
7:43 pm - Sheetal raps Shagun and Handa for holding each other's hands during Bae Watch Session. "Why did you hold Shagun's hand?" Sheetal asks Handa.
7:37 pm - We all saw this coming. Sheetal is furious because Shagun is spending more time with Handa than her and got into a major fight with them. Do you think she is getting insecure or do you think her actions are justified?
7:36 pm - Apna Apna Dekhlo team wins the Dare task after completing all the dares. But it looks like, the win has put Splitsvilla's connections in danger.
7:35 pm - In the mimicking task, Shruti chose Shagun to mimic and we doubt anyone else would've done a better job than her! Shagun is really offended and claims to be Shruti's favourite topic of discussion.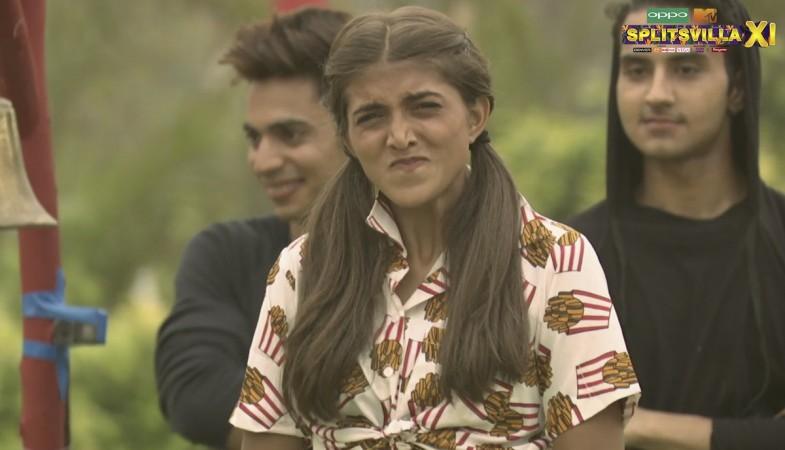 7:33 pm - Who knew it was possible to do a seductive dance on Johnny, Johnny Yes Papa? Maera and Ashuman stole the show with their outstanding performance.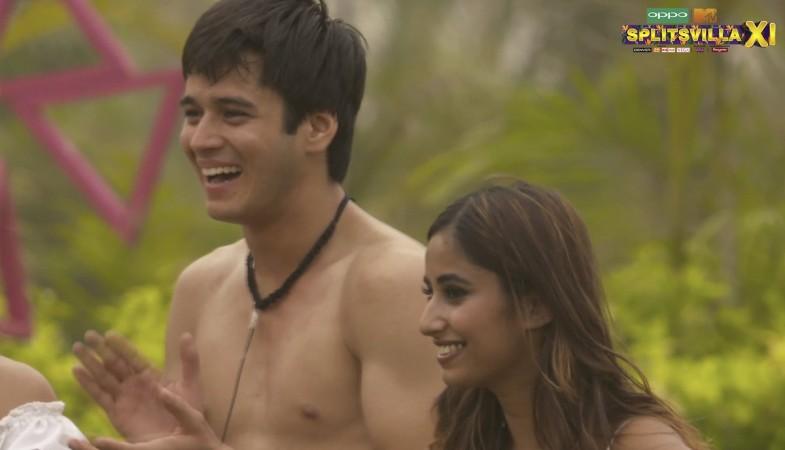 7:31 pm - In another task, Simba sings Twinkle Twinkle Little Star nursery rhyme with Roshni in a romantic way. But looks like Simba forgot the lyrics.
7:29 pm - After the push-ups task, boys are now made to wear their underwears over their pants and have to pose like a superhero. Girls are helping boys find their underwears and making them wear it over their pants.
Anshuman made this dare even more interesting by wearing two under-wears at the same time.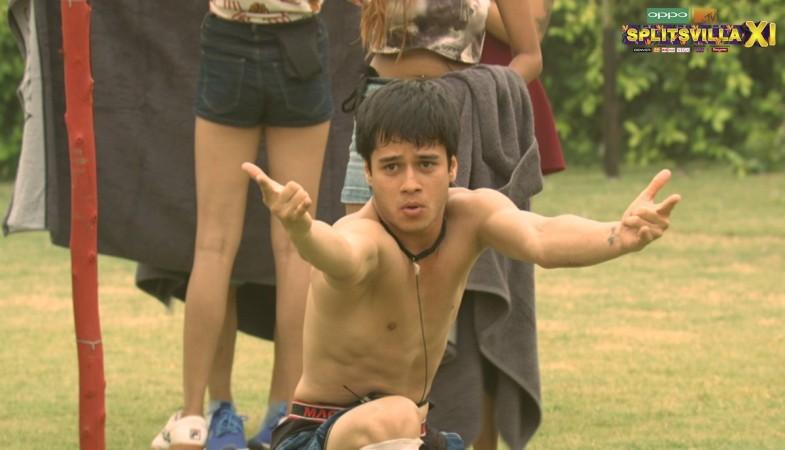 7:25 pm - Roshni seduces Simba who has been made to stand like a tree as a prop. Roshni's seducing act leaves her connection Anshuman and Simba's connection Maera jealous like anything.
7:23 pm - Anshuman is not at all feeling good after drinking half bottle of chilli sauce. He is running out of breath. Splitsvillans are trying everything to help Anshuman get him to normalcy. While it was all fun and games, Anshuman can't seem to be able to breathe anymore. His lips have turned white too.
7:21 pm - In the next dare, girls were made to eat raw eggs whi;e boys were made to drink bottles of chilli sauce.
7:18 pm - With every passing dare, the Splitsvillans are getting funnier. This one is gonna make you laugh till your stomach hurts! Each boy has swapped their clothes with the girls.

7:16 pm - Sunny and Rannvijay ask Roshni what was she searching for in Anshuman's pants. Roshni goes speechless when Sunny says she came out empty handed.
7:15 pm - Well, Maera and Anshuman took it too seriously and Roshni seems to be getting really jealous. But, wait. She's got her hands in his pants!
7:13 pm - Two girls from each team have to hug a guy really tight for 5 minutes. Roshni is getting super jealous of Anshuman and Maera's closeness. She complains to Rannvijay that Anshuman never hugged her so tightly. She is trying hard to separate both by tickling Anshuman but the latter is not letting Maera go.
7:06 pm - Today's Bae Watch Session's name is Dare De Dil. Rannvijay asks boys from Roshni's group to perform with the other group and vice-versa. Each couple will take up the dare and try to mimick or enact them in front of the Splitsvillans.
7:04 pm - Rannvijay and Sunny tease ideal match Kabir and Anushka for sharing a room and sleeping together inside the villa in the same room last night. They claim they just fell asleep while talking to each other, did they?
7:02 pm - Dutta complains to Handa that she didn't give her and Fahad a chance. Dutta mocks Handa by saying since the latter has become an ideal match, her attitude has now changed. Handa shots back at her.
"Did you just say that," retorts Handa but Dutta looks quite adamant. Handa now vows to teach her a lesson.
Dutta is really upset as Handa didn't let her and Fahad face the Oracle. Instead, she asked Dutta to try and make more friends so that she gets the highest number of votes to face the Oracle.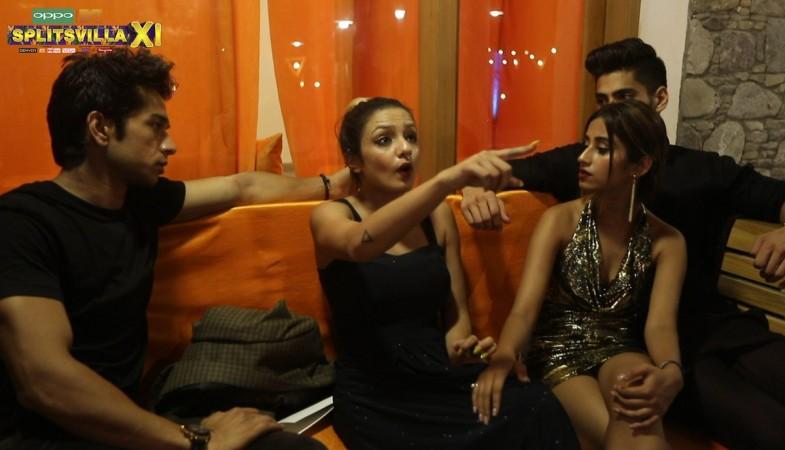 7:01 pm - Handa is in for a game plan. Meanwhile, Arushi Dutta and Fahad are quite upset that they didn't get a chance to face the Oracle despite performing well in the tasks.
After Shagun and Arushi Handa were declared as the first ideal match on the last Sunday episode of MTV Splitsvilla 11, Kabir and Anushka too got a chance to face the Oracle and they were declared an ideal match as well. While the two couples are now having an added advantage over other couples inside the villa, it looks like things are heating up between Shagun's connection Sheetal and ideal match Handa.
Last Sunday, when Sheetal got to know that her connection is an ideal match with Handa, she became pretty upset and was reluctant to let go Shagun to be Handa's ideal match. Shagun, however, told her that it will beneficial for both of them if he gets in power and will be able to save her from future eliminations. After listening to the suggestions of the other Splitsvillans, Sheetal finally gave green signal to Shagun to go and sit with Handa inside the dome.
As Handa is now in power, Splitsvillans have now started to think that her attitude has started getting a new shape as she has been getting into a lot of fights since then.
Meanwhile, in tonight's episode, boys will be seen swapping their clothes with girls and vice-versa during the Bae Watch session.
Keep watching this space for the latest updates from MTV Splitsvilla 11.