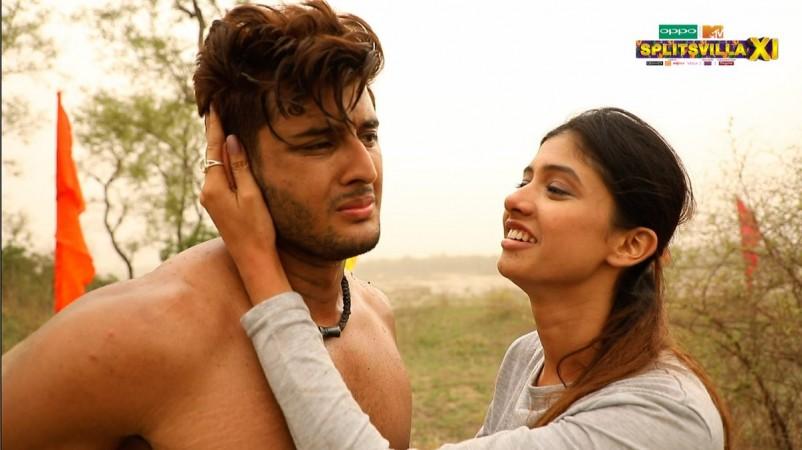 7:50 pm - In the upcoming episode, Sunny Leone will be seen enthralling the Splitsvillans with her breath-taking dance number. Other splitsvillans too will be seen showcasing their chemistry on the dance floor.
7:49 pm - Handa doesn't know what to do now. On one side, Shagun is her ideal match, and on the other side, she has her friends. She is stuck in a tug of war between her ideal match and her friends.
7:48 pm - Anushka, Kabir and Fahad slam Shagun for his statements while Shagun tries to threaten Fahad for his words. While Shagun was trying to cope with the pain of Sheetal not being around anymore, Fahad is picking a fight with him and accussing him being too dramatic.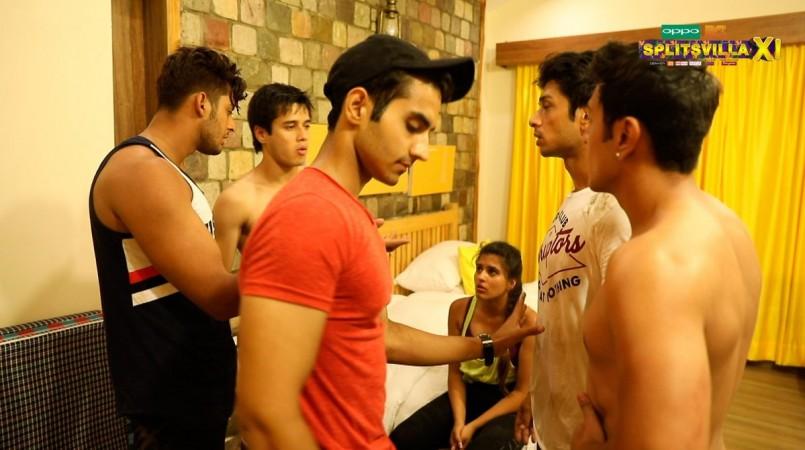 7:47 pm - Arushi Handa is upset and angry with Shagun's statements.
7:46 pm - Shagun is broken-hearted! He has decided to break all ties with people at Splitsvilla 11. Anushka and Fahad are instigating Shagun's friends against him for the statement he just made.
7:40 pm - Shagun now says, "Ab yaha saari rishtedaari, yaari dosti, bhai bandhu, yaha khatam hogaye hai mere liye."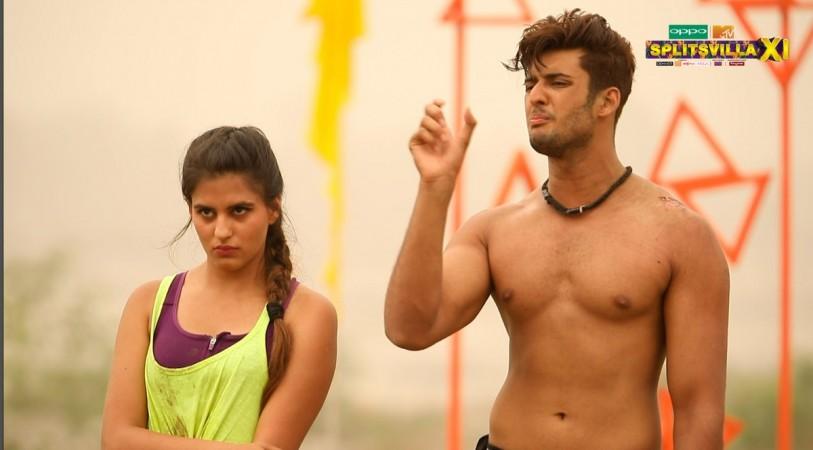 7:39 pm - Shagun is crying like a baby as Sheetal now have to leave Splitsvilla 11.
7:38 pm - And finally Kabir opens Fahad's lock making him safe. Sheetal is now out of the game.
7:36 pm - Both Shagun and Kabir use lifeline and rush towards Fahad and Sheetal. They are trying hard to open the locks.
7:35 pm - Anushka shouts at Monal of choking her on the ground while Monal shots back at her.
7:34 pm - In the third round, Handa uses a lifeline to stop everyone for 15 seconds and walks past Dutta and unlocks Sheetal's one lock.
7:33 pm - Shagun overpowers Simba and gets to Sheetal to unlock the lock with a combination. Sheetal is so proud of Shagun now. But all in vain.
7:32 pm - After the first half, girls and boys have switched sides.
7:31 pm - Kabir and Anushka manage to unlock one lock from Fahad while Sheetal is now worried.
7:30 pm - Dutta slams Handa like a dangal wrestler.
7:27 pm - Shagun and Kabir begin the task. They have to search for a cue card with lock combination and pass it on to their partners Handa and Anushka. But Handa and Anushka will have to overcome obstacle with Monal and Dutta as they will physically push them and wrestle to stop them.
7:25 pm - Kabir and Anushka choose Simba and Arushi Dutta as their helper while Shagun and Handa choose Rohan and Monal as their helper in the ultimate challenge. Shagun says he chose Rohan because the latter is good friends with Handa and that he will help them win.
Both the ideal matches will compete against each other, but this time not for themselves. One will fight for his best friend and the other for his love.
7:22 pm - There will now be a challenge between the two ideal matches. If Anushka and Kabir win, Fahad will be safe and if Shagun and Handa win, Sheetal will be safe.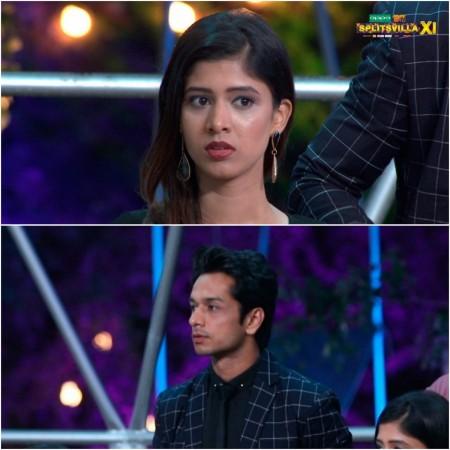 7:20 pm - As Rannvijay says this was rather a happy dome session, Oracle starts buzzing. It says since Anshuman and Maera didn't become an ideal match, the two ideal matches who saved two unsafe people, Fahad and Sheetal are now in danger and one of them will be out of the show.
7:19 pm - According to the calculations of the Oracle, Anshuman and Maera are not an ideal match. This saves Roshni and Simba from elimination. Sunny Leone is jumping and singing in joy.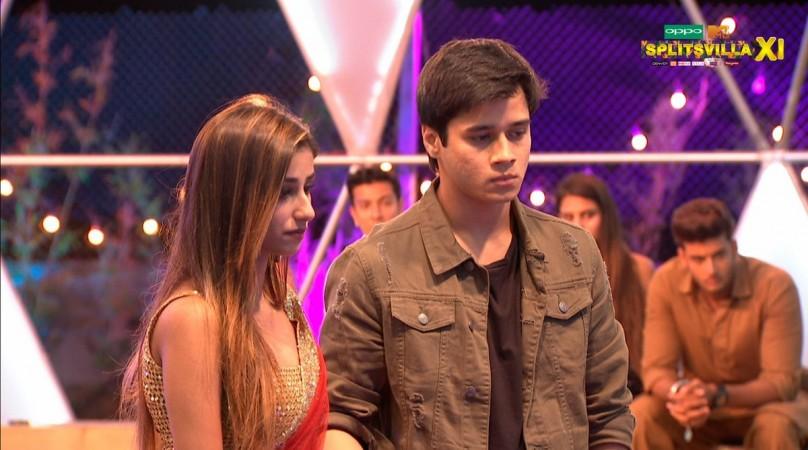 7:18 pm - Roshni is unconsolable right now.
7:17 pm - Anshuman hopes he and Maera doesn't become an ideal match and Maera is having mutual feelings as Anshuman. But before they could face the Oracle, Anshuman and Maera hugs Roshni and Simba for the one last time possibly.
7:16 pm - Maera and Anshuman say they don't want to be an ideal match at the cost of Simba and Roshni. Sunny now calls them up to ask Oracle whether they are an ideal match.
7:15 pm - Monal gets emotional because Roshni and Simba both have got nominated. She is very sad right now.
7:14 pm - Arushi and Shagun nominate Simba's name. The two says the reason they nominated Simba because they think he is their competition.
7:12 pm - Anushka and Kabir nominate Roshni. Roshni is in tears now. She hopes Anshuman gets his ideal match and chill like he always wanted to do. She tells Rannvijay that she knew she will get nominated because Anushka and others don't like her. She says Splitsvilla is like Anshuman for her. She wants him to win Splitsvilla 11.
7:11 pm - The two ideal matches will now write two names of the unsafe contestants to be eliminated if Anshuman and Maera becomes an ideal match today.
7:10 pm - Finally Anushka and Kabir zero-in one name and that is Fahad. After this decision, Shruti and Anushka have tears in their eyes.
7:09 pm - There's a confusion between Anushka and Kabir. While Anushka wants to save Rohan, Kabir wants to save Fahad. The two are now discussing whom to save from elimination today.
7:08 pm - Shagun saves Sheetal because she is her connection while Kabir saves Fahad because he is his best friend. Anushka says the reason she didn't save Rohan because Shruti and him are not an ideal match unlike Fahad who is an known ideal match with Arushi Dutta.
7:07 pm - The two ideal matches - Kabir and Anushka, Shagun and Arushi Handa, will be allowed to save two contestants from the unsafe Splitsvillans.
7:06 pm - Both Anshuman and Maera choose each other to face the Oracle together.
7:05 pm - Anshuman and Maera get a chance to face the Oracle. But there is a twist. Anshuman and Maera can only be able to choose their partner from the winning side that is safe contestants.
7:03 pm - The 6 unsafe Splitsvillans will now choose 2 people among the 6 safe contestants, either a girl or a boy.
7:02 pm - Rannvijay and Sunny welcome Splitsvillans in the surprise dome session.
7:01 pm - Arushi Dutta, Shruti and Roshni hope they don't go home tonight.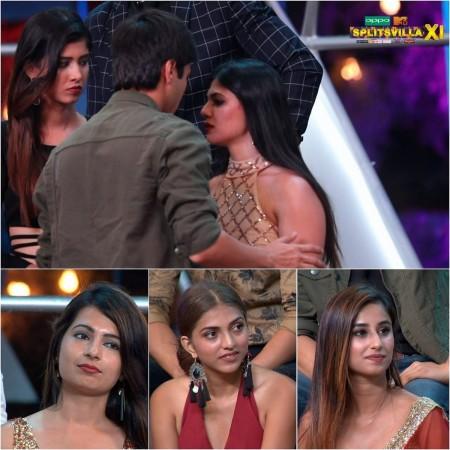 It seems like MTV Splitsvilla 11 will see an elimination after it announced the surprise dome session after a Bae Watch Session that took place last Sunday.
During the Bae Watch Session, boys and girls belonging to their rivals groups were made to perform together in Dare De Dil challenge which has brought a new twist to the elimination.
In tonight's episode, Anshuman will get a choice to pick a girl to face the Oracle with. But no, he didn't choose Roshni.
On the other hand, despite of being Shruti's best friend, Anushka, who is an ideal match with Kabir, did not save Rohan knowing he might have to leave the villa today.
While Anushka gets teary eyed looking at Shruti, Roshni hopes that if she is made to leave the villa, she hopes that Anshuman get his ideal match on the show. Roshni adds that she will really miss Anshuman if she gets eliminated from the villa.
Keep watching this space for the live updates from MTV Splitsvilla 11 at 7 pm today.