Lenovo-owned Motorola has lived up to its promise of showcasing at least twelve Moto Mods per year by unveiling six of them at a recent media event in Ghana. The event was reportedly hosted in partnership with MTN, and it was recorded and uploaded by GhanaWeb TV in a 17-minute long video.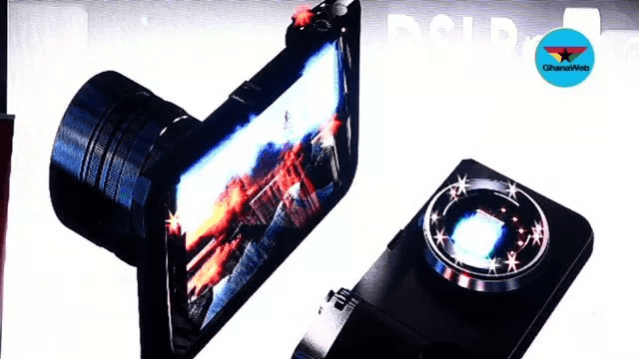 Although Motorola had uploaded its own version of video showcasing the new Moto Mods, it was later removed for some unspecified reason. Those who missed the event earlier can check out all the action in the official video posted by GhanaWeb TV that's embedded below:
Curious Motorola fans can check out a brief description along with the image renderings of each of these announced Moto Mods below, thanks to techroider who was the first to publish them. The uninitiated should note that each of these Moto Mods can be attached to the rear of Moto Z, Moto Z Force or Moto Z Play smartphones via magnetic pins.
Moto 360 Camera mod
The 360 Camera mod is undoubtedly the weirdest offering showcased at the event with its awkwardly-large cylinder popping out of the top with two wide-angle cameras on each side. The camera mod is reportedly capable of capturing 360-degree videos and images.
Additionally, the mod supports live-streaming of captured 360-degree videos on a variety of social media services like Facebook Live and Instagram Live. The high-resolution render of the Mod posted below has been credited to prolific tipster Evan Blass (aka @evleaks) who has posted the same on Twitter.
ROKR mod
ROKR mod brings a dedicated Speaker Module with Marshall branding, which is targeted at upmarket consumers in the premium segment along the lines of JBL SoundBoost and SoundBoost 2. However, it holds an edge against its competitors with the presence of external audio input ports on the back.
Studio mod
The Studio mod is the second such offering from Marshall in collaboration with Motorola, which comprises a high-quality microphone for recording music with an intrusive interface at the top akin to the 360 Camera mod.
DirecTV mod
This mod enables live streaming of TV broadcast for DTV subscribers via an HDMI DirecTV streaming stick plugged into your handset. The mod is the result of Motorola's partnership with DirecTV, an American direct broadcast satellite service provider.
DSLR mod
This is essentially a mod with DSLR camera lens support and it brings DSLR features to a smartphone through an attachment. It comes with a tiny shutter button and a flashlight for the complete professional camera experience to the user.
Action mod
Apt to its title, the Action mod can be used only for shooting outdoor sports with a rotatable camera. As all of these mods are just concepts at the moment and there is no word on when they would be implemented in the real-world with the Moto Z2 phone.