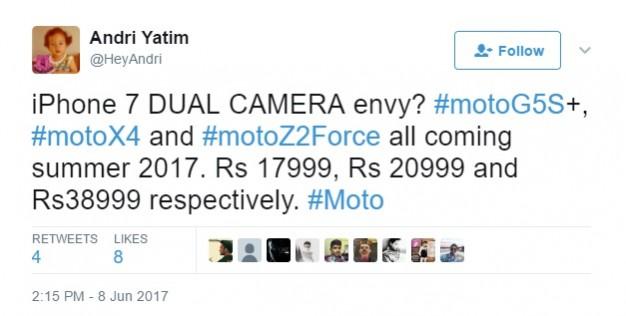 Prolific tipster Andri Yatim has leaked the release details for the Moto X4, claiming that the smartphone would launch towards the end of this month. The new leak follows a recent price leak for Moto X4 in India from the same tipster.
If you're looking for a complete all rounder, the #motoX4, out supposedly June 30th, is your best bet. IP68, Dual Camera, Glass build. #moto

— Andri Yatim (@HeyAndri) June 9, 2017
According to the latest leak on Twitter, the Moto X4 is expected to be launched on June 30. Going by the handset's official price leak in India, it is anybody's guess that the tipster is now pointing to the Indian release date for the Motorola smartphone.
The leak confirms that the handset will come with an IP68 water-resistance certification along with a metal unibody construction and glass covering on all sides. On the camera front, the Moto X4 is touted to feature dual rear cameras akin to the OnePlus 5, but it is not known if the camera alignment would be vertical or horizontal.
Among other speculated features, the handset is expected to include Qualcomm's newest Snapdragon 660 chipset, 4GB of RAM and 64GB of internal storage. The rumours also suggest the addition of some AI software on board the handset.
Coming to the price leak, Yatim recently tweeted the price details of three upcoming Motorola smartphones, including Moto G5S+ at Rs17,999, Moto X4 at Rs 20,999 and Moto Z2 Force at Rs 38,999.
Moto Z2 Play and Moto C were recently announced in India for Rs 27,999 and Rs 5,999 respectively. Both these smartphones are said to be part of the nine Motorola smartphones that will be launched this year alongside the Moto G5S+, Moto X4 and Moto Z2 Force as per the leak.
According to the latest rumours, Moto G5S+ will be a new variant of Moto G5 featuring 5.5in FHD display with dual cameras while the Moto Z2 Force (marketed as the premium device) will incorporate the company's patented 'ShatterShield' display with support for Moto Mods accessories and 1GHz LTE speeds.
Coming to the Moto X4, the rumours suggest it will be the smaller phone with 5.2in HD display, 3D Glass and SmartCam features.