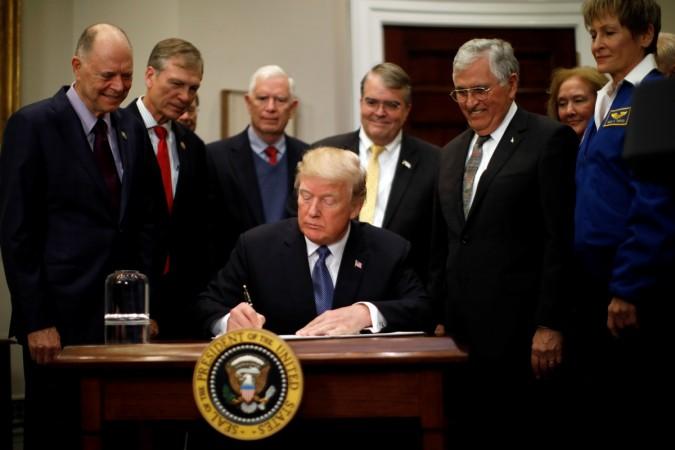 Even though much is being said about Donald Trump and how accusations of sexual misconduct against him could lead to his impeachment, the US president seems unfazed and has been going around fulfilling his presidential duties. On Monday, December 11, Trump signed his administration's first space policy directive to send NASA astronauts back to the moon.
And his excitement was evident in his four-minute speech at the White House when he said: "This time, we will not only plant our flag and leave our footprint," reported IANS. And his plans do not stop there. The president said that the US eventually aims to reach Mars and many other "worlds."
"We will establish a foundation for an eventual mission to Mars, and perhaps, someday, to many worlds beyond," he added.
Trump's plans, which are a part of the Space Policy Directive 1, intend to prioritise the exploration of space, something he has been stressing on for a while now. The recommendations were made by the National Space Council, which had earlier been shut down but was re-established in June on Trump's orders.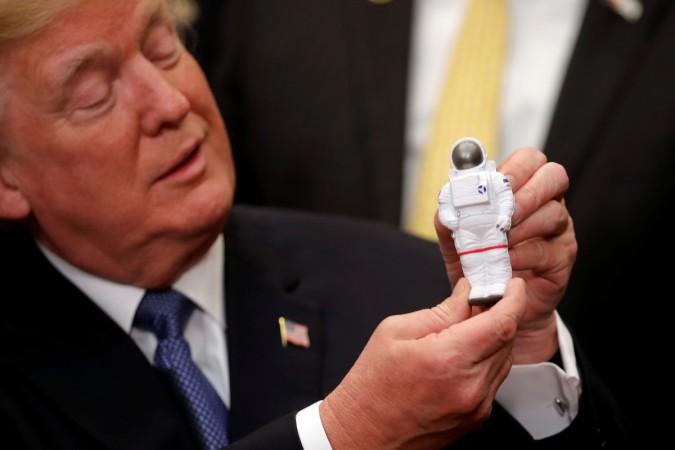 During his speech, Trump also thanked Vice-President Mike Pence for supporting his vision. It is known that Pence too, in the past, has expressed interest in human lunar missions and had also spoken about how the moon was the foundation to build and strengthen international partnerships.
"Since the beginning of his administration, President Trump has taken steps to refocus NASA on its core mission of space exploration," Deputy White House Press Secretary Hogan Gidley said in a statement. "He will change our nation's human spaceflight policy to help America become the driving force for the space industry, gain new knowledge from the cosmos, and spur incredible technology."
Trump signed the space policy on Monday, which also marked the 45th anniversary of the Apollo 17 mission, which was the last time humans walked on the moon. Harrison "Jack" Schmitt, the last living astronaut who was a part of the Apollo 17 mission, was also present at the ceremony.

With this, Trump is also putting the vision of former president George W. Bush back on the map. Bush had earlier started the Constellation program and he too intended to send astronauts to the moon by 2020 and then to Mars. But the programme was shut down when Barack Obama became the president as he believed that Americans "have been there before" and that "there's a lot more of space to explore."
Instead, Obama had said that the US should send astronauts to an asteroid. The plan was then scrapped by Trump when he took charge.