Mohanlal's website hacking case has taken an ugly turn on Thursday when a group of hackers hacked several official websites based in Pakistan.
A day after Mohanlal's official website was hacked allegedly by Kashmiri pro-separatists, a group of hackers from Kerala hacked the official website of National University of Modern Languages, Lahore campus (NUML) and the website of the Pakistan Electric Power Company (PEPCO).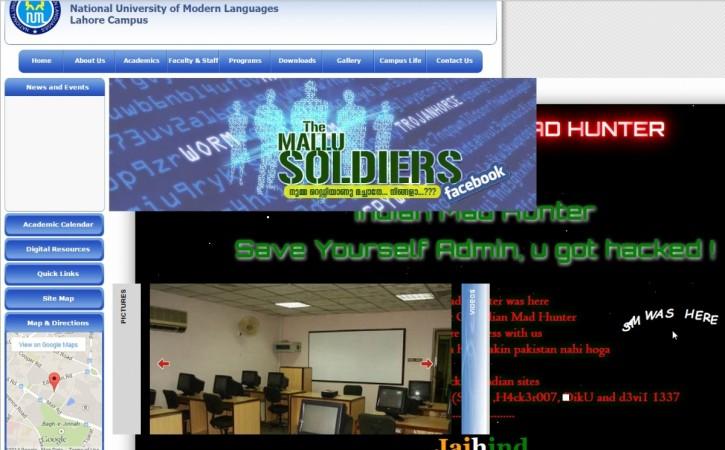 In the website of NUML, the group call itself "The Mallu Soldiers" and have warned regarding the Kashmir issue. "Feel the power of Indian mad hunter, dont dare to mess with us, otherwise Kashmir toh hoga lakin Pakistan nahi hoga," said the post.
Meanwhile, the hackers posted Mohanlal's picture and his film dialogue "NEE POO MONE DINESHAAAA" in the PEPCO website. They went ahead and said that the website was intruded into as a payback for hacking the actor's website.
A pro–separatist had hacked Mohanlal's official blog page "Thecompleteactor.com" on Wednesday. They had uploaded an image of Pakistan flag and posted messages and separatist slogans. However, the page was recovered within hours.
Mohanlal's website was hacked by a team known as Cyber warriors who had posted several "Free Kashmir slogans" and warned Indian Army about their activities in Kashmir. They also notified their plan to target bank accounts, credit cards and several government organisations.
It is reported that Mohanlal has filed a petition against the incident with the DGP and the cyber cell through an e-mail.
Meanwhile, the hacking news has led to a cyber war between the actor's fans and few Pakistanis on social networking sites.
However, the case further blew up when the Pakistan People's Party (PPP) official website got hacked. The group have called themselves "Indian Hackers Online Squad" and have posted pictures of the Indian flag on the website.
They have also mocked PPP chief Bilawal Butto, for his recent comment about taking back Kashmir from India. The cyber team of the website is still under the process of recovering the website.
The officials' from both the countries are yet to comment on the instances of frequent cyber attacks.