The Redmi Note 4, Xiaomi's best selling smartphone in India will soon get the Android Nougat-based MIUI 9 OS soon.
Xiaomi, earlier in the month, announced the phase-1 roster of devices eligible for the MIUI 9 update, but surprisingly the 'Redmi Note 4' was missing in the list. Now, it looks like, Xiaomi might have accidentally forgot to mention the phone.
Also read: Moto X4 makes a stop at Geekbench; key features revealed ahead of launch
Flipkart, Xiaomi's one of the official e-commerce partner, has posted a new banner on its site announcing the company will offer minimum Buyback Guarantee of Rs. 4,000 on Redmi Note 4 series storage variants and also revealed that the device will get Android Nougat (MIUI 9) soon.
When exactly Redmi Note 4 will get Android Nougat-based MIUI 9?
As per the official press release, Xiaomi is expected to first roll-out the MIUI 9 Chinese/Global developer ROM for Mi 6, Mi 5X, and Redmi Note 4X from August 11 onwards.
The company also plans to release MIUI 9 China Developer ROM for Mi MIX, Mi Note 2, Mi 5, Mi 5s, Mi 5s Plus, Mi 5c, Mi Max 2, Mi Max 32G, Mi Max 64G/128G, Mi 4S, Mi 4c, Mi Note Pro, and Redmi 4X to the public from August 25 onwards.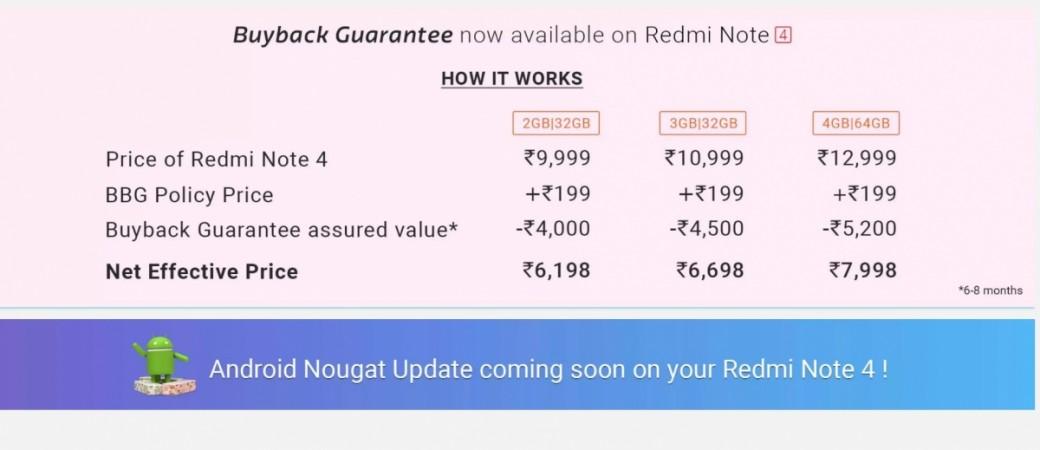 And finally, MIUI 9 China ROM public version for all the Xiaomi / Redmi devices (except Mi 1/1S and Mi 2A) will be successively released en masse in late September.
But, the company has conveniently ignored to offer explanation on when the global MIUI 9 ROM public version will be released to Xiaomi devices outside China.
If we go by the previous release pattern, Xiaomi is expected to take a few weeks or a month more to expand the roll-out in global market. This means, MIUI 9 will reach the Redmi Note 4 in India only in October.
What's coming in Android Nougat-based MIUI 9?
The Android 7.0 Nougat comes with Google's latest security update, multi-window options, night mode, bundled notification, improved security update, and several other value-added features to enhance user experience.
In addition to the standard Nougat features, Xiaomi has incorporated its own in-house developed value-added features such as Universal search (a powerful search engine that can differentiate your image by typing in keywords, including your conversations), Smart assistance (to locate the anything from apps to information), two steps for all the vital information, people just need to copy and paste the keyword and get the information on that topic.
MIUI 9 also makes the phone work smoothly without any lags by dynamic resource allocation based on app's priority level and also make the apps to launch faster
Follow us @IBTimesIN_Tech on Twitter for latest updates on Google Android Nougat release schedules and Xiaomi products.