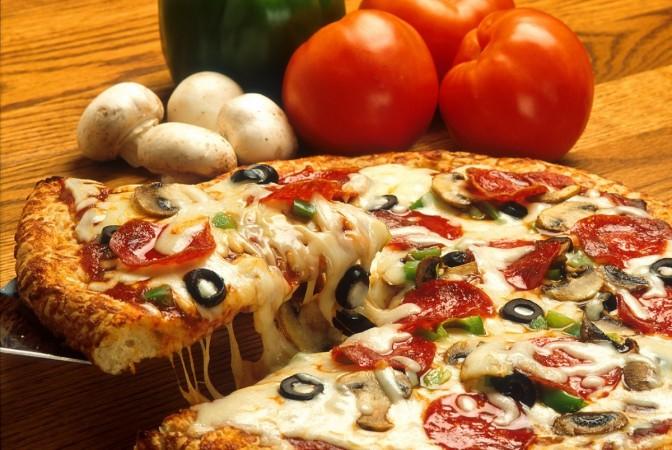 Have you ever felt that the toppings on your pizza are less? Well, the delivery boy could be the reason.
In a hilarious incident, a Domino's delivery boy in Surrey of British Columbia in Canada was found to be eating the toppings of a pizza before delivering it to the client, according to a Global News report. The CCTV footage in the elevator showed the guy eating the toppings.
When the incident was reported to the Domino's, the pizza restaurant chain fired the delivery guy, who is a college student.
In the video, the delivery boy is seen pressing the elevator button to the floor he needs to go to hand over the parcel. He then squats on the floor, lifts the lid of the pizza box and starts eating the toppings.
However, this act was captured by a concierge monitoring the CCTV footage. The concierge also went to the house where the pizza was delivered and informed them about the matter.
"It's very unhygienic, it's disturbing, and it's sad," Harry Sethi, owner of Eureka Security and Concierge Services was quoted as saying by Global News.
"It shocks me. They should definitely let him go," he added. Sethi also said the incident angered the woman to whom the pizza was delivered.
Meanwhile, the company has responded to the incident and said they were quite embarrassed about it.
"When we first saw the video we're just totally embarrassed and frustrated with the situation," Jeff Kacmarek, vice-president of marketing for Domino's Pizza told the news outlet.
"We apologise profusely to the customer, to all of our customers, it's a very unfortunate incident," he said.
However, this is not the first time such a video has made the headlines.
Here's the video of the man:
In 2013, a similar video came to light where a pizza delivery man in Saint Petersburg, Russia was seen eating pizza toppings while in the elevator. He was fired eventually.