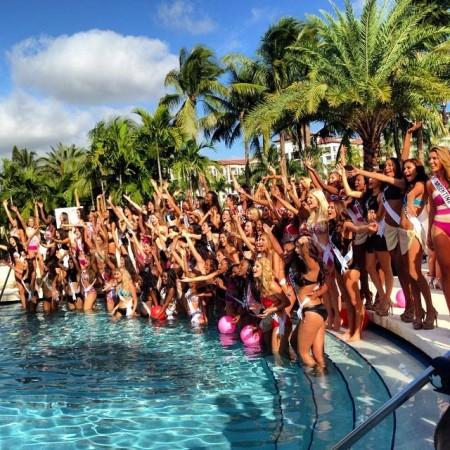 The next Miss Universe winner will be announced in few hours. The 63rd edition of the Miss Universe beauty pageant will end on Sunday night (Monday morning India time).
The coronation night will be held at 8 pm ET on Sunday night (6.30 am IST Monday, India) in Doral, Miami, USA.
The event will telecast live on NBC channel in the US at 8pm ET on 25 January and in India, it will be aired on Zee Café at 6.30 am on 26 January (Republic Day).
For Live Updates Click Here
For live streaming information check NBC and Zee Café. The grand finale will also be live streamed on the official website of Miss Universe.
Viewers can also receive live updates from the official YouTube, Twitter and Facebook pages of the beauty pageant.
In total, 88 contestants from different countries have participated in the Miss Universe beauty pageant. However, only 15 contestants will end up in the finale round.
The top 15 contestants will be selected on the basis of the score from preliminary competition. The preliminary competition was held on Wednesday, where contestants walked in Evening Gowns, Bikini and National Costume.
Meanwhile, the grand finale night will be hosted by MSNBC's Thomas Roberts and Today Show's anchor Natalie Morales. The third runner up of Miss Universe 2013 Ariella Arida from the Philippines will join the contestants backstage.
The panel of judges includes actress and shoe designer Kristin Cavallari, actor and TV host Lisa Vanderpump, model and fashion journalist Louise Roe, boxer, politician and actor Manny Pacquiao and former model William Levy.
Also, Grammy winner musician Emilio Estefan, Marie Claire magazine's Nina Garcia, DeSean Jackson from the Washington Redskins, entrepreneur Rob Dyrdek, and American baseball outfielder Giancarlo Stanton will judge the finale.