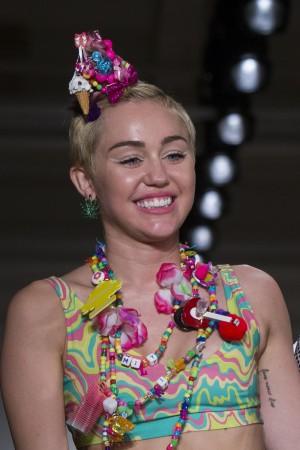 Patrick Schwarzenegger may end up paying a lot more than he had ever imagined just to keep his relationship with singer-songwriter Miley Cyrus.
From the very beginning, Patrick's family has made it evident that they are not very pleased with their son's relationship with the controversial singer. According to sources, Patrick's parents --Arnold Schwarzenegger and Maria Shriver -- are "convinced she is a negative influence on their son," The Celebrity Cafe reports.
The Schwarzeneggers are trying new and extreme methods to stop their 21-year-old son from continuing his relationship with Cyrus. Patrick is supposed to gain a massive $49 million from his trust fund once he turns 25. However, Entertainmentwise reports that Patrick's parents have threatened him that if he doesn't end his relationship with Miley, he would not be allowed to touch the money.
"They are both convinced she is a negative influence on their son and are determined to end the relationship. Maria especially is hoping the shock tactic of threatening to cut him off financially will scare him in to giving Miley the elbow," a source told BANG Showbiz (via Entertainment Wise).
However, Patrick said that he would "rather be with Miley than have the money."
Adding fuel to fire, Patrick took Miley to visit some relatives in Massachusetts during Christmas. "He and his mom had a huge argument during which he told her she and Arnie could stick their cash 'where the sun don't shine.' It's upsetting for Maria and Arnie because they fear Miley will lead him ashtray, then break his heart," the source added.
Earlier it was reported that Patrick's father, Arnold, had approved of his son's relationship with the 'Wrecking Ball' singer. And his uncle – who had spent some time with the two at an art show – had also given a green signal to their union.