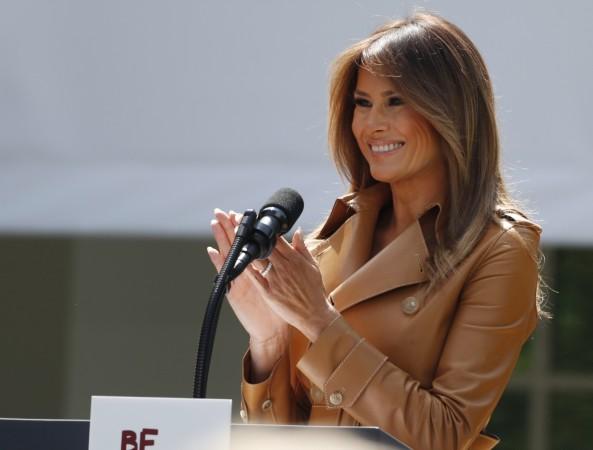 Melania Trump, the first lady of the United States, underwent a surgery on May 14, and according to the White House, the procedure was for a benign kidney condition. Her spokesperson has said that the surgery was successful and there were no complications, but she is likely to spend the rest of the week recovering at the Walter Reed National Military Medical Center, Maryland.
This morning, First Lady Melania Trump underwent an embolization procedure to treat a benign kidney condition. The procedure was successful and there were no complications," her communications director Stephanie Grisham said in a statement.

"Mrs. Trump is at Walter Reed National Military Medical Center and will likely remain there for the duration of the week. The First Lady looks forward to a full recovery so she can continue her work on behalf of children everywhere."
Melania's husband and US president Donald Trump also said that the procedure was successful and the 48-year-old was "in good spirits."
"Heading over to Walter Reed Medical Center to see our great First Lady, Melania. Successful procedure, she is in good spirits. Thank you to all of the well-wishers!" he tweeted.
Melania's surgery came after she underwent an embolisation procedure, but it is yet to be revealed why the first lady needed the surgery in the first place. The White House has only said she is suffering from a benign kidney condition and is yet to reveal other details.
Meanwhile, since the news of Melania's surgery broke, search for embolisation has seen a spike of 145,000 percent according to Merriam-Webster.
So, what is embolisation?
The embolisation procedure is carried out to cut off the flow of blood to a tumour or any abnormal growth, mostly in the kidney or liver. Once the growth stops receiving blood from the body, it is known to shrink in size.
For the procedure, an interventional radiologist inserts a catheter into an artery moving it to the blood vessel carrying blood to the growth and blocking the supply.
Embolisation is known to be a simple procedure, mostly carried out with a little or no anaesthesia depending on the organ. In case, a sedation is needed, patients are mostly given a general anaesthetic.
While Melania is set to stay at the Walter Reed National Military Medical Center, patients undergoing embolisation are often discharged after about two hours.