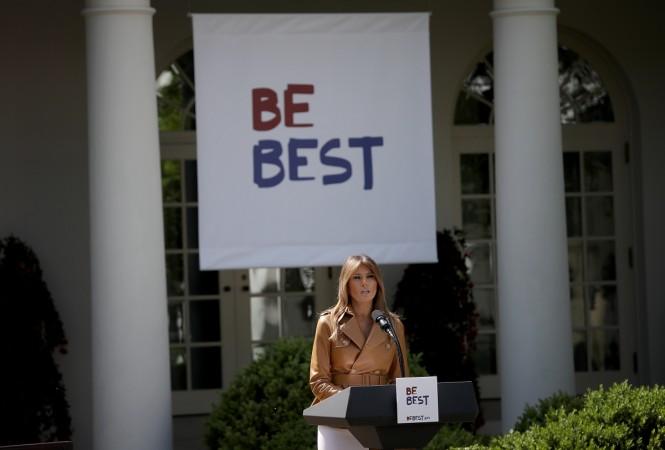 US First Lady Melania Trump has found herself in hot soup yet again. President Donald Trump's wife was accused of plagiarism after her new online safety for children booklet called Be Best was launched on Monday.
The FLOTUS's booklet shared a striking resemblance to a booklet published when Barack and Michelle Obama were in office. Many Twitter users pointed out that the text and graphic of the booklet were almost the same as the one launched by the Obama administration.
Melania's online safety booklet was initially planned at being "by First Lady Melania Trump and the Federal Trade Commission". After the Obama-era similarities, it was revised to describe it as a "Federal Trade Commission booklet, promoted by First Lady Melania Trump," BBC reports.
On Tuesday, a White House statement accused "opposition" media of taking "a day meant to promote kindness and positive efforts on behalf of children, to instead lob baseless accusations towards the First Lady and her new initiatives".
However, this did not stop Twitter from trolling the campaign. While many pointed out her Obama-inspired booklet, many others pointed out that the campaign name is grammatically wrong.
When Trump gets impeached that will be best.

— God (@TheGoodGodAbove) May 9, 2018
Just thought I'd help Melania with her Grammar while Coming up with a Few Slogans to go with her New Initiative!

Remember, #BeBest Everyone!

Use Social Media Responsibly! #Hypocrites #TrumpTweets pic.twitter.com/tMqNgm0d9b

— Rey #NeverAgain #ProtectMueller (@1Jedi_Rey) May 8, 2018
People are complaining about #MelaniaTrump's grammar, as #BeBest is a confusing grammatical message.
But my question is, how does a woman who was a #birther, married to the worst bully America has ever known, dare to make #bullying her issue? pic.twitter.com/7JgLg61a8z

— Victoria Brownworth (@VABVOX) May 7, 2018
Dear @MichelleObama,

Thank you for creating @MELANIATRUMP's/@FLOTUS' #BeBest campaign content—and pretty much anything decent, intelligent, or humane she's attempted to claim as her own.

We appreciate you and know how fortunate we were to have had you represent us.

— John Pavlovitz (@johnpavlovitz) May 8, 2018
wait wat #BeBest pic.twitter.com/suvAFWbP1G

— darth™ (@darth) May 8, 2018
Hi Melania Trump - I know I'm not the first to tell you this, but it would Be Best if your husband left office quietly - and soon. Sincerely, Everybody

— John Lundin (@johnlundin) May 7, 2018
Instead of Melania Trump's "Be Best" slogan, that is a grammatical failure, I'd like to offer "Don't Be a Fucking Prick On Twitter Like My Asshole Husband" as a way to address online bullying.

— Edan Clay (@EdanClay) May 8, 2018
Melania Trump is calling her new campaign "Be Best", which encourages children to avoid 'destructive behaviors' like cyber bullying. Her efforts would be taken a lot more seriously if she renamed the campaign: "Don't Be Like My Husband."

— Ryan Knight (@ProudResister) May 7, 2018
"Be Best"? Melania stole my drunk email sign off

— Chase Mitchell (@ChaseMit) May 7, 2018
"Be Best."
Maybe look over your shoulder, Melania.
Via Tom Adelsbach. pic.twitter.com/j6Mzo69ag7

— Steve Marmel (@Marmel) May 8, 2018
Melania Trump to America: "be best"

America to Melania: "be gone"

— Palmer Report (@PalmerReport) May 8, 2018
Melania Trump took a page from Michele Obama with her Be Best campaign. Actually she took an entire pamphlet of pages!

— Jeremy Newberger (@jeremynewberger) May 8, 2018