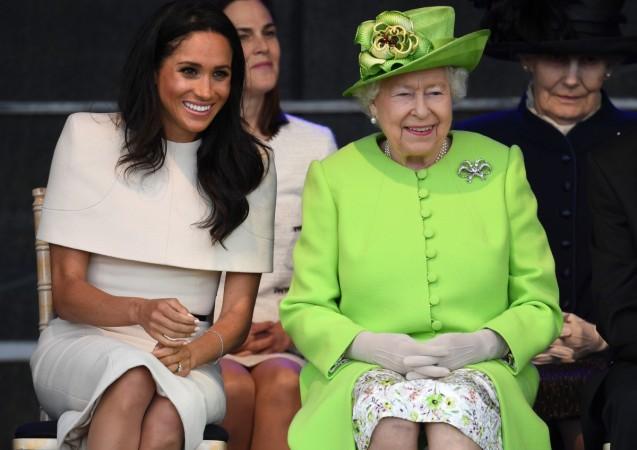 It is an important day for Meghan Markle as the Duchess of Sussex joined Queen Elizabeth II for the first time without Prince Harry on a royal engagement away from London.
The former Suits actress opted to follow the royal fashion protocols and wore a shoulder covering, knee-length dress for her first solo outing with the Queen. Her fashion choice comes days after she attended the Trooping of Colours ceremony in a gorgeous off-shoulder dress.
Markle accompanied the Queen to Runcorn Station after taking the distinctive burgundy-liveried locomotive from London. The Duchess opted a chic cream dress which featured flared sleeves. Entertainment Tonight reports that the dress has been designed by Meghan's wedding dress designer Givenchy. She wrapped a black belt around her waist.
She let her hair fall down on her shoulder. Markle accessorized her outfit with the help of a black handbag. She completed her look by slipping into a pair of black heels.
Although Markle was more subtle, the Queen was in a bright mood when she donned a lime green coat dress for her outing with her newly-wed granddaughter-in-law. She matched her hat to her dress and held on to a black handbag when she stepped out of the train.
It is reported that Markle and Queen's day is designed to offer the 36-year-old a master-class on how to conduct royal engagements. Meghan's solo outing comes three times faster than that of Kate Middleton. The Duchess of Cambridge attended a similar event 10 months after her nuptials.
The Queen and Meghan have already made four solo appearances together today. They were spotted getting off the royal locomotive, then captured at the inauguration of the Mersey Gateway Bridge at Catalyst Science Discovery Centre.
Next, they were spotted together at the opening of Storyhouse Theater in Chester and finally head for lunch at the Town Hall.