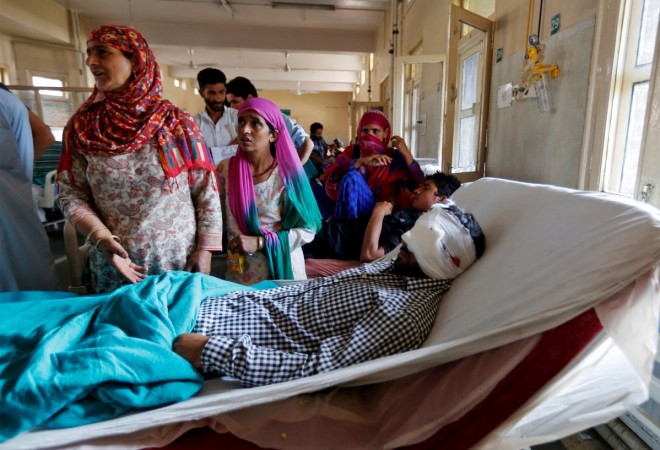 As the number of patients with grave eye injuries is soaring in Kashmir, the Union health ministry would be soon sending a team of eye surgeons to the valley to help treat such persons.
Over the past few days, hospitals across the region have witnessed an unprecedented rush of patients with pellet guns-induced eye injuries. The current staff in the hospitals are working overtime to treat patients and all the ophthalmology wards of major health facilities are crowded.
Jammu and Kashmir Chief Minister Mehbooba Mufti has spoken to Union Health Minister JP Nadda on Wednesday and has requested him to send eye specialists, including retina surgeons, to Kashmir to conduct such surgeries.
"A specialised team of surgeons from New Delhi and other parts of the country are being rushed to Kashmir to take care of the persons injured in ongoing law and order situation and needing super-speciality care," an official spokesman of J&K government was quoted by Press Trust of India as saying.
He further said that the team of doctors would arrive in the valley soon and start their work immediately.
Qaisar Ahmad, principal of Government Medical College, Srinagar, has already declared a medical emergency across all the government hospitals of the valley and cancelled the leaves of the doctors and para-medics.
Srinagar's Shri Maharaja Hari Singh (SMHS) Hospital has conducted more than 90 eye surgeries over the last four days and the number of patients with pellet-induced eye injuries is also increasing.
Pellet guns, although non-lethal weapons for crowd control, often leads to a permanent damage to eyes and subsequent loss of vision. Despite various human rights bodies such as Amnesty International, Human Rights Watch flaying the use of pellet guns as a method of crowd control, its use has not stopped.
Earlier, former chief minister of the state Omar Abdullah, while taking a jibe at the Mehbooba-led government, urged Prime Minister Narendra Modi to send eye specialists to the valley.
Hon @narendramodi ji. After Kerala fire you carried a plane load of burn specialists with you. Please send eye/trauma specialists to Kashmir

— Omar Abdullah (@abdullah_omar) July 13, 2016
Shameless Govt should have been focused on restoring calm & on helping our doctors who are struggling to treat 1200+ injured people. — Omar Abdullah (@abdullah_omar) July 13, 2016