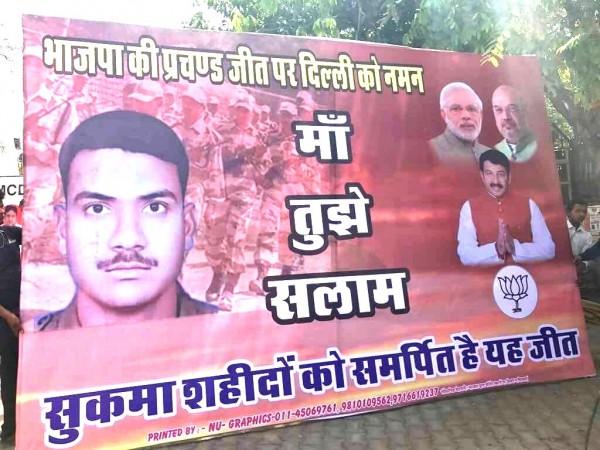 The BJP on Wednesday, April 26, managed to return to power in the Municipal Corporation of Delhi and all three of its wings. However, the party will not celebrate this win, and has instead chosen to dedicate it to the 25 Central Reserve Police Force (CRPF) personnel killed in a Maoist attack in Sukma recently.
Support has poured in from all quarters for the CRPF personnel killed and injured in the attack that took place in the Sukma district of Chhattisgarh on Monday, April 24. Now, the BJP will not celebrate its MCD win in light of that brutal attack, which Union Home Minister Rajnath Singh has dubbed "cold-blooded murder."
Delhi BJP chief Manoj Tiwari made this announcement as it was becoming aparent that his party was on the path to win, and win big, at the MCD elections. "But for the Sukma incident, we would be on the streets celebrating this massive victory. We dedicate this win to the Sukma martyrs," he said.
Even otherwise, few BJP activists and members were seen creating raucuous scenes as news of the party registering a thumping win at the MCD polls came in. On the other hand, posters were put out just in time for that news, saying the BJP dedicated this electoral victory to the CRPF jawans.
Tiwari also said what many other BJP leaders were saying of Delhi Chief Minister and Aam Aadmi Party Chief Arvind Kejriwal. "We had been saying this earlier also that the MCD polls will be a referendum on the Kejriwal government. Arvind Kejriwal used to advocate Right to Recall and it seems now that the people of Delhi have used the right on him," said Tiwari.
This is only a less-harsher version of what some other BJP leaders have said so far. Subramanian Swamy, for example, said the Delhi government should be dismissed and President Pranab Mukherjee should order fresh elections. "It [dissolution of government and fress polling] was done in 1977," he said, adding that the Supreme Court had given the procedure its stamp of approval.