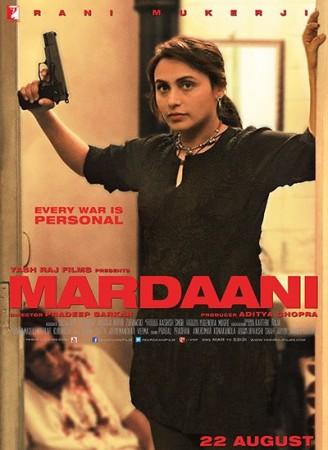 IBTimes India Rating: 4
Rani Mukerji's "Mardaani" is the kind of movie which, despite its predictable plot, governs one's attention for the awareness it raises on the widespread sex-trafficking in the country. The build up to the actual climax is as interesting as it can get, but the thrill fizzles out with a tried-and-tested conclusion.
Super-cop Shivani Shivaji Roy (Rani Mukerji) of Mumbai's crime branch is a no-nonsense person. She lives with her husband Dr. Vikram Roy (Jisshu Sengupta) and niece Meera. Her fight begins when street kid Pyaari (Priyanka Sharma), whom she considers her own, goes missing. What is essentially thought of as a case of kidnapping, later turns out to be an organized sex racket by a syndicate based out of Delhi.
For most part, the film strolls along with Roy on her chase to pin down 25-year-old mafia Lord Walt (Tahir Raj Bhasin). But post half time, the story drops a bit. Unimaginative plot devices and general lack of an engaging content disappoints immensely.
However, what is commendable is the manner in which a sensitive issue, such as flesh trade, is handled. Though honest and genuine in laying out the story, the narrative would have made a greater impact had it not lost its course in the crucial climax scene.
Mukerji's tough cop Roy packs quite a few 'punches'. Strong and stern, she holds your gaze and delivers a controlled performance from start to finish. Miles away from the jingbang of over-the-top cop films ("Dabangg", "Singham Returns"), Roy is fierce and very 'real'.
Bhasin, as the suave kingpin Walt (clearly the character is a "Breaking Bad" fan), captivates the audience and delivers quite a compelling performance. The ease in his body language and pitch perfect dialogue delivery makes him an actor of immense caliber. Seen briefly in Abhay Deol's "One By Two", Bhasin clearly proves he is here for the long haul.
Director Pradeep Sarkar delivers a hard-hitting story with much conviction. With a run time of two hours, "Mardaani" isn't peppered with slow-motion montages showing a brooding protagonist. The plot is brilliantly upheld by the sound design. From the smashing of plates to munching on food, every little detail has been tastefully taken care of.
Script writer Gopi Puthran, who was responsible for a loop-holed story in "Lafangey Parindey", fares well in this one. But, he intentionally laces the crime thriller with melodrama in order to sell it off well to the overtly emotional Indian audience.
Composed by Salim-Sulaiman, sung by Sunidhi Chauhan and Vijay Prakash, the "Mardaani" anthem 'Tumko Nahin Chhodoongi' is sensitive and brings out inner strength.
In a nutshell, this film sure has its heart in the right place.