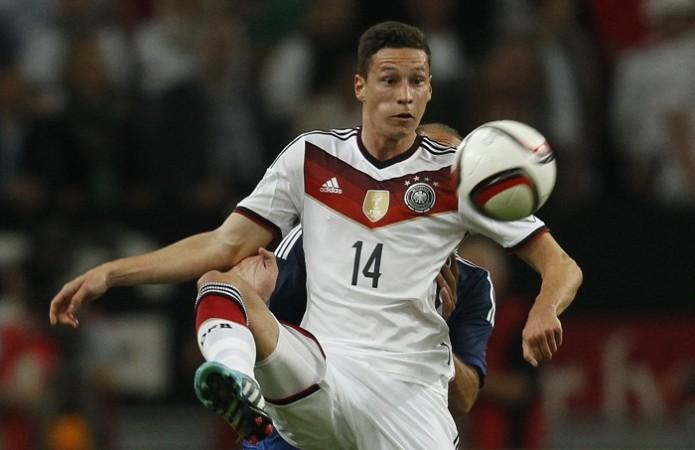 Julian Draxler is a name that has been linked with Arsenal time and again over the last couple of seasons. However, the Germany international's destination in the English Premier League might not end up being in London after all, with Manchester United reportedly set to sign the highly-rated playmaker.
Draxler has been tipped for big things in the future, with his brilliant technique, playmaking abilities as well as an eye for goal making him one of the most exciting young players in Europe.
Arsenal have been linked with a move for the 21-year-old time and again, but Arsene Wenger has been reluctant to match the Schalke player's £37 million buyout clause.
However, Manchester United have shown a few times recently that they have no qualms over paying big fees when necessary, and the Daily Star, citing reports in Germany, say that the Premier League big guns are ready to make a move for the winger in the January transfer window.
It is debatable if Manchester United require a player like Draxler at the moment, with Louis Van Gaal spoilt for choice in the attacking department.
What is more necessary for Manchester United is a strong central midfielder as well as an assured centre-back, and questions will be raised if Van Gaal does go in and spend £37 million on Draxler in January.
While the German has undoubted ability and class and could very well be a world-beater in the next few years, Manchester United and Van Gaal's priority should clearly be elsewhere.
If one of Arturo Vidal, Kevin Strootman, Sami Khedira or Ilkay Gundogan is brought in midfield along with one of Ezequiel Garay, Aymeric Laporte, Mats Hummels and Omer Toprak in the centre of the defence, and there is still money to spend in the winter window, then a move for Draxler will make more sense.
However, if Juan Mata or a couple of the other attack-minded players do leave in the January transfer window, then Van Gaal might be forced to invest in another playmaker, despite the needs to strengthen elsewhere.
Draxler will bring quality to any squad in the Premier League, and Van Gaal, who loves to work with youngsters, will be aware of the dangers of waiting too long for such a quality player.