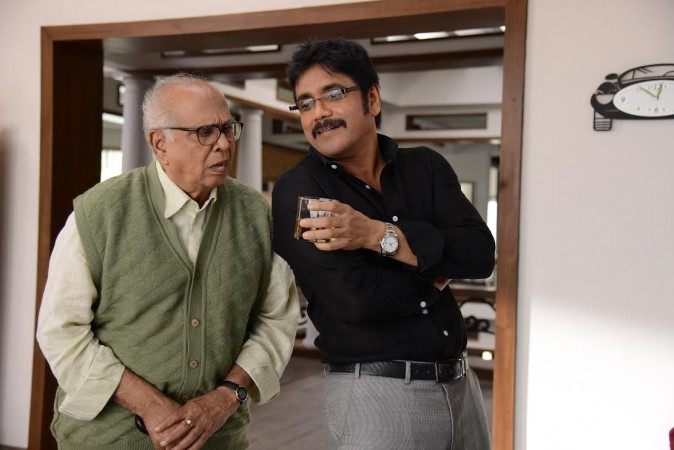 Akkineni multi starrer "Manam" has received positive feedback from critics.
"Manam" is a family drama with Nageswara Rao, Nagarjuna and Naga Chaitanya playing pivotal roles. This is the first time that three generation actors of Akkineni family have teamed up for a project, and it is the last film of the legendary actor ANR in his illustrious career.
The film also has Posani Krishna Murali, Brahmanandam and MS Naryanan in supporting roles. Nagarjuna-Amala's son Akhil and Bollywood actor Amitabh Bachchan have done cameos in the multi starrer.
Directed by Vikram Kumar, the story of "Manam" is about love across three generations that spans for 100 years – from 1920 to 2020.
The story starts off with Radha Mohan (Naga Chaitanya) and Krishna Veni (Samantha) having a family feud and their marriage is on the brink of collapse. Unfortunately, they die in a car accident and their son Nageswara Rao aka Bittu (Nagarjuna) becomes an orphan. He grows up and becomes a successful businessman. One day, he accidentally comes across Nagarjuna (Naga Chaitanya), who resembles his father Radha Mohan. After seeing a person resembling his father, Nageswara Rao (Nagarjuna) believes that there should be a girl looking like his mother and to his surprise he finds Priya (Samantha). He plans to make Nagarjuna (Naga Chaitanya) and Priya to fall in love with each other and get married.
On another day, Nageswara Rao (Nagarjuna) meets Chaitanya (ANR) and Anjali (Shriya) at a hospital. This time, Chaitanya gets the shock of his life when he sees Nagaswara Rao (Nagarjuna) and Anjali (Shriya) as they resemble his parents - Seetharamudu and Rama Lakshmi. How are these people connected? This is what is "Manam" all about.
The family drama has fetched fantastic positive response from critics. They have appreciated the performances of the lead actors and have said that the film is a perfect tribute to ANR, though he has less screen time.
The film's major plus points are Vikram Kumar's story and execution, dialogues, performances of the actors and Anup Rubens' music. The make-up work and costumes have also won appreciation from the critics.
On the whole, critics have termed it as a beautiful film and a complete entertainer.
Here is the review roundups of "Manam"
According to Indiaglitz, "Manam" is "one of the best-written ones in recent times, this one is easily both intriguing and entertaining - something that is rare for a Telugu film. The film has to be enjoyed for its sublime moments and any Kabhi Khushi Kabhi Gham-like or some kind of a regular senti drama shouldn't be expected. The characters have tears welling their eyes up, but the tears are more due to love rather than hurt. That's the raison d' etre of the film."
"Manam is a perfect family entertainer and it is director Vikram Kumar's unique script that makes the movie a brilliant experiment. The movie is high on entertainment quotient and it is treat to see ANR, Nagarjuna and Naga Chaitanya together on screen. Don't miss it this weekend," said Shekhar of OneIndia.
According to Swathi of TeluguMirchi, "Manam is a perfect classic film from the Akkineni family. It is perhaps the best gift that the Akkineni family has given to the legendary actor ANR."
123Telugu said, "Very rarely does one get to see a beautiful film like Manam. It is perhaps the best gift that the Akkineni family has given to the legendary ANR. Right from the word go, Manam entertains you to the core. Be it ANR and Chaitanya's comedy scenes to Nag and Shriya's romance, this film has it all. Manam makes everyone sit right up, and puts Telugu cinema on to another pedestal. Go join the celebration with your entire family, and enjoy the feeling of togetherness."
Verdict: Complete Entertainer