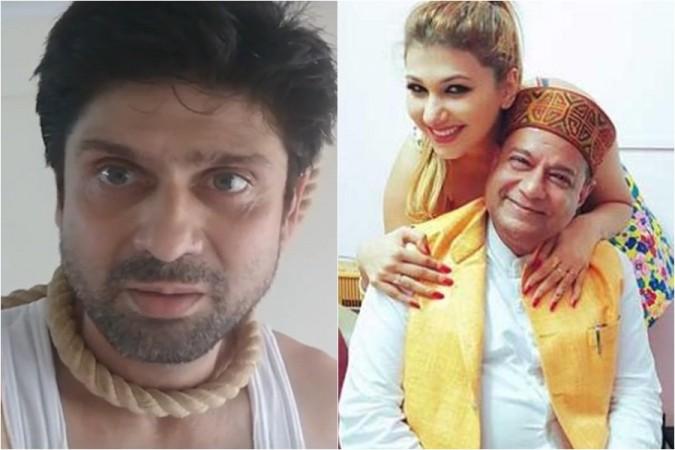 After reading the news about 65-year-old bhajan singer Anup Jalota had been dating his 28-year-old student Jasleen Matharu, a young man decided to commit suicide by hanging himself by the ceiling fan.
Ever since Anup Jalota and Jasleen Matharu admitted to dating for more than three years on Bigg Boss 12 show, many young men are cursing themselves for their single status. And there was no other reason for committing suicide for this young man as well.
The man, who calls himself as an eligible bachelor, shared his ordeal in a video in which he can be seen wearing a rope wrapped around his neck. He tells his viewers that the reason behind taking his own life is Anup Jalota and Jasleen Matharu's relationship.
But before you jump to any conclusions, the man in question is a budding artist from Mumbai named Yogendra Kumaria who has tried to make people laugh with his live suicide video.
Watch the video here:
Bigg Boss 12 contestants Anup Jalota and Jasleen Matharu have managed to pull everyone's attention when they openly admitted to being in a romantic relationship on the grand premiere with Salman Khan.
While everyone is still curious to know more about Anup Jalota and Jasleen Matharu's relationship, Jasleen's family was in a state of shock when they watched the grand premiere of Bigg Boss 12.
Her father Kesar Matharu said that he will never approve their relationship and would like to speak to his daughter about the entire scenario. He also revealed that after the episode was aired on television, he started getting phone calls from his relatives asking about his daughter's relationship with her music teacher. He further said that some people even told him that if she would've been their daughter, they would've killed her for her such things.
"If she asks me, I will never give my approval to this relationship. I will not give my blessings to them, and I would rather keep my distance from this. But I will definitely ask my daughter why she did it. If she admits to her relationship with him, I will maintain my distance from them," he told India Today.