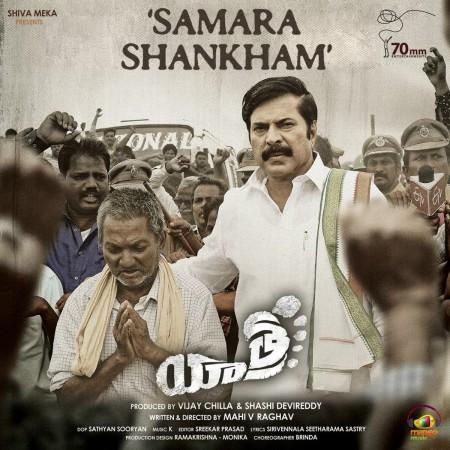 The wait is finally over and the first single of YSR biopic 'Yatra' was released on September 1. The movie based on the life of two-time Andhra Pradesh Chief Minister YS Rajasekhara Reddy has Mammootty playing the lead role. As expected, the Mollywood megastar has impeccably showcased his Midas touch in the latest single.
With an outstanding screen presence, the actor has apparently impressed critics and audiences alike, and it is undoubtedly a real treat to watch the three-time national award-winning star ruling the screen in such maverick charisma. The single begins with the line, 'Samara Shankam'. The song carries the mood of patriotism throughout and it will surely give goosebumps to people living in Andhra region.
In the song, the director wisely tries to impersonate Mammootty as YSR, and he has succeeded in this attempt. In each and every move, Mammootty resembled the former Andhra Pradesh Chief Minister who died in a helicopter accident on 2 September 2009.
The song has already gone viral on YouTube, and within 24 hours time, it has racked up more than 12,000 views. Most of the viewers who have watched the movie are lauding Mammootty for his energy even at the age of 67. Many people commented on the video that Mammootty has an extra gene in his body which makes him look so young even in his sixties.
'Yatra' is directed by Mahi V Raghav who has previously directed movies like 'Paathshala' and 'Anando Brahma'. The supporting star cast in the movie includes Rao Ramesh, Anasuya, Posani Krishna Murali, Vinod Kumar and Sachin Khedekar.
The music department of 'Yatra' is handled by K (Krishna Kumar), while Sathyan Sooran has cranked the camera. Acclaimed editor Sreekar Prasad is in charge of the cuts.
The film is expected to hit the screens on January next year. An official release date will be soon announced by the makers.