Comedian Mallika Dua was recently trolled for allegedly shielding harassers like Utsav Chakraborty and comedy group All India Bakchod (AIB). She has now shot back and refuted all the allegations made against her.
Taking to Instagram, Mallika said that she has always been vocal about her disgust with Utsav and AIB and its co-founder Tanmay Bhat. She further lashed out at trolls for making baseless allegations against her and her female colleagues for maintaining silence over the matter.
"Soo many of you dm'ed accusing me and my women colleagues of hypocrisy and not taking a stand against our "friends" Utsav and AIB. Where the bloody hell is this coming from? Has anyone seen our twitter timelines? Has anyone bothered keeping up with stories? Has anyone read articles where we have spoken to the media? No. How can you indirectly accuse us of shielding harassers and their direct and indirect accomplices without checking your cooliam facts? I have been brutally vocal about my absolut disgust with @vvootsaw and complete disappointment and disillusionment with @tanmaybhat and co. Don't you dare make this about us not speaking up. If you think that's the kind of person i am, please unfollovv me because you've clearly not been following," Mallika Dua said in a statement on Instagram.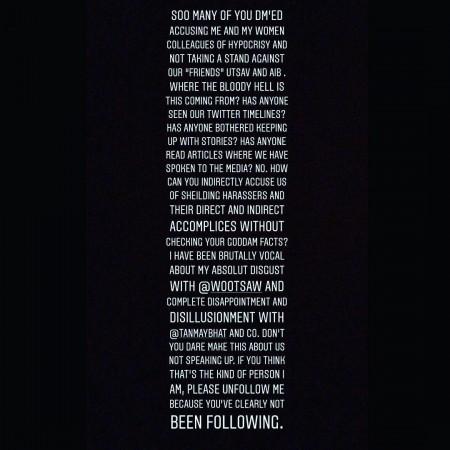 Utsav has been accused of sending obscene messages to minors on social media and asking them for their pictures without clothes. A Twitter user called out Chakraborty's indecent behaviour in a series of tweets. In the Twitter thread, she mentioned how the comedian had sent her pictures of his private parts on Snapchat and requested her to delete them.
Her Twitter thread led many other girls to share their stories in DMs which she started off a chain of incidents.
Following multiple allegations against Utsav, the AIB team said that they would be willing to cooperate and extend full support to the investigations. The team also added that they were delisting every single video on their channel which featured Utsav.
Ustav too responded to the sexual allegations and issued an apology on Twitter by posting a thread of 26 tweets but later deleted it.