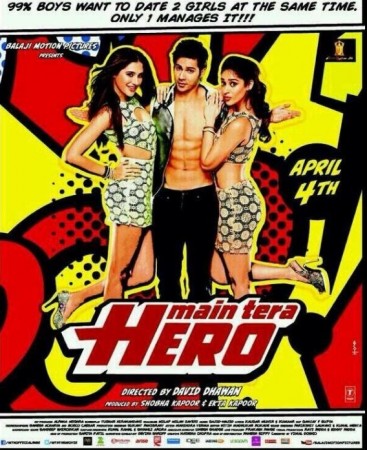 David Dhawan's romantic comedy "Main Tera Hero" has garnered positive response from the industry, but critics have called it mediocre.
The film, starring Varun Dhawan, Nargis Fakri and Ileana D'Cruz, has been termed a mindless comedy by critics.
Varun, in his second film, has impressed the critics for carrying the comedy till the end. Actress Sonakshi Sinha has even termed Varun as the 'new age Govinda'.
"Just watched Mein Tera Hero!! Its a laughter riot! David uncle is bacccck with his new age Govinda - Varun!! Too good," she tweeted praising the film.
Even Satish Kaushik, whose last film "Gang of Ghosts" turned out to be a disaster, took to Twitter to praise the Dhawan directorial.
"Saw Main Tera Hero..David Dhawan at his best again..@Varun_dvn is unbelievably brilliant and has a unstoppable energy..congrats," he said.
Check Out Critics' Reviews Here:
Manjusha Radhakrishnan of Gulf News said: "Move over Salman Khan, it's time to make way for "Main Tera Hero" star Varun Dhawan: a star pupil who seems to have graduated from your school of acting (or non-acting).
"While the first half is amusing, the second half gets sluggish in the last 20 minutes. At some point, the love triangle becomes a quadrangle with a voluptuous Nargis Fakhri entering the frame. Actor Anupam Kher, who plays Fakhri's dad, is in top form as a dim-witted gangster, while the women take the term 'eye candies' to a fabulous level.
"But full marks to Dhawan for carrying a comedy with a questionable plot till the finish line. He lays on the charm thick and nice. And if that didn't seem to work, he just took off his shirt."
Srijana Mitra Das of The Times of India said: "Main Tera Hero (MTH) is a glittering vehicle for star son Varun Dhawan to drive, which he does with practiced panache. However, even more than Junior, MTH has his dad David Dhawan stamped all over it.
"Varun meshes Govinda, Michael Jackson and his own madness well. He gets better in a stronger second half.
"Arunodaya surprises - the actor's evolved, pulling off threats and blushes to comic effect. Those seeking movies with meaning, note - Main Tera Hero is a pav bhaji picture, quick, spicy, hot. It has the depth of a comic strip but it also has its neon-shaded fun. For those who want a light laugh, here's your boy."
Taran Adarsh of Bollywood Hungama said: "Watching a David Dhawan movie is akin to having your fav fast-food, which may not be high on nutrition [read meaningful content], but you relish it with glee since it whets your appetite. And MAIN TERA HERO does that to you.
"Writer Tushar Hiranandani adapts KANDIREEGA for the Hindi movie audience, making sure there's no room for boredom for most parts.
"On the whole, MAIN TERA HERO is a wild, wacky, madcap entertainer that has the unmistakable stamp of the master of entertainers -- David Dhawan. An over the top plot, humor quotient and performances are three aces the film stands on. The film should work well with admirers of typical Bollywood masalathons, also because Varun Dhawan pulls off the act with flamboyance and bowls you over with an uproarious act in this zany entertainer. Go, have fun and laugh out loud!"
Shilpa Jamkhandikar of Reuters said: "This is the launch film that Dhawan clearly had in mind for his son. Varun gets to do everything - fighting off villains, dancing with two women, making funny faces. The rest of the cast, it would seem, is around just to service these actions.
"There are murders; people hiding in closets; wedding songs; and long discussions between Seenu and various gods - including Jesus, Ganesha and Krishna (Jesus speaks in English; the others speak in Hindi).
"Main Tera Hero has dialogue as puerile as, "since the time I have been in Pampers (a diaper brand), my father has pampered me." The comedy just gets more tedious and unfunny as the film progresses. Except for a couple of jokes, nothing, and I mean nothing, is salvageable in this disaster of a film."
Shubha Shetty-Saha of Mid-Day said: "Dhawan tries to recreate the tried-and-tested formula with 'Main Tera Hero', although with one difference: Varun Dhawan replaces Govinda. But Dhawan plays it extra-safe by making Varun clone all of Govinda's mannerisms, his special dialogue delivery and also his tight white trousers look. One doesn't really mind the "inspired" performance, considering that Govinda deserves the tribute, but the whole exercise only makes you miss Govinda even more.
"Varun is still a greenhorn but he does a decent job and also has good screen presence. He has a long way to go before he reaches Govinda's league so it might be better for him to carve his own path.
"A timepass of a movie, it can be watched once. Only wish Dhawan had taken some risks rather than sticking to the age-old formula that worked for him eons ago."