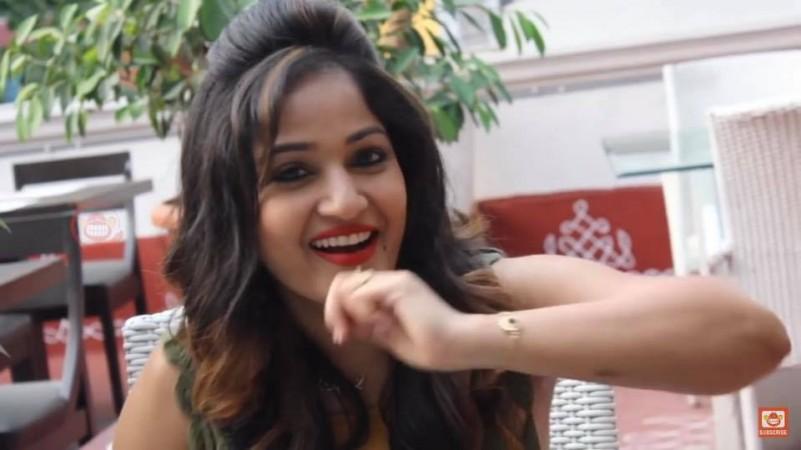 Telugu actress Madhavi Latha was detained by the Hyderabad Police after she protested against actress Sri Reddy for abusing power star Pawan Kalyan. She was released from custody after a few hours.
Many celebs from the Telugu film fraternity supported Sri Reddy directly or indirectly, but her unpleasant comments about Pawan Kalyan left everyone displeased and some of them openly condemned her for the cheap act. Going a step ahead, Madhavi Latha announced on Tuesday night that she would hold a silent protest against her.
Madhavi requested everyone to join her in the silent protest. The actress posted on her Facebook, "Pawan fans and Human beings and also..... language lovers Invited to this MOUNA DEEKSHA PROTEST for 2 hours Tomorow morning 10 am to 12 pm (potta ninda breakfast tini randi) Thank you Maadhavi latha."
Madhavi Latha cleared it that the protest is not meant for publicity. The actress posted on Facebook, "Good morning...... Hope silence will be successful Publicity kosam Na time waste chesukunentha TIME naku ledu..... Without speaking for an hour is biggest task for me Its challenge personally Thank you...... Na personal protest." She added, "I reached film chamber Starting protest at 10 am sharp."
Madhavi Latha started her silent protest in front of the Telugu Film Chamber of Commerce at Film Nagar in Hyderabad at 10.00 am on Wednesday. She was arrested by the Hyderabad police at 10.30 am. Banjara Hills, Sector-one, SI, G Bharath Bhushan Chary said, "We have arrested the actress today around 10:30 am, along with five men who were also part of the silent protest in front of the Film Chamber. Later we released her."
It was the first experience for Madhavi Latha, who seemed to be enjoying her arrest. She wrote, "Evaru vachina rakunna Nenu matram station lone continue chesta deeksha ni Love india Love my language.. Police station nundi nannu bayataki pampincharu anta Nannu ikkde unchutarata. Life lo 1st time POLICE STATION ( BANJARA HILLS) ki ravadam AM ARRESTED ARRESTED ARRESTED Bayataki vadaladam ledu Phone okkati uncharu hand lo But BAGUNDI e EXPERIENCE."
Madhavi Latha was released from the police custody four hours after she was arrested. After reaching home the actress took to her Facebook page to confirm her release. She wrote, "Finally am Back To Home."