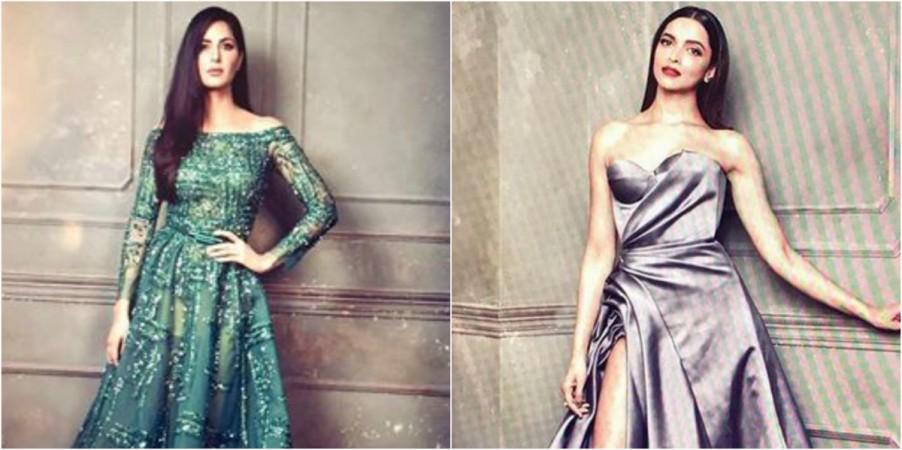 Katrina Kaif and Deepika Padukone don't really share the best of rapport. They may not have gone on record to take digs at each other, but the ice-cold vibe between the two is unmistakable.
At the recently-concluded Lux Golden Rose Awards 2016, the leading ladies were evidently trying to avoid each other. First off, Kaif made a late entry. By the time she walked the red carpet, most celebrity attendees and photographers had left, but Padukone was around till the end, BollywoodLife reported.
The moment the Jagga Jasoos actress entered the premises, there was an obvious discomfort in the air. Even though they exchanged looks, the ladies took seats in different rows. Kaif was present at the ceremony only for her performance and award.
This comes after reports of Kaif not wanting to share screen space with Padukone. Apparently, Aanand L Rai had approached the British-Indian actress for a role in his upcoming film with Shah Rukh Khan, but she made it clear that she would opt out of the project if Padukone were to be part of it.
Meanwhile, here's the complete winners list:
The Legend Award: Sharmila Tagore
Best Debutante of the Year: Pooja Hegde
Glamour Diva of the Year: Kareena Kapoor Khan
Iconic Look of the Year: Deepika Padukone
Desirable Diva of the year: Katrina Kaif
Rising Star of the Year: Taapsee Pannu
Most Lovable Character of the Year: Alia Bhatt
International Face of the Year: Priyanka Chopra
Woman of Essence: Anushka Sharma
In other news, what's the animosity between Padukone and Kaif all about?
Kaif and Ranbir Kapoor were in a live-in relationship for a good number of months, but the couple parted ways in early 2016. One of the theories around their breakup is that Kaif didn't appreciate Kapoor's closeness with Padukone in Tamasha. However, the reason why they really don't get along, is for them to know, and all that is being said and written, are mere speculation at this point.