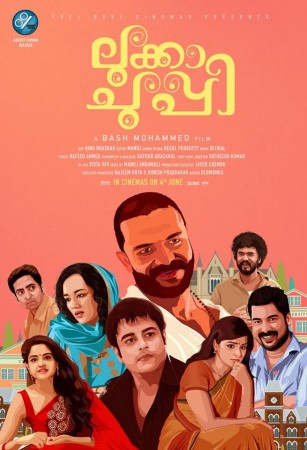 Malayalam movie "Lukka Chuppi", written by Gafoor Arackkal and directed by Bash Mohammed, finally hit the screens on 5 June. The movie, which stars Jayasurya, Murali Gopi, Joju, Amitha Sood, Dinesh Prabhakar, Ramya Nambeeshan, Muthumani Somasundaram and Chinnu Kuruvila in the lead, has opened to positive reviews.
The story of "Lukka Chuppi" revolves around a group of friends who meet after 14 years along with their family. The reunion brings a lot of revelations about each character of the film and that forms the crux of the movie.
Most of the critics rate the performance of the lead actors as the major highlight of the movie. The script and dialogues of the movie have also impressed the reviewers.
Here are the reviews of "Lukka Chuppi" by various critics:
Bash Mohammed made a great entrance in M-Town as a director; with an entirely different narration style in the movie; making a pleasant to watch mood from beginning to end. A wonderfully chosen cast with a good direction; makes the film worthy to watch.
Screenplay by Gafoor Arackal stands as the backbone of the film; as the movie executed the friendship and college life between the leads, without showing any flashback scenes; but posses a good narration.
Wonderfully captured visuals by Binu Bhaskar were edited perfectly by Manoj; which along with a good music by Bijipal supports the film well.
Novelty in title can help a movie a lot if it gets rubbed on to the plot or the narrative. Directed by Bash Mohammed, Lukka Chuppi is by no stretch of imagination an insufferable cinematic mess. As a movie it has its moments but the storyline does not have enough vigour to give the discerning viewer a sense of completion.
We have had enough of college and school re union films and nostalgia has been cleverly weaved into many of these movies to make them palatable. Lukka Chuppi which means hide and seek according to the makers too seeks to thrive on the spirit ofcamaraderie. A group of college mates decide to have a get together after no less than fourteen years. They are all in the early stages of their middle age and are married and settled . The setting is perfect and the vivaciousness of the friends do create moments of laughter.