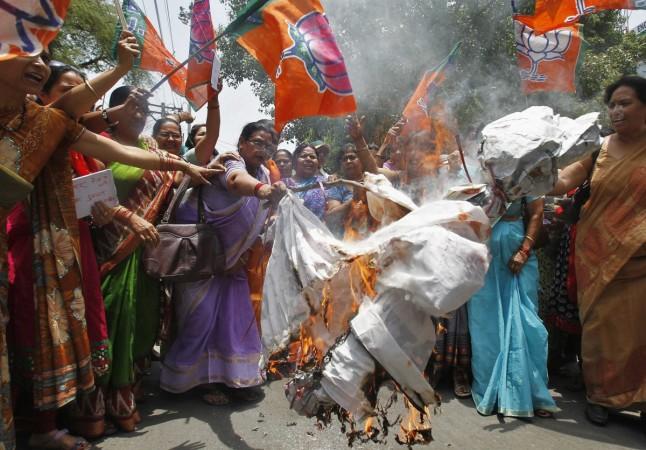 The Bharatiya Janata Party stopped short of mentioning the controversial term "Love Jihad" in its political resolution for Uttar Pradesh over the weekend, but it brazenly chose to communalize rapes, citing that members of a 'particular' community were involved in these crimes.
Some party leaders had sought a debate on "Love Jihad" at the meet, especially in the light of the recent case of an alleged rape and forced conversion of a Hindu girl in Meerut.
Though the BJP chose not to explicitly use the term, it suggested in its resolution that the "rape of women of a particular community and involvement of people from another particular community in these incidents in the state, is either a coincidence or it is being done in a planned manner; that is an issue of concern", The Indian Express reported.
Uttar Pradesh has seen a sickeningly high spate of crimes against women in the recent months, and it is the issue of safety of all women in the state, not only Hindus, that should have been raised by the BJP and not the issue of the religions of the victims and perpetrators.
The state represents 16.7 percent of the entire female population in the country, which means that one in six Indian women lives in Uttar Pradesh and is increasingly at the threat of crime. Last year, UP accounted for a staggering 10.5 percent of the total cases of crimes against women.
According to the National Crime Records Bureau, Uttar Pradesh had one of the highest incidents of crimes against women in 2013, with 32,546 cases reported.
There is no data to suggest how many crimes were perpetrated by the 'particular' community that BJP seems to be referring to, but it definitely gives a loathsome picture of the state of affairs for women.
In Meerut alone, 389 cases of rapes were reported last year, yet BJP seems to be only concerned about the case of an alleged conversion and rape of a Hindu girl.
For women in the state, safety is a more important issue than religious overtones.
'Whenever we go out, we face comments from the boys. It's not as if the boys are from any one community,' a female student at Meerut College told NDTV.
It is high time BJP reconsiders its take on crimes against women and discusses the real issue – rape, not religion.