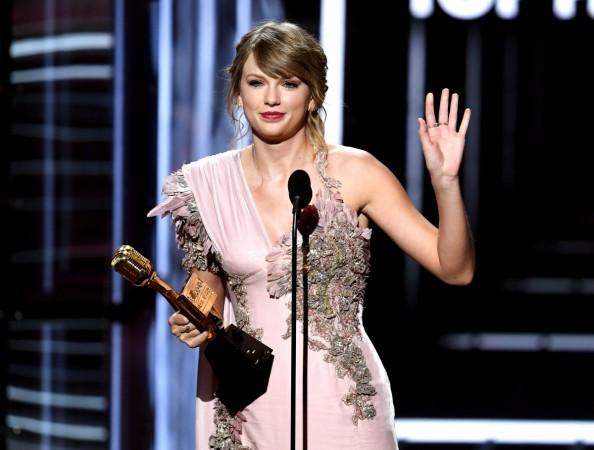 After a long hiatus - since the 64th Annual BMI Pop Awards in 2016, singer Taylor Swift stunned at the 60th Billboard Music Awards on Sunday at MGM Grand Garden Arena in Las Vegas. And, not only attending the event, the Delicate songstress proved that she is the queen of expression.
She left her fans awestruck with an epic expression while the singer and BBMA host Kelly Clarkson were seen singing her hit single "Look What You Made Me Do."
As the camera panned to the hitmaker, who was sitting on a front-row seat to the show, Swift was seen rolling her eyes, glaring at her nails while hymning the song just before bursting into laughter.
You can watch the clip here.
All the Swifties took to Twitter to react to the epic expression of their favourite singer.
THE WAY SHE JUST LOOKED AT HER NAILS SO FLIPPANTLY IM JUST @taylorswift13 ARE U TRYING TO KILL ME SWEETIE IM ON THE FLOOR CACKLING AHAHAHA

— jenna? (@jennafaithm13) May 21, 2018
The Delicate singer grabbed two awards including the Top Female Artist. She was nominated for a total of five awards. She was also nominated in the Top Artist category alongside Drake, Kendrick Lamar, Bruno Mars and Ed Sheeran, which was bagged by the Thinking Out Loud singer.
While accepting the award for Top Female Artist, Swift gave a shout-out to all the female artists as she said, "I want to thank all the female artists who paved the way for us to get to do what we do the way we get to do it. All the new female artists who are killing it out there right now, we're so inspired by you. And I don't know, a shout-out to the future female artists who just picked up a guitar or learned how to play the piano. And to the fans who care about the music that we make, thank you so much."