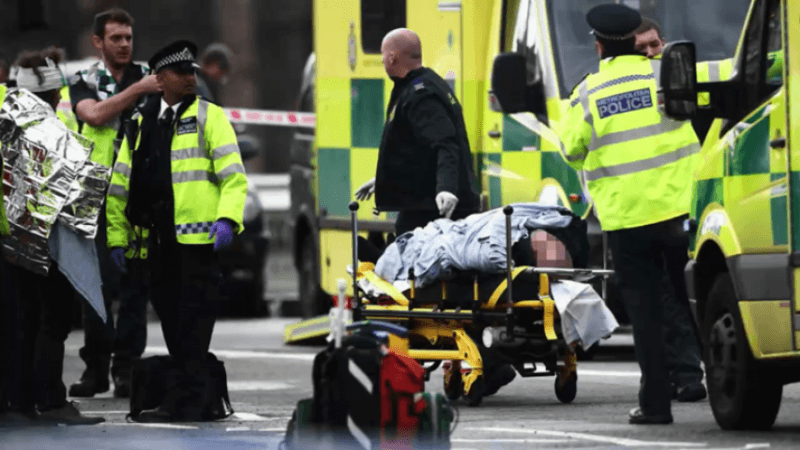 United States President Donald Trump on Wednesday spoke to British Prime Minister Theresa May soon after five people were killed and more than 20 were injured in a terror attack outside the UK Parliament complex.
UK Parliament attack: What we know so far about this London terrorist attack [VIDEO]
The US president pledged his administration's full support in bringing the perpetrators responsible for the incident to justice.
"President Trump pledged the full cooperation and support of the United States Government in responding to the attack and bringing those responsible to justice," the White House said in a readout of the call.
An "Asian man in his 40s with eight-inch long knife" was reportedly shot dead on Wednesday after he "mowed down" at least a dozen pedestrians by a car and stabbed a policeman close to Britain's Houses of Parliament in London. The police have said that they were treating the incident as an act of terrorism.
Trump's Press Secretary Sean Spicer said that the White House lauds the effective response of the British security forces.
"We obviously condemn today's attack in Westminster, which the United Kingdom is treating as an act of terrorism and we applaud the quick response that the British police and their first responders made to the situation," Sean Spicer said at his daily press briefing.
US secretary of State Rex Tillerson also condemned the attack in London and said that the incident was a horrific act of violence.
"On behalf of the US, I express my condolences to the victims and their families. The American people send their thoughts and prayers to the people of the United Kingdom," Tillerson said in a statement. "We condemn these horrific acts of violence, and whether they were carried out by troubled individuals or by terrorists, the victims know no difference," PTI reported.
Indian Prime Minister Narendra Modi also condemned the attack in Britain saying "India stands with UK in the fight against terrorism."
"Deeply saddened by the terror attack in London. Our thoughts and prayers are with the victims and their families," Modi said.