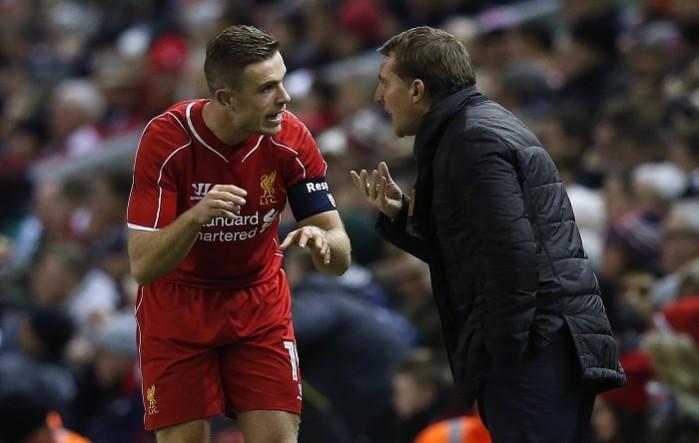 Liverpool midfielder Jordan Henderson says that he is in no hurry to extend his stay at Anfield, insisting that he is quite happy to wait until the end of the season to sign a new deal with the Reds.
The 24-year-old midfielder, who arrived from Sunderland for a reported £16 million in the summer of 2011, is currently on the final 18 months of his Liverpool contract.
And Liverpool captain Steven Gerrard had recently urged the Reds to offer Henderson and Raheem Sterling (whose contract expires in 2017) new contracts before it was too late.
However, Henderson despite admitting that he was flattered after hearing Gerrard's recent remarks, says that he is not thinking about his Liverpool contract, insisting that he is fully focused on his "football."
"Coming from someone like him [Gerrard] it's a massive compliment, but that's just something that could distract me from my football and I don't want that to happen. I think Raheem would be the same," Henderson told Sky Sports.
"We're just really focused on our football, and our agents will sort the other side of things out. Hopefully they can work something out soon, if not then we'll just wait until the end of the season."
"It doesn't really affect us as players. It's not really up to us - it's up to the club and the agent to sort something out, and we just focus on what we're meant to do - that's play football."
Liverpool manager Brendan Rodgers recently praised Henderson's leadership qualities indicating that the midfielder would be the right person to become the Reds' new captain after Gerrard leaves this summer.
However, the 24-year-old says that he has not thought about the prospect of succeeding Gerrard as Liverpool's new captain, insisting that he is only focused on helping the Reds do well this season.
"To be honest I haven't thought about it at all because I don't want it to affect what I'm doing for the team," added Henderson.
"It's up to the manager next season to choose who he thinks is right to be captain, but my focus is on helping the team to be successful this season, and that means winning trophies, trying to get into the top four and winning as many games as we can. At the end of the season we'll see where were at."