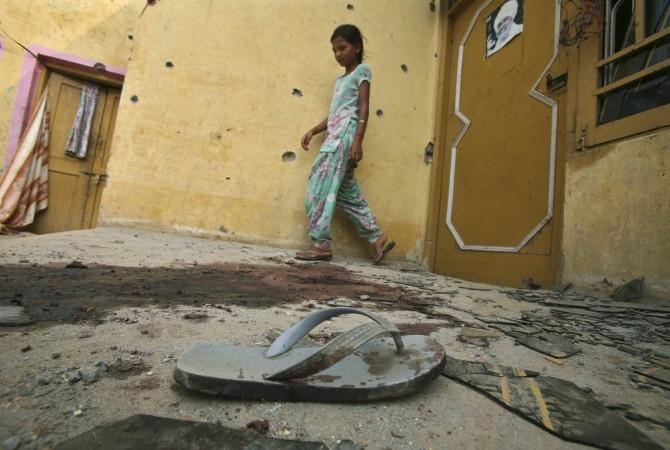 12 October
8.30 am: Fresh firing by Pakistani Rangers has begun in the Arnia sector early on Sunday. One person has reportedly been injured in the firing.
15 border outposts along the international border in Arnia and RS Pura sectors of Jammu district were targetted.
11 October
1.50 pm: After a lull in firing for more than a day, fresh ceasefire violation by Pakistan has been reported along the LOC in the Poonch sector.
"The Pakistani Army violated the ceasefire in Shahpur Kerni sector of the LoC in Poonch district today afternoon," a senior police officer told IANS.
"The Pakistani Army is using automatic weapons to target Indian positions. Firing started at 12.45 p.m. and is still going on (at 2 p.m.). The Indian Army retaliated and firing exchanges are still going on in the area," the officer said.
Kashmir Conflict Analysis: Though Pakistani Firing has Subsided, It will Recur
10 October
4.30 pm: Prime Minister Narendra Modi lashed out at Pakistan over the continued aggression along the border which only subsided on Thursday after several civilian deaths, saying that Pakistan had got a "befitting" reply.

"Pakistan has got a befitting lesson. They will not dare to repeat it again. Our jawans have shut their mouth," Modi said during a rally in Maharashtra on Friday.

Modi has also assured the thousands of people who have been displaced because of the border conflict that they will be compensated.
"I assure you, the government of India will act promptly to provide adequate compensation to those who had to leave their homes due to shelling and migrate elsewhere," he was quoted saying by Press Trust of India.
2.00 pm: Pakistan Prime Minister Nawaz Sharif, who chaired a national security meeting with the chiefs of all three forces, virtually shifted the blamed for the border conflict on India and asked it to 'maintain sanctity' of the LOC and the working boundary.

Sharif condemned unprovoked firing from across the Line of Control (LoC) and working boundary by Indian security forces, reports Dawn.com.

The meeting was attended by Interior Minister Chaudhry Nisar Ali Khan, Defence Minister Khawaja Asif, Adviser to PM on National Security and Foreign Affairs Sartaj Aziz and senior military officials.
Pakistani military officials reportedly said that their forces were firing in 'self-defence' and were not targeting civilian areas.

12.05 pm: A high-level meeting is also going on in Delhi's North block to review the security situation.

11.30 am: Pakistan Prime Minister Nawaz Sharif is heading a national security meeting over the border issue, and chiefs of all three forces are reportedly present.
8.40 am: Fewer instances of firing from the Pakistani side were reported on Thursday night, when the conflict subsided for the first time in five days, after eight civilians were killed in India.
The subdued border tension also reflected in the Pakistani Defence Minister's statement, which can be seen as an attempt to douse tension.
"We don't want to convert border tension between two nuclear neighbours into confrontation," Pakistan's Defence Minister Khawaja Asif was quoted saying by NDTV. However, he did fall back on rhetoric to say that 'nuclear Pakistan' was fully capable of responding "befittingly" to Indian aggression.
Jammu and Kashmir Chief Minister Omar Abdullah also pushed for talks to resolve the conflict. "Flag meets are necessary now to de-escalate tensions and bring ceasefire back on track," he told NDTV.
9 October
4. 30 pm: After Pakistan People's Party leader Bilawal Bhutto made ridiculous comments about the border conflict on Twitter, terrorist Hafiz Saeed also took to the micro-blogging platform to spew hateful comments about India, saying Pakistan is capable of giving a "jaw-breaking response".
While the Twitter handle through which he made the comments is not a verified one, the messages very much seemed to belong to the JuD terrorist.
Being an atomic power, Pakistan is outstanding in every aspect of defense. We are fully capable of jaw breaking response

— Hafiz Muhammad Saeed (@HafizSaeedJUD) October 8, 2014
Some of the messages read as -
"If India doesn't cease aggression, let it be known that she will not be able to save herself from #GhazwaHind Prophecy #IndianBrutality #LOC" and "Being an atomic power, Pakistan is outstanding in every aspect of defense. We are fully capable of jaw breaking response.
He also did not spare Pakistani Prime Minister Nawaz Sharif.
"The shameful silence by PM Nawaz is a disgrace; Sartaj Aziz must give clear statements to counter enemy aggression on borders," Saeed tweeted.
4.00 pm: PM Modi lauds jawans retaliating to Pakistani firing at the border. The Opposition should not politicise the issue, says Modi.
"There should be no politics over issues of national interest," Modi said during his rally on Thursday. "We did not politicise the 26/11 Mumbai attacks," he said.
"The Opposition should be ashamed for politicising the border issue. Do not demoralise the forces who are giving up their lives to protect the border," Modi said.
12.10 pm: India has summoned the Pakistani High Commissioner to India over cross-border firing.
11.20 am: Defence minister Arun Jaitley made a strong-worded statement on Thursday, warning Pakistan that its "adventurism will not be affordable"
"There has been a series of unprovoked violations by Pakistan. The international border has never been an issue at all, but most violations are occurring at the IB. India is a responsible state, and never an aggressor. But at the same time, it has a paramount duty to defend its people and its territory. Our armed forces have only one option, that is to respond adequately and defend our territory and our people. Our forces have been doing a commendable job in the face of these unprovoked acts of aggressing by Pakistan. Pakistan has clearly been the aggressor, but it must realise that our deterrence will be credible. If Pakistan persists with this adventurism, our forces will make the cost of this adventurism unaffordable," Jaitley said while addressing the media on Thursday.
"It is an effort by Pakistan to precipitate tension where none existed," he said. "If it wants peace, it has to stop unprovoked firing."
10. 15 am: Home minister Rajnath Singh assured that Indian forces were retaliating with full force.
"The Prime Minister is monitoring the border situation closely. We are satisfied with how our Army and BSF jawans are responding," Singh told the media on Thursday.
Though Prime Minister Narendra Modi finally broke his silence on the ongoing border conflict, stating on Wednesday that "everything will be fine soon", incessant firing from the Pakistan side continued late in the day, in which 5 civilians and 3 BSF jawans were injured.
Pakistani troops reportedly fired at 60 Border Security Force (BSF) posts on Wednesday night, targetting 130 hamlets in Kathua, Samba and Jammu.
8 October
4. 15 pm: The Prime Minister's Office (PMO) has reportedly delegated the National Security Advisor to coordinate between the Indian Army and the Border Security Forces (BSF) and report to the Ministry of External Affairs. According to government sources quoted by NDTV, the Prime Minister has 'given a free hand to forces to retaliate to Pakistani firing'.
2. 30 pm: In a brazen comparison of the India-Pak border conflict to the Israeli offensive on Gaza, Pakistani politicial scion Bilawal Bhutto put up a controversial post on his Twitter handle, drawing sharp rebuke for his comments. He also targetted Indian Prime Minister Narendra Modi, stating that Pakistan was not like "victims from Gujarat".
Another attack on LOC. seems India adopting Israle model vs Pakistan.Modi must realize we can retaliate unlike his victims from Gujarat.

— BilawalBhuttoZardari (@BBhuttoZardari) October 7, 2014
Bhutto, son of former Pakistani president Asif Ali Zardari, has often been criticised for his out-of-line remarks, especially concerning India, particularly Kashmir. His recent Twitter post also drew sharp reactions on the micro-blogging platform.
12. 30 pm: The Ministry of Home Affairs has called for a review meet over the ceasefire violations by Pakistan. The meeting will be held in the North Block at about 2.45 pm. The home secretary, Intelligence Bureau chief and BSF representatives are expected to attend the meeting.
12.10 pm: No question of flag meeting with Pakistan, says Army Chief General Dalbir Suhag, as two civilians were killed in fresh firing on Wednesday. Six people have been left critically injured in the attack, and several others are injured.
11.30 am: Another woman was reportedly killed in the Samba sector under heavy firing from Pakistan, as per reports on news channels. Seven civilians have lost their lives since the Pakistani offensive on civilian areas began on Sunday night. Worst Ceasefire Violation Wipes Out Normal Life Near Indo-Pak Border [PHOTOS]
11. 20 am: United Nations General Secretary Ban Ki-moon is expected to call on both nations to resolve the ongoing border conflict.
"The secretary general would call on both countries to resolve their issues diplomatically and through discussions," the UN secretary general's spokesperson Stephane Dujarric was quoted saying by Press Trust of India.
9. 40 am: One more civilian has been killed in Pakistan firing in the Samba sector of Kashmir along the International Border, while 20 others have been injured. The victim was a 70-year-old woman.
India has decided to suspend all talks with Pakistan till the firing stops, news reports cited government sources as saying. No flag meets will be held till the firing ends, sources were quoted saying.
Why is Modi Silent? Modi's Silence on Kashmir Conflict Draws Ire
8. 30 am: Heavy firing continued across the International Border on the third day since Pakistani Rangers targeted civilian areas in Kashmir and left five civilians dead. India retaliated with strong force on Tuesday, targeting 37 Pakistani border posts, leaving 15 dead and more than 30 injured.
Pakistani troops, too, continued their ceasefire violations and targeted over 60 BSF posts on Tuesday, injuring 7 people including civilians and army officials.
Thousands of Indians have left their homes to move to safer places as heavy shelling continued for three days. This is said to be the heaviest cross border firing since the 2003 ceasefire.
Both sides have heaped blame on each other for 'unprovoked firing', with even a telephonic conversation between brigadiers of the Indian and Pakistani deputy directors of the directorate general of military operations (DDDGMO) ending with accusations.
Pakistan took the conflict issue to the United Nations, and summoned the United Nations Military Observer Group in India and Pakistan on Tuesday to mediate an end to the violence.
7 October
1. 33 pm: Nine civilians have reportedly been injured in fresh attack by Pakistani troops on civilian areas.
10: 20 am: Pakistani troops continued to attack across the border and targetted about 40 BSF posts in India. Three civilians were left injured on Tuesday, and around 20,000 villagers have fled their homes in three districts along the international border, reported IANS.
As India returned the fire, four civilians were killed in Pakistan too. Pakistan's Inter Services Public Relations (ISPR) has blamed India's Border Security Force for starting "unprovoked firing" that killed four civilians, including a woman and two children, on their side, as reported by DAWN.
6 October
4. 30 pm: India and Pakistan did not exchange sweets along the Wagah border in Punjab on the occasion of Eid on Monday, breaking from an old tradition of showing goodwill during festivals.
With the worst cross-border attack by Pakistan in recent time, India kept the Wagah border gate shut on Monday, while the Pakistani side refused to take sweets, as reported by Press Trust of India.
2: 15 pm: According to new channels, Indian troops have been asked to retaliate in equal measure to Pakistan's cross-border firing.
2. 10 pm: Arun Jaitley -"The onus is on Pakistan to create a peaceful environment, but it is failing to do so. Our armed forces are fully ready and are responding to each of the provocations," said defence minister Arun Jaitley.
2. 00 pm: Omar Abdullah - Jammu and Kashmir Chief Minister Omar Abdullah has condemned the ceasefire violations by Pakistan, saying Pakistan is deliberately targetting civilians.
Home minister Rajnath Singh has responded sharply to Pakistan's continued aggression along the border, stating that the ceasefire violations will not be tolerated.
"India will not tolerate Pakistan's ceasefire violations anymore," Singh said after one of the worst ceasefire violations by Pakistan killed five civilians, including two women and a teenage girl, on Monday.
Twenty-nine others were injured when the Pakistani Rangers fired at civilian areas of Arnia sector in Jammu and Kashmir early on Monday.
The latest round of firing makes it the 11th ceasefire violation by Pakistan in just the last four days, with seven along Line of Control in Poonch and four along IB in Jammu, according to Press Trust of India.
Indian troops also stopped an infiltration bid along the border and gunned down three LeT terrorists in the Tanghdhar sector of Jammu and Kashmir. The troops recovered AK-47 rifles and night-vision goggles from the militants, according to news channel reports.