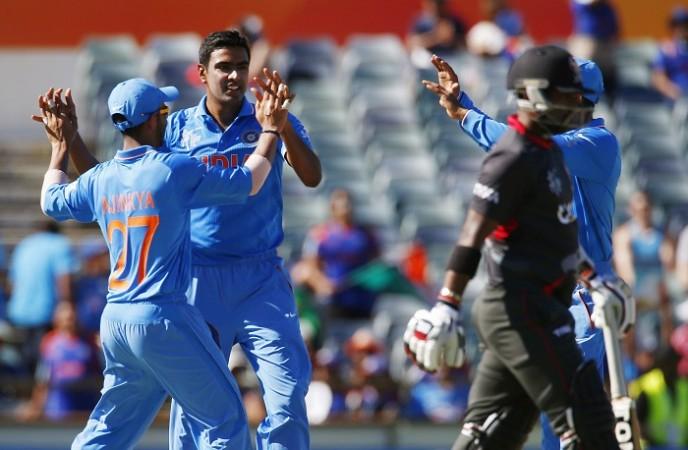 4.32 pm: That is all from me and IBTimes India for this match between India and UAE. It has been smooth and easy for the defending champions. Do check back to this side for more on the CWC. But for now, it is good evening.
Get the Full Scorecard of the match HERE
4.29 pm: Ashwin is the man of the match. "I usually bowl where I have to cut the runs out, which is why I struggle for wickets," said the off-spinner. "I am an attacking bowler, but when it comes to this format, I'm pretty unselfish. I have been working on my arm balls, and of course the breeze across the ground also helped in that matter.
"We knew that we were going to be on a roll once the tournament started, as we do well in ICC tournaments."
4.25 pm: An insanely easy outing for India. The bowlers did their job, bowling UAE out for little, with Ashwin the main man with the ball, getting his first ever four-for in ODIs. The chase was as easy as 1,2,3 with Rohit Sharma getting some runs for himself for the first time in this CWC. This is India's third straight World Cup win, and another one against the West Indies in six days at the same venue and a quarterfinal place and most probably top place in Pool B should be theirs.
Get the Full Scorecard of the match HERE
4.23 pm: Rohit teasing the crowd over the victory, plays four dot balls and then smashes one straight down the ground for a boundary to clinch the win. India 104/1 in 18.4 overs, win by nine wickets.
4.20 pm: Krishna Chandran continues from the other end, and India just waiting to pounce on the loose deliveries. A quick single nearly has Rohit run out. Kohli dropped the ball to short third man and set off, and Rohit might have been gone with a direct hit. Rohit takes a single after that, and Rohit inches India closet to victory with a lovely cut behind point for a boundary. India bring up the 100 with that four, 100/1 in 18 overs, another three needed for victory.
Get the Live Scorecard of the match HERE
4.16 pm: A single from Kohli off the fourth ball and then Rohit rocks back and pummels one to the point boundary for a four and his half-century. India almost there, 94/1 in 17 overs.
4.14 pm: India have taken the Batting Powerplay.
4.11 pm: It's almost time for resumption of play, India need another 15 runs, should be done in two-three overs.
3.32 pm: Last over before the break, India ever closer to the win, but will be made to wait because of the most ridiculous of rules. India 88/1 in 16 overs, needing just another 15 runs for victory. The 45-minute break will be in play now, catch you once the match resumes.
Get the Live Scorecard of the match HERE
3.28 pm: Spin for the first time from the UAE with the captain Mohammad Tauqir bringing himself in. Rohit looks to hit the bowler into the stands, but misses and there is a stumping appeal. The umpire goes to the third umpire, with replays showing Rohit's foot is well in. the right-hander then decides to play the ball on the carpet, and produces two boundaries right out of the top draw. Two straight outstanding extra cover drives for four with the two shots almost replays of each other. India 83/1 in 15 overs.
3.24 pm: Krishna Chandran Karate is the new bowler, replacing Guruge. No trouble for the batsmen with his dibbly-dobblers, with Kohli thumping a full and wide one through extra cover for a boundary. India 72/1 in 14 overs.
Get the Live Scorecard of the match HERE
3.19 pm: No Rohit does a McCullum and blows UAE away here. Nice and easy does it for India, with Rohit and Kohli happy to put away the bad balls, as Kohli does in the 13th over with a flick and a half, while taking the singles on offer. The match will definitely go past the mid-innings break, although why the teams need to go to a break when the match is so close to finishing is beyond everyone. Easy peasy couple of overs, India 66/1 in 13 overs.
3.10 pm: Amjad Javed comes in at the end of the Powerplay. A few singles to start off and Rohit lifts one over mid-off for another four. India 59/1 in 11 overs.
Get the Live Scorecard of the match HERE
3.05 pm: Kohli says enough ofthose deliveries outside off, and glides one off Guruge through the offside for four, a gorgeous shot that. A two soon after gives India six runs from the over, India 52/1 in 10 overs.
3.02 pm: Rohit gets that pull working. Doesn't time it perfectly, but gets it over the infield and the ball trickles to the line. Naveed then says, "you didn't time that well, here's another short lollipop" and Rohit accepts the gift with glee, timing the ball perfectly to smash it to the boundary line. the third boundary of the over is the best, as Rohit gets out that wonderful cover drive. Plenty of boundaries in this innings, but too many dot deliveries as well. India 46/1 in 9 overs.
Get the Live Scorecard of the match HERE
2.58 pm: Quite impressed with Guruge, who keeps bowling good lines and lengths. And that curse strikes again just as I write that with a juicy half-volley on leg stump, giving Kohli the best possible opportunity to push the ball past the right of mid-on for a boundary. The next ball is right where it needs to be, though, just outside off slanting away off the angle from the left-armer. India 34/1 in 8 overs.
2.54 pm: Virat Kohli gets a really good ball just outside off first up, and then gets a single off his second. India 30/1 in 7 overs.
Get the Live Scorecard of the match HERE
2.50 pm: Wicket, Dhawan gone! After agorgeous flick to the square leg boundary, Dhawan looks for another four with a loft over point, but doesn't get enough on it and Rohan Mustafa pouches a brilliant one-handed catch. India 29/1 in 6.3 overs.
2.49 pm: Rohit hits a mistimed six to the square-leg boundary in the over, and then UAE go for a big appeal for a caught behind, with replays showing the sound came from the bat striking the pad. Just that six off the over, India 25/0 in 6 overs.
Get the Live Scorecard of the match HERE
2.44 pm: Very watchful are India in these opening overs, and it must be said UAE haven't allowed to them to get away. Just as I say that, however, Naveed bowls one onto the pads of Dhawan, who clips it between midwicket and mid-on for a four. Another boundary follows a couple of balls later as Dhawan unleashes his cover drive off a full delivery outside off. Not perfectly time, but good enough to hit the ropes. India 19/0 in 5 overs.
2.39 pm: Guruge quite impressive, another very good over, maiden at that. India 10/0 in 4 overs.
2.35 pm: No clear signs yet of India wanting to finish this match before the mid-innings break. Both batsmen feeling their way into form on this pitch. Rohit keeps wafting outside off, though, and then gets a boundary with a lucky/cultured edge over the slips. India 10/0 in 3 overs.
Get the Live Scorecard of the match HERE
2.31 pm: Guruge bowls a few Chaminda Vaas-like deliveries to Shikhar Dhawan, and the left-hander then gets off the mark with a quick single to mid-on off the fourth ball of the second over. Rohit whiffs at one outside off which nearly takes the edge, good over from Guruge. India 5/0 in 2 overs.
2.25 pm: Naveed bowls the first over. Decent pace and carry, and Rohit Sharma decides not to chase the wide ones early on. But then this is Rohit we are talking about, and a ball on the sixth stump is punched off the ball foot and through the offside for an outstanding four. India 4/0 in 1 over.
Get the Live Scorecard of the match HERE
2.17 pm: So, that was quite easy for India, another impressive performance from the bowlers. The batsmen will come out soon now, and look to get as close to the target as possible before the lunch break which is scheduled for 3.30 pm IST. Will India do a Brendon McCullum and go hell for leather to try and finish off the game before the break. We'll find out soon enough.
Get the Live Scorecard of the match HERE
2.15 pm: So, that was quite easy for India, another impressive performance from the bowlers.
"I mean it's been a long time since I got four wickets in ODI cricket, never got one before, so really happy," says Ashwin. "Last time I bowled here in Perth I enjoyed it a lot, I quite enjoy bowling here because of the bounce.
"If you mix up the pace and bowl the arm ball well and then bowl really slow, you can get wickets here."
2.11 pm: Wicket UAE all out! Anwar finally goes as Yadav gets one to just straighten off the pitch and knock off his stumps, with the batsman playing inside the line of the ball. UAE 102 all out in 31.3 overs.
Get the Live Scorecard of the match HERE
2.08 pm: Jadeja gets a change of ends and is now bowling from where Ashwin got his four wickets. He gets Guruge from the first ball, but cannot get the No.11 out. Partnership now 27 runs as Guruge slams one through the offside for four. UAE 98/9 in 31 overs.
2.05 pm: Umesh Yadav returns as Dhoni looks to finish off the innings. Quick and accurate he has been so far in this match, and the rhythm is there, but Anwar cannot be knocked over, with the right-hander flicking a wonderful boundary off a leg-side delivery. UAE 94/9 in 30 overs.
2.01 pm: No five-for for Ashwin. Would have been his first in ODI cricket, but he has to be satisfied with figures of four for 25. UAE 90/9 in 29 overs.
Get the Live Scorecard of the match HERE
1.59 pm: Anwar survives an lbw appeal from Jadeja and then sweeps him for a boundary through backward square leg off the final ball. UAE 88/9 in 28 overs.
1.57 pm: As many runs as possible seems to be UAE's plan now, with Manjula Guruge getting a three off Ashwin's first ball and Anwar a single after that, with a double also coming off the final ball. UAE 84/9 in 27 overs.
1.54 pm: Anwar, though, then gets lucky, gets an outside edge which just flies past Ashwin at short third man. Then an inside edge, nearly smashes into the stumps. Anwar looking for as many runs as possible here, knowing the end is near. UAE 78/9 in 26 overs.
Get the Live Scorecard of the match HERE
1.51 pm: Ashwin cannot get his five-for as Anwar keeps the strike and then intelligently takes a single off the final ball. UAE 72/9 in 25 overs.
1.47 pm: Tauqir gone, Jadeja picks up another one. TheUAE skipper goes for an expansive sweep shot, and loses his balance and his stumps as Jadeja sneaks one through with a quick one. UAE 71/9 in 24 overs.
Anwar thelone warrior with the bat here. Hardly looking troubled it must be said, very impressive amid all the chaos around him.
1.42 pm: Wicket, Ashwin again, Naveed gone! Ashwin decides he has had enough of the loopy off-spinners, and bowls a quick one, which Naveed does not read as he goes for the square cut off middle-stump. But all that does is uproot the stumps. UAE 68/8 in 22.3 overs.
Get the Live Scorecard of the match HERE
1.41 pm: Mohammad Naveed says enough of the defending and smashes a 90-metre six off his first ball to long-on, and then reality strikes as he gets an edge, which Raina drops. First dropped catch from India at this World Cup. UAE 67/7 in 22 overs.
1.38 pm: Wicket, Jadeja takes a wicket off his first ball. Amjad Javed, whowas so impressive against Zimbabwe, putting on a big partnership with Anwar, has to go as a nice little off-spinner from Jadeja takes the outside edge with Raina taking a simple catch. UAE 61/7 in 21.1 overs.
Get the Live Scorecard of the match HERE
1.37 pm: Ashwin enjoying himself here, bowling the off-spinners, the carom ball and the arm ball. A quick stumping from Dhoni has Javed in trouble and Bowden goes upstairs to the third umpire. The foot, comes back down in time after just being in the air for a while. Dhoni is a seriously underrated wicketkeeper, quick as lightning he is with his stumpings. Seven runs off the over after Anwar takes a boundary through the offside off the final ball, UAE 61/6 in 21 overs.
1.29 pm: Wicket, Mustafa given out lbw and there is a review. No point in the review, however as the ball pitches on leg stump and crashes into off stump. UAE 52/6 in 19.5 overs.
Get the Live Scorecard of the match HERE
Just a two off the final ball of the over from Ashwin, and then Mohit continues to try and knock UAE out with short deliveries, for reasons only known to him. Mohit is not an express bowler, and that ball needs to be well up with slips in place. To the left-hander Mustafa, Mohit pitches it up, and immediately looks the better bowler. Needs to do the same to Anwar as well, because if India allow him to settle, he could go big, like he has done in his first two games at this World Cup.
1.22 pm: Shaiman Anwar is looking a different batsman from his teammates. A short ball sits up to be hot and he hits it off Mohit for a boundary. Meanwhile, Rohan Mustafa is in and probably should have gone second ball. He goes to play a ball from Ashwin outside off, but then decides to pull away, a tad too late. Dhoni goes for the appeal for a caught behind, the umpire gives it not out, and the India skipper decides not to review it. Replays, though, show a small tickle via the snicko. Lucky is Mustafa. UAE 49/5 in 18 overs.
1.15 pm: Wicket Khurram Khan gone! Ashwin on fire here. Khurram goes for the sweep and only manages a top edge with the ball lobbing up behind Dhoni. Suresh Raina runs from slip and completes a simple catch. UAE 44/5 in 16.4 overs.
Get the Live Scorecard of the match HERE
1.13 pm: UAE's in-form batsman and the centurion from the last match Shaiman Anwar walks in. timing the ball well right off the bat here. Mohit bowls another tight over, though. UAE 44/4 in 16 overs.
1.05 pm: Mohit hits the mark for six consecutive deliveries and bowls a maiden over, before Ashwin with his loopy off-spinners, inviting the batsmen to have a go. And then off a ripper of a carom/arm ball Ashwin gets a wicket as Swapnil gets the outside edge, with Dhawan taking a nice little catch in the slips. UAE 41/4 in 14.5 overs and it is drinks.
Get the Live Scorecard of the match HERE
12.57 pm: Khurram Khan is the key for UAE here. He needs to bat for as long as possible. Another tight over from Ashwin, UAE 36/3 in 13 overs.
12.54 pm: Mohit Sharma, one of India's most impressive bowlers so far at this CWC, for the first time. Short balls the order of the day, and Swapnil Patil accepts a wide one with glee to smash it past backward point for four. Mohit looks much better when he pitches the ball up, gets a little bit of swing as well and probably would have sent Patil, another UAE player of Indian origin, packing had he been armed with a little more pace. UAE 34/3 in 12 overs.
Get the Live Scorecard of the match HERE
12.50 pm: What a difference it makes when Ashwin bowls slow, flights the ball and gives it a real rip, like an off-spinner should. Swapnil Patel comes in and survives. Really good opening over from Ashwin, UAE 29/3 in 11 overs.
Get the Live Scorecard of the match HERE
12.46 pm: Wicket, Krishna Chandran gone! R Ashwin comes in for the first time right after the end of the Powerplay, and picks up a wicket. An off-spinner going down the leg side, and Krishna Chandran tries to help it on its way, but only gets his glove with the ball then skidding off the thigh pad and into the hands of Suresh Raina at leg slip. UAE 28/3 in 10.2 overs.
12.44 pm: Umesh raps one onto the pads of Khurram Khan, getting one to swing in to the left-hander. The umpire gives it not out, and India decide not to review. Maybe they should have, because that looked really close. Krishna Chandran then edges one through the slips. Umesh looking capable of taking a wicket with every ball, really bowling well here. UAE 28/2 in 10 overs.
12.39 pm: Khurram Khan gets his first four as a short and wide delivery from Bhuvneshwar gets the treatment. Battling back, slowly but surely after the first tw blows are UAE here. UAE 24/2 in 9 overs.
Get the Live Scorecard of the match HERE
12.35 pm: Just settling down the UAE batsmen here. They need to ensure they carry on, though, with Umesh beating the bat a few times. Patience will be key for both sides. UAE 18/2 in 8 overs.
12.32 pm: Krishna Chandran, the man from Kerala, will want to make a score against India here. He is looking solid enough against Bhuvneshwar. UAE 16/2 in 7 overs.
Get the Live Scorecard of the match HERE
12.28 pm: Umesh Yadav bowling a hostile spell here, the batsmen have very little clue on how to play him at this pace. What a different bowler he is when he has control. UAE 13/2 in 6 overs.
12.25 pm: Meanwhile, in Auckland, New Zealand have pulled off a stunning victory over Australia. The match went right down to the wire, with the Black Caps just surviving.
You can ready about what went on HERE with the scorecard of the match HERE
12.22 pm: Wicket, Amjad Ali gone! A second wicket for India and off another short delivery. This time it is Bhuvneshwar who bowls one, with Amjad Ali looking for a hook shot but only getting a tickle through to Dhoni. UAE 13/2 in 5 overs.
12.20 pm: UAE just about hanging in there with the new ball, as Yadav continues to to bowl at a good clip on this pacy WACA pitch. UAE 12/1 in 4 overs.
12.08 pm: Wicket, Raffaelo out! One down are the UAE, with Umesh Yadav, who nearly got a wicket off his first ball, bowling a wicked short ball, which Raffaelo can only glove into the air, with MS Dhoni completing a simple catch. UAE 7/1 in 2 overs.
12.06 pm: Bhuvneshwar does not look in good nick with the ball first up. Bowls a wide to start off proceedings and then gives away a boundary in the final ball. UAE 6/0 in 1 over.
12 pm: Thebatsmen are out, Bhuvneshwar Kumar is itching to have a go. He starts off.
11.55 am: The players are out there for the National Anthems, play in about five minutes.
11.52 am: Dhoni says he is happy to give Bhuvneshwar Kumar a chance in this game, and it will be interesting to see how he goes with the ball. Bhuvneshwar has not been at his best in Australia, even if that is largely down to injuries, so he will be keen to take that white ball and swing a few and take a few wickets.
11.49 am: This will be a game that India will expect to win, and the only thing they will want to do is to finish off UAE quickly.
It will not be easy, however, as UAE have done pretty well in this World Cup. But the sooner this match ends for India, the better.
11.46 am: India to bowl after UAE win the toss
Bhuvneshwar Kumar comes in for Mohammad Shami
Here are the lineups: India: Shikhar Dhawan, Rohit Sharma, Virat Kohli, Ajinkya Rahane, Suresh Raina, MS Dhoni (capt & wk), Ravindra Jadeja, R Ashwin, Bhuvneshwar Kumar, Mohit Sharma, Umesh Yadav.
UAE: Amjad Ali, Andri Berenger, Krishna Chandran, Khurram Khan, Swapnil Patil (wk), Shaiman Anwar, Rohan Mustafa, Amjad Javed, Mohammad Naveed, Mohammad Tauqir (capt), Manjula Guruge.
Hello and welcome to IBT India's live coverage of India vs UAE. India have been as good as any team at this ICC Cricket World Cup 2015 so far, and MS Dhoni's men will look to make it three wins in a row.
The WACA in Perth, though, might have a few demons in it in terms of pace, but that should not worry India too much, as the UAE bowlers are not exactly the scary kind.
Coming off a big victory over South Africa, India will look for another all-round performance, but they will have to do it without Mohammad Shami.