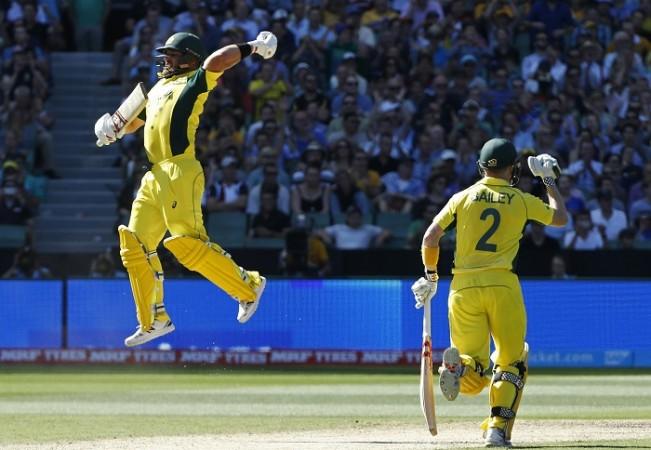 4.33 pm: Tremendously impressive opening win for Australia, who did everything – batting, bowling and fielding – well to overwhelm England.
Get the Full Scorecard of the match HERE
"It's surreal, it's still not sunk in," said man of the match Aaron Finch when asked about scoring a World Cup hundred on his home ground. "We knew it was going to slow up a little bit. We would've batted first, it's a bit nervy being the first game of the tournament.
"Everyone contributed with bat or ball and contributed in the field as well. Good to take this win and hopefully we can build some momentum in the tournament."
That's it from me and IBT India, see you tomorrow for the India vs Pakistan humdinger.
4.30 pm: Taylor misses his century in dramatic fashion as Australia win by 111 runs. What a ton it would have been from the little man, fighting and filled with plenty of outrageous shots. This will give him and England plenty of confidence going into the next few matches at this World Cup.
He was first almost stranded on 98, the score he will eventually finish on, with Anderson getting a top edge off a short delivery from Hazlewood, but the ball, thankfully for Taylor, fell just short. And then there was more drama as Taylor was given out lbw off a yorker, but the batsman reviewed it and it was overturned. However, the two England batsmen had run for a single, with Maxwell hitting the stumps direct and running Anderson out.
The ball should have been called dead really as Taylor was technically given out by Aleem Dar, but the run out stood a little puzzlingly and Taylor missed out on a deserved century. It would have made no difference to the result, though, as Australia were by far the better side, with England bowled out for 231 in 41.5 overs.
4.13 pm: Taylor keeps scoring the runs, and he is inching closer to his hundred, eight runs short now. Almost done and dusted in the over, though, as Bailey makes a splendid dive at backward point but just can't latch onto a catch. England 218/9 in 39 overs.
4.09 pm: Five wides sends England past 200, before Taylor smashes another four through the offside. England 205/9 in 38 overs.
4.02 pm: Wicket number nine, Johnson again as Finn goes. A patented short ball to the body from Johnson and all Finn can do is fend at it with the ball looping up for Johnson himself to take a simple catch. England 195/9 in 37.1 overs.
3.56 pm: Corker of a yorker from Starc and Stuart Broad is gone! A brilliant in-swinging yorker from Starc leaves Broad looking back at his shattered stumps. Almost over now with England on 194/8 in 36.1 overs.
Get the Live Scorecard of the match HERE
3.52 pm: Johnson strikes, Woakes gone! A nicely-disguised slow ball from Johnson leads to Woakes going for the drive way to early and a looper of a catch is easily taken by Smith. England 184/7 in 35.2 overs. The seventh-wicket partnership worth 92 is finally broken.
3.50 pm: Taylor to the forein the Batting Powerplay, as the diminutive right-hander smashed Starc for a six straight back. Another productive over, England 184/6 in 35 overs.
3.46 pm: England take the Batting Powerplay, and Taylor gets to his 50 with a nice six over fine leg. Taylor continues the assault with another boundary over mid-on this time, and England clearly haven't thrown in the towel yet. 176/6 in 34 overs.
3.42 pm: Solid partnership this between Taylor and Woakes worth 71 at better than run a ball. Clutching at straws it might be, but England will get some kind of encouragement from the two batsmen's knocks and they have at least ensured their team will not be bundled out in the early 100s. England 163/6 in 33 overs.
Get the Live Scorecard of the match HERE
3.27 pm: Australia have dropped their intensity a little bit, with the likes of Steven Smith coming in to bowl. Taylor and Woakes have batted well, though, even if it has come way too late in the piece. England 141/6 in 29 overs.
3.16 pm: The first real blemish for Australia in this innings as centurion Aaron Finch drops James Taylor in the deep, an absolute sitter that and a wicket that Josh Hazlewood, who hasn't been his accurate best today, desperately needed. Australia lose their only review soon after as Taylor goes for a hook but misses one through to Haddin. Aussies review for a glove, but snicko cannot give any conclusive evidence. England 115/6 in 26 overs.
3.08 pm: England just trying to delay the inevitable here as James Taylor tries to get some batting practice along with Chris Woakes. 107/6 in 24 overs.
2.57 pm: Marsh has his five-for as Buttler goes! Steven Smith takes a catch at short cover that will take some beating. An unbelievable catch from the Aussie star as he flies like Superman to his left to leave Buttler, who has absolutely smashed the ball, befuddled and stunned. England 92/6 in 22.2 overs.
2.52 pm: Englandneeda never-gonna-happen 262 runs from the final 30 overs of the match, having managed just 81/5 in their first 20.
Get the Live Scorecard of the match HERE
2.45 pm: Morgan wicket! A pull shot from outside the offstump finds the toe end of the bat, and Haddin adjusts brilliantly to take the catch down to his left. Marsh has his fourth wicket, a five-for beckons. England 75/5 in 18 overs.
Morgan's struggle with the bat continues, and all that does is pile more pressure on England as they go into their next matches at this World Cup.
2.28 pm: It looks like a matter of when now, with Australia set to join co-hosts New Zealand in picking up an opening win at this World Cup. If England are to stand a chance, Eoin Morgan, James Taylor and Jos Buttler will have to play three of the most outstanding innings seen in a WC – not gonna happen is it?
England 67/4 in 15 overs at drinks.
2.22 pm: And it's two wickets in two balls, with Root gone! A little paddle down the leg side is attempted, and all Root manages is a top edge with Haddin running back to take an easy enough catch. Marsh on fire, Australia on fire, England in absolute tatters on 66/4 in 13.5 overs.
No hat-trick for Marsh, though as Eoin Morgan negotiates the hat-trick delivery.
2.20 pm: Just as I say that, Bell loses his wicket. The England opener goes for an expansive pull off Mitchell Marsh and only manages to find Mitchell Starc in the deep, who runs and takes a smart catch. England very nearly gone at 66/3 in 13.4 overs.
2.18 pm: England are in a no-win zone right now. You try and take on the bowlers, and you risk losing wickets and it is certain curtains, but if you block too many and try to rebuild slow and steady, the run rate will bounce so high it won't come down. At the moment, Bell and Root are going the second way, with very few boundaries coming along.
2.06 pm: Joe Root is greeted by Mitchell Johnson with some thundering short balls, which the batsman just about manages to duck away from. England 54/2 in 11 overs.
2 pm: Wicket, Balance gone! Bailey places Finch at short midwicket, and Balance picks him out perfectly to give Mitchell Marsh his first wicket in World Cup cricket. England already in plenty of trouble at 49/1 in 9.3 overs.
Get the Live Scorecard of the match HERE
1.55 pm: Couple of quiet overs, with England happy to pick up the singles and rotate the strike. Johnson negotiated well enough so far. England 48/1 in 9 overs.
1.48 pm: Mitchell Johnson has his first go, replacing Starc. Good ball first up, and the England batsmen, rightly, are wary of him. Only three runs, two of them extras, from the over, England 41 for one in seven overs.
1.39 pm: Almost a second wicket in two balls for Starc. An inside edge off a speared in delivery just misses the stumps as Gary Ballance survives. England 29/1 in 5 overs.
1.37 pm: First wicket, Ali gone! A pull attempt goes haywire as Ali gifts one to George Bailey at mid-on with Starc's pace giving him trouble. England 25/1 in 4.4 overs.
1.33 pm: the flowing blade of Moeen Ali comes to the fore for the first time as the left-hander lifts one over the covers for a boundary, before a cracking cover drive produces the same result. Hazlewood struggling early on, with England now 24/0 in four overs.
1.28 pm: First boundary for England is a thickish outside edge to the third man boundary. England 10/0 in 3 overs.
1.25 pm: No new ball for Mitchell Johnson, asJosh Hazlewood is given the second new ball at the other end. Plenty of swing for Hazlewood, and England's first run on the board is via a wide. First runs off the bat is via Bell, who gloves one down to fine leg. Ali also gets off the mark in the over. England 5 for no loss after 2 overs.
1.19 pm: Mitchell Starc opens the innings. First ball is a play and a miss from Moeen Ali, with the left-armer right on the mark from ball one. England fail to get off the mark in the first over.
Get the Live Scorecard of the match HERE
1.14 pm: The players are back and the ground is a little hazy because of some firecrackers that were let off. Can England pull off the near impossible?
12.48 pm: England had their chances, taking quickfire wickets on a couple of instances. But they just could not take advantage, and such is Australia's batting power, that no matter how many wickets you take, another dangerous batsman walks out.
Daunting score this for the English – highest against England in a World Cup -- and they will have to bat, and then some, and then some, to even make this one a contest. Finn's hat-trick in the end would have just lifted them a little though, and maybe that lift will turn into confidence and a chase could be on.
Back for the second innings in a little under half-an-hour.
Get the Live Scorecard of the match HERE
12.47 pm: Innings over. Australia finish on 342/9 while Finn grabs a hat-trick off the last three deliveries of the innings. Maxwellsmashes a couple morethrough the vacant offside, while Haddin's wicket, a thick outside edge to third man, comes a little too late. Broad latches onto a nice one low down with Finn picking up another wicket. Maxwell is dismissed next ball with a catch of the tournament contender from Joe Root who dived to his right to catch a stunner at long-off. Mitchell Johnson then slaps one straight down the throat of mid-off to give Finn the hat-trick.
But, boy do England have a tall order awaiting them in the second innings.
12.38 pm: Soundinglike a broken record. England keep bowling short, Haddin keeps smashing them to the offside for boundaries. Haddin's favourite area is the offside, but England have all the deep men packed in the legside for some reason. Even Anderson is looking ordinary at the moment. Australia 334/6 in 49 overs.
12.33 pm: Haddin at his best. Two fours to third man, and Australia have taken 11 runs off Broad in the 48th over. Australia 321/6 in 48 overs.
12.28 pm: England keep bowling short, the ball keeps going to the boundary. Brad Haddin gets to 3000 ODI runs with a slap to midwicket and Australia in wonderful mood on 310/6 in 47 overs.
Get the Live Scorecard of the match HERE
12.23 pm: Marsh is out, but Maxwell's assault continues. Four consecutive boundaries off Finn, one off the glove of Jos Buttler, and it is a half-century for the slugger in just 30 balls. Australia 299/6 in 46 overs.
12.19 pm: Marsh Gone. Goes for a big hit over long-off, but Finn's heavy delivery does the trick as Root takes a simple catch. Marsh out after a quick 23 (20b, 3x4). Australia 281/6 in 45.1 overs.
12.16 pm: Mitchell Marsh now getting in the mood. A muscular pull and then a swat straight down the ground. Awesome hitting from the all-rounder as Woakes is taken to town. England need to bowl more yorkers, because the short ones ain't doing it. Australia 281/5 in 45 overs.
Get the Live Scorecard of the match HERE
12.12 pm: Decent couple of overs from England, but the boundaries are coming, and you feel it is just about to get worse. Australia 266/5 in 44 overs.
12.03 pm: After a brief lull, Maxwell unleashes a slap over mid-on for a boundary, before another four is taken off Broad with a similar, not as well timed, strike. Eight overs for Maxwell to go slam-bang. Australia 250/5 in 42 overs.
11.54 am: Into the last ten overs now – Mitchell Marsh and Glenn Maxwell at the crease. A couple more wickets and England can restrict the Aussies to a chaseable total. Australia 237/5 in 40 overs.
Get the Live Scorecard of the match HERE
11.48 am: Maxwell might not be dismissed yet, but Bailey's gone. Chopped onto his stumps while trying to run one down to third man off the bowling of Steven Finn. Australia again losing some momentum on 228/5 in 38.1 overs.
11.47 am: First boundary for Maxwell (no prizes for guessing) is via a reverse sweep. England better get this man out, or they are in for a world of pain.
11.41 am: A risky three, and Bailey should have been run out, but instead it's his half-century. Finn unable togather the throw with Bailey well out of his crease. England throwing away their chances here and asking for trouble. And just when I say that, England finally hit the stumps. Finch goes for a quick single that was never there, and Eoin Morgan throws down the stumps direct from mid-off – brilliant stuff from the England skipper.
Outstanding knock from Finch, though – 135 in just 128 balls. Maxwell time now!
Australia 216/4 in 36.3 overs.
11.36 am: Powerplay over without too many worries. Finch starting to cut loose after his hundred, smashing Ali for a couple of fours and a six, with Bailey closing in on his half-century. There was a near-miss for Bailey, though, as his mistimed pull shot off Anderson fell in between Gary Balance and Stuart Broad. Australia 210/3 in 36 overs. Ominous signs for England with Glenn Maxwell champing at the bit to come in and have a go.
Get the Live Scorecard of the match HERE
11.33 am: New Zealand have beaten Sri Lanka. Easy win that, by 98 runs. Kiwis looking quite impressive already.
New Zealand vs Sri Lanka Scorecard is HERE.
11.19 am: Partnership between Finch and Bailey crosses 100. Australia 176/3 in 32 overs.
Get the Live Scorecard of the match HERE
11.10 am: A flick down the leg side and Finch gets his hundred in just 102 balls. Australia kicking on now in the Batting Powerplay.
10.59 am: Ah there's a team man for you. Michael Clarke, the Australia skipper, is acting as the 12th man, bringing a few drinks for the batsmen out in the middle.
10.57 am: The only man that waged some sort of lower order battle for Sri Lank – Angelo Mathews – is also gone. Just two more wickets to go for New Zealand to wrap-up the match.
New Zealand Sri Lanka Live Scorecard is HERE.
10.54 am: Spin from both ends means Australia decide to up the ante, and runs flowing off both blades easily enough at the moment. Ali clearly does not have the Aussie batsmen's numbers (India take note); well, at least not yet. Plenty of time to go in just this first innings, though.
Australia 146/3 in 26 overs. Get the Live Scorecard of the match HERE
10.51 am: England skipper Eoin Morgan brings part-timer Joe Root on, and Finch takes a liking to the offie, smashing a boundary to cow corner first ball and then a six over long-on. Australia 140/3 in 25 overs.
10.48 am: Ten overs to go in Christchurch. New Zealand closing in on victory with Sri Lanka on 209/7 chasing 332.
10.45 am: First six of the match comes in the 23rd over as Finch lofts one over mid-off off the bowling of Anderson.Finch needed those boundaries -- he had one in the previous over as well – as he was getting a little frustrated.
Australia rebuild is very much on, partnership between Finch and Bailey at 55 runs with the score on 125/3 in 23 overs.
Get the Live Scorecard of the match HERE
10.42 am: Bailey and Finch chugging along. Australia 117/3 in 22 overs.
10.34 am: This ain't India, though, so no wickets for Ali....as yet. Australia 105/3 in 20 overs. Australia 105/3 in 20 overs.
10.32 am: Spin for the first time in the match. Moeen Ali comes in.
10.31 am: Anderson's bowling is a treat to watch. You can just watch him bowl over and over again. The seam presentation at its finest, a pretty good line finds Bailey in trouble on a couple of occasions. But survival mode is still on. Australia 104/3 in 19 overs.
Get the Live Scorecard of the match HERE
10.28 am: Anderson back into the attack. Australia 102/3 in 18 overs.
10.25 am: Over in Christchurch, Sri Lanka struggling to stay afloat 179 for six in 35 overs. The result is a foregone conclusion now, and what a start to the World Cup it is for the Black Caps.
New Zealand Sri Lanka Live Scorecard is HERE.
10.15 am: Australia looking to stead the sinking ship. Run rate has gone below six now, with skipper Bailey and Finch at the crease. England fans will probably be wondering "Ah if only we had taken that Finch catch as well, then the Aussies would have really been on the mat."
Maybe, but then maybe Shane Watson would have come in and belted a few and raced to a big century. Or Maybe Steven Smith would have stayed at the crease and Aussies would have been in cruise control.
But then, it might also have been exactly the same score it is now, which is 86/3 in 15 overs btw. Something for the physics nuts to ponder on perhaps.
Get the Live Scorecard of the match HERE
New Zealand Sri Lanka Live Scorecard is HERE.
9.53 am: Smith swats one past mid-off for his first boundary, but too much movement in the crease leaves Australia in plenty of trouble as Chris Woakes gets his Stuart Broad on and hits the timber off the inside edge of Smith. Australia 70/3 in 10.3 overs, Smith gone for just 5. Big, big, big wicket this for England.
9.49 am: Chris Woakes is brought in, but little trouble in his first over. All eyes on Broad as he steams in after that wonderful previous over. Smith and Finch stay calm though with Australia on 66/2 in 10 overs. Broad has beena touch expensive, butthose two wickets are priceless, wickets which has made this match a contest again.
Get the Live Scorecard of the match HERE
9.43: The New Zealand-Sri Lanka gamelooks over bar the shouting as Sangakkara falls, lbw to the brilliant Trent Boult. At 129/4 (now 142/4 in 26 overs) chasing a massive 332, the match looks gone for Sri Lanka.
9.38: Hat-trick ball for Broad. Was never going to be a wicket, not with Steven Smith facing the ball, even if it was a pretty good yorker. The onus is on Australia's captain in waiting now, with Finch probably stunned by watching those two wickets fall in a couple of balls at the other end.
Australia 57/2 in 8 overs.
9.37 am: Broad you beauty! Watson gone first ball. Another stunning delivery from the England fast bowler, draws Watson forward with a wonderful ball that just nipped away and Shane Watson gets a nick. Out for a golden duck, England back in it courtesy their star man and the one Australia love to hate.
9.36 am: The Barmy Army has been pretty quiet, until now! Broad produces a ripper of a cross-seam delivery which just tails in to disturb David Warner's timber. The wicket that England so dearly needed. Warner gone for 22 (18b, 3x4) with Australia on 57/1 in 73 overs.
9.34 am: Aussies get to 50. England are already struggling to stay afloat against their least favourite team, and the last thing they wanted was to drop two catches which would have given them the wickets of both the openers. Insane! As Warner and Finch make merry in front of a massive crowd who are absolutely loving this.
9.27 am: In the other game, Sri Lanka lose their second wicket. Thirimanne goes after a wonderful 65. Lanka's two best batsmen – Kumar Sangakkara and Mahela Jayawardene at the crease.
And just like that Jayawardene goes for a duck, dismissed by the impeccable Vettori, with the left-armer inducing a thin edge through to Luke Ronchi. All on Sangakkara now with Sri Lanka on 125/3 in 23 overs.
Don't forget the live scorecard is HERE.
9.23 am: Another good over with Finch looking in the mood as Warner also joins in. Three of boundaries in that over, with Finch getting one and Warner the other two. Warner should have been caught out in the fifth ball, though, as James Taylor fails to get his hands on a skinner from the left-hander at mid-off. Anderson looking crestfallen, frustrated and "what the hell is going on man!"
Australia 41/0 in five overs.
9.17 am: First boundary for Australia in the first ball of the fourth over. Finch lifts one straight for a four, nice shot that from the right-hander. He is looking for a move on, with shots coming quite freely off the blade. Warner also gets in on the act with a patented pull, as Broad goes for a few in his second over. Short pitch bowling from Broad getting the treatment from both batsmen.
15 runs off the over and Australia 23/0 in 4 overs.
9.09 am: Stuart Broad bowls a couple of rippers, but no harm done from Australia's point of view. 6/0 in 2 overs.
9.04 am: James Anderson storms in for the first six balls of this World Cup in Australia, and a couple of nervy moments for the batsmen, with that patented swing coming to the fore for England's champion bowler.
A big drop as well, as Finch, after wafting at thin air in his first delivery, flicks one to Chris Woakes at square leg, and the Englishman grasses it. Would have been the perfect start that. Australia 3/0 in 1 over.
9 am IST: The players are out, England look excited to get underway. Wonder how long that excitement will last, with David Warner walking out.
8.45 am: First wicket gone as the wily Daniel Vettori induces a catch back to him to dismiss Tillakaratne Dilshan. Sri Lanka 67/1. Don't forget the live scorecard is HERE.
8.38 am: Broad talks the talk with Atherton, says he is quite looking forward to a "nice reception" from the Aussie fans. Don't know if I'll want 90,000-odd fans growling at me!
8.36 am: Just a quick update from the other game – Sri Lanka yet to lose a wicket, steady at 52/0 in 11 overs. Thirimanne in particular looking good.
8.35 am: Morgan says there is one change, with Gary Balance coming in for Ravi Bopara. Bailey is happy to bat first and believes the pitch will stay the same through the 100 overs.
Here are the lineups:
Australia: David Warner, Aaron Finch, Shane Watson, Steven Smith, George Bailey (capt), Glenn Maxwell, Mitchell Marsh, Brad Haddin (wk), Mitchell Johnson, Mitchell Starc, Josh Hazlewood.
England: Moeen Ali, Ian Bell, Gary Balance, James Taylor, Joe Root, Eoin Morgan (capt), Ravi Bopara, Jos Buttler (wk), Chris Woakes, Stuart Broad, James Anderson, Steven Finn.
8.30 am IST: The two captains are walking up talking what is expected to Michael Atherton. The specially minted coin is shown and George Bailey gives it a spin, with Eoin Morgan calling it right with a head. England to bowl first.
8.25 am: The Aussies are the favourites to win the World Cup, don't forget, while England haven't been given a prayer by the bookies. So, what better way for the English than to stun Australia on the hallowed grounds of the MCG in the World Cup opener.
Easier said than done, though, especially with Mitchell Johnson gritting that teeth and running down to land a few heavy blows – literally.
There has been plenty of rain overnight in Melbourne btw, meaning Johnson could be more mean – yikes!
8.20 am: 10 minutes to go for the toss, and those butterflies will be mauling the players right now. England will be praying, wondering, asking for some serious diving intervention to help them find a way past those men in yellow.
8.15 am IST: The first match up in Christchurch is heading for a cracker after New Zealand made 331-6, with Corey Anderson doing what he does best. Sri Lana have made a decent start, and are 24 for no loss in six overs.
Get the Live Scorecard HERE
8 am IST: Australia and England, the always-rivals, the two teams that play one of the greatest Test series in cricket history, will open up the Australia leg of the ICC Cricket World Cup 2015 with what everyone hopes will be a cannot-miss-it match.
The Aussies have been on a roll, and then some, of late, winning matches easier than going in a lift, and their favourite opponents have been England.
England faced the wrath of Australia in the tri-series final recently, and confidence against their old rivals is pretty low; how they cope with that and if they can find the skills needed to topple the hosts will decide if the match will even be close, let alone the result.
Australia will want to entertain the capacity MCG crowd to a masterclass, and if England come in their crosshairs when they are in the mood, Eoin Morgan and his team better watch out.
Get the Live Streaming information for the Australia vs England Match HERE
The Live Stream information for the New Zealand vs Sri Lanka Game is HERE