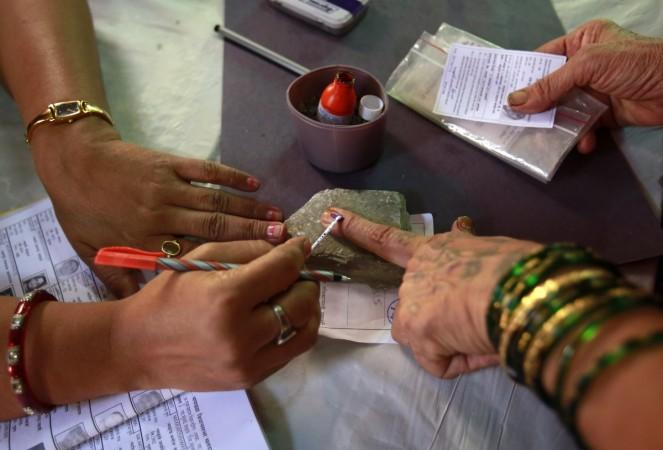 Polling in Jammu & Kashmir has ended with no major case of violence being reported from anywhere in the state. The state recorded 70% turnout according to the Election Commission's preliminary calculations. The final tally of voter turnout could go up.
Tight security was given high priority to ensure free and fair polls in the first phase of Jammu and Kashmir and Jharkhand elections.
In Jharkhand, 61.92 per cent of votes were cast as polling ended. In the first phase of elections in the state, polling took place in 13 of the 81 Assembly seats. Sporadic incidents of violence were reported in the state.
The Election Commission said the final tally of voting could go up.
5:19pm : Polling ends in Jammu & Kashmir.
3 PM: Average polling in 15 constituencies of J&K was 46.8% when reports last came in.
2.40 PM: 68% voting in Gurez till 2 pm, 63.5% in Kangan and 56% in Nubra & Sonawari.
2.30 PM: According to reports, Jharkhand had a 48.28% voter turnout till 1 PM.
2 PM: The voting in J&K picks up with the improvement in weather conditions.
1 PM: Voter turnout in J&K till noon.
Omar Abdullah ✔ @abdullah_omar
Follow
Poll percentage till 1200 hrs.
GUREZ. 46.05%
BANDIPORA. 34.68%
SONAWARI. 37.45%
KANGAN. 41.88 %
GANDERBAL. 34.59%
NUBRA. 27.5%
LEH. 10.4%
12.45 PM: Long queue of voters in Ganderbal and Bandipora in spite of separatists having given a call for a boycott in those regions.
12.10 PM: In Jharkhand, the Bhavnathpur constituency has recorded 32% polling thus far.
11:45 AM: Re-polling recommended in two booths in Jharkhand after explosive devices were found.
11.40 AM: 27% voter turnout in Jharkhand till 11 AM.
11:30 AM: Blast in Bandipore but no casualty reported.
11:25 AM: Omar Abdullah pleased with polling in J&K so far.
11 AM: Union Minister and BJP leader Venkaiah Naidu urges voters in J&K and Jharkhand to go all out in the assembly elections.
M Venkaiah Naidu @MVENKAIAHNAIDU
Today is polling day in J&K and Jharkhand. I appeal every voter to go out and vote. Let us strive for maximum voting to strengthen democracy
11 AM: The polling recorded in Jharkhand when reports last came in was 18%.
10.30 AM A landmine has been recovered in the Palamau district of Jharkhand under the Hussainabad assembly constituency, says the police.
10 AM: Jammu and Kashmir Chief Minister Omar Abdullah tells voters to come out in large numbers in the first phase of the polls on Tuesday.
Omar Abdullah @abdullah_omar
1st phase of voting today, good luck to all the voters braving the cold weather. Vote in large numbers & vote with your hearts.
9:30 AM: An encouraging sign as the polling seems to be taking place at a decent pace.
9 AM: Polling gets underway in 6 constituencies of Jammu, 5 segments in Kashmir and 4 in Ladakh.
8 AM: PM Narendra Modi takes to Twitter to appeal to the electorate to vote in large numbers
I particularly call upon my young friends in J&K and Jharkhand to turnout in large numbers & cast their votes.
— Narendra Modi (@narendramodi) November 25, 2014
7 AM: Polling has begun in 13 constituencies of Jharkhand in the first phase of five-stage elections.
Voting started on a slow note in 15 assembly constituencies of Jammu and Kashmir on Tuesday because of the freezing temperature and foggy weather conditions.
In Nubra, Leh, Kargil and Zanskar constituencies of Ladakh region, the morning temperature was several notches below the freezing point. In Gurez border constituency, only one or two voters turned up.
The morning cold also affected the early voter turnout in Doda, Bhaderwah, Kishtwar, Inderwal, Ramban and Bannihal constituencies in the Jammu region.
Officials said voting started peacefully in all 15 constituencies.
"Polling started peacefully at all the 1,787 polling stations spread over seven districts.
"Voting process was slow in the morning, but it is likely to pick up as the day warms up," an official said.
Young voters queued up at the Hariganimen polling booth of the Kangan constituency in Ganderbal district. Dressed in traditional Kashmiri attire, most of them probably were first-time voters.
The total number of registered voters at this booth are 642 - 335 males and 307 females - of which around 50 votes had been cast by 8.30 am.
Mamina, a 20-year-old student, told IANS: "I will vote for somebody who will vote for development of this backward area."
After the initial hour, as the sun came up in the clear sky, more voters turned up in places such as Mamarcherman, Kangan and Margund towns.
Two districts in the Kashmir Valley, two in the Ladakh region, and three in Jammu region will vote Tuesday.
Besides 225 micro observers, the election commission has arranged webcasting at 159 polling stations.
Over a million voters will get to decide the political fate of 123 candidates who are in the fray in the state.
(From IANS inputs)