BJP president Amit Shah has promised the seers of the Veerashaiva community that the Union government will reject the Karnataka government's recommendation to grant a separate religion status to the Lingayats and Veerashaiva-Lingayats [believers of Basava Tatva].
Amit Shah fights rearguard action
Shah made the assurance during a visit to Shivayogi Mandir in Badami of Bagalkot district, where he met around 250 Veerashaiva Lingayat seers including a few jagadgurus of Hospet, Kashi, Ujjaini and Srishaila mutt.
During the meeting, several seers said that they were not satisfied with the Karnataka government's decision to split the Lingayat community.
"I'm hopeful that the Union government will not agree to divide the Lingayat community. Lingayats will be together in Karnataka. Veerashaiva Lingayat is an ancient religion," a seer was quoted as saying by India Today.
Another seer also echoed the same concern and said that he hopes the Union government will reject it. "We want BJP to reject it," said the seer.
Amit Shah, in turn, promised the seers that their community won't be divided. "All seers have expressed that Lingayat community shouldn't be divided. I promise you no division will happen. Till BJP is there, there'll be no division. This is our commitment."
Amit Shah's assurance comes just a few days after the Karnataka government's notification to give 'minority religion' status to Lingayat and Veerashaiva-Lingayats. The Veerashaiva-Lingayats were not happy with the government's decision while the Lingayat followers had welcomed the move.
Shah's visit to several mutts associated with the Lingayat and Dalit communities is being considered a damage control attempt by Karnataka's BJP unit before the Assembly elections.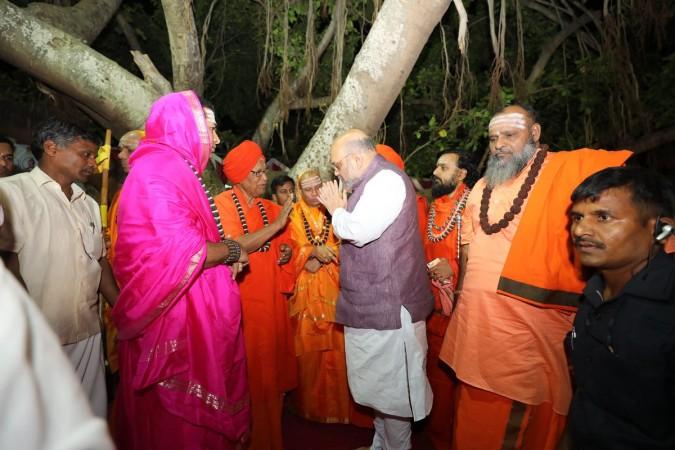 BJP divided India, says Congress
Congress has now accused BJP of trying to divide the country. "It is the BJP and the likes of Amit Shah who divide this country, with their ulterior motives of grabbing power and remaining in power forever. To establish a regime which is definitely undemocratic, it is they who divided the country, will divide and try to divide but their efforts will not succeed," a Congress leader told India Today.
The leader also clarified Congress' stand on the matter of division of the Lingayat community.
"The Congress party which believes in inclusiveness can never divide society. Who is Amit Shah after all? Is he an extra-constitutional authority? Is he above the President and Parliament? He can't dictate and intimidate people like that," the leader said.
He also added that India is made up of different and diversified units and if each unit becomes has power then the nation too will become strong.
"Likewise, the lingayat Dharma and veerashaiva Dharma there is some differences of discussion between them. That can be solved by them only," the leader said.