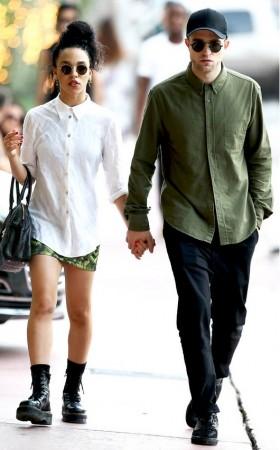 Singer FKA Twigs and actor Robert Pattinson are the new 'it' couple and everyone seems to be talking about them since they made their first appearance at Met Gala as a couple. But it looks like Twigs is already starting to have a tough time, maintaining the relationship.
However, it isn't her fiancé who is to blame. The singer says that she is tired of all the baggage that Pattinson has carried into the relationship from his past. And, by baggage she meant her relationship with his "Twilight" co-star Kristen Stewart.
FKA Twigs aka Tahliah Barnett, in a recent interview with New York Times, admitted that all the attention she has been getting since the couple's engagement is too overwhelming for her and there are times when she feels tortured to be engaged to Pattinson.
"It's really hard — I can't begin to explain how awful it is," Twigs recently told in her interview."It makes you want to just stop everything sometimes. It makes you want to smash your face into the mirror."
She also understands that fans will never accept her as they cannot get over the fact that Pattinson has moved forward after Kristen Stewart. She says that she does not want their support, but the way they have been mean and nasty towards her is very discouraging to her. She has been facing all sorts of racial slurs and abuses from the Twihard fans and says that they "relentless" in their efforts to put her down.
"She's black, talentless and not a beauty at all," one commenter wrote at the bottom of a Gossip Cop article about Twigs. "She always bashes Rob's Fans in general in her interviews because of a couple of nuts calling her vile names. She could shut down her social media to avoid those nuts, but she prefers playing martyr to have public sympathy and never talk about her work during her interviews."
Many fans also said that Barnett is a "master manipulator and an opportunist of the worst kind"and said that "she plays on his sympathy as well as everyone else, depending on the situation".
"There's no amount of songs I can sing or dance. I can dance that I will prove to them. I'm not a monkey," admits Twigs to the daily.
But no matter how black a cloud is, there is always a silver lining to it. And for Barnett, it is Rob's love that sees her through her tough times every day."I didn't see my life going this way at all, but it's worth it," she said. "I'm so happy."